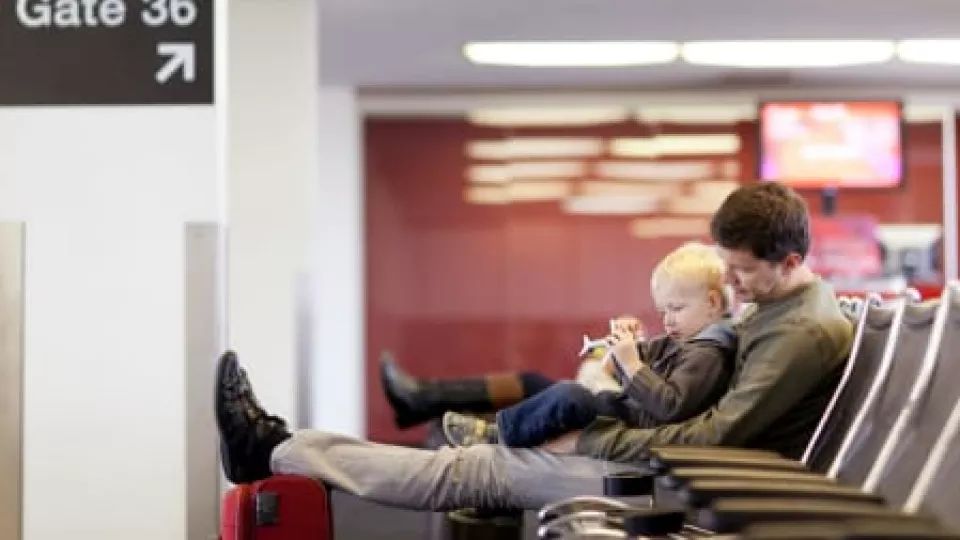 Advice From Our Experts
Tips for Flying with Kids
Traveling alone or even with another adult can be stressful enough. Adding kids to mix is another story entirely. There are so many things to think about: packing, navigating through the airport, having the right things to keep your kid happy and occupied on a long flight, and trying not to get overtired or exposed to germs from being around so many people. In this RN Remedies article, I hope to provide you with some strategies for dealing with airline travel, which hopefully will make your trip easier and safer for you and your child.
Plan ahead
I highly recommend a packing list. I find myself constantly thinking of extra things that I will need and am glad to have a formal place to write them down as they come up. Start packing early to prevent feeling pressed for time right before you need to leave.
Have your family's travel documents secured in a folder or a zip-lock bag.
Make note of when your flights take off and land, and pay attention to the time change if you're traveling to a different time zone.
Have an itinerary or list of things your family would like to do. If your family is spontaneous, have a list of restaurants, museums or attractions organized by area. This will help with having too much down time, and hopefully avoid the standard question your kid might ask: "What now?"
Packing
Medication – If your child requires any special medication or equipment, try your best to bring it as a carry-on. The Transportation Security Administration (TSA) generally allows medication in liquid form that is greater than 3.4 ounces to be carried onto the plane. You will need to present it at security screening before your luggage goes through the X-ray, as it will likely require individual inspection. If possible, have a copy of the doctor's order or the prescription handy. I don't know about you but I have arrived at my destination multiple times without my luggage, which then took more than one day to catch up with me. If there is anything that your child cannot go without, make sure you have it with you on the plane. If you have any questions about medication or durable medical equipment, contact the TSA ahead of time. The TSA Cares hotline can answer questions or pre-plan the screening process for travelers with disabilities.
Infant feeding – If you are traveling with a baby, don't forget formula or essentials for breastfeeding/pumping while on board.
Extra clothes – When traveling with young kids, make sure to bring an extra change of clothes for both you and your kid. Be prepared for spills, diaper/potty accidents or spit up/vomit.
Snacks – Pack healthy snacks for the airport as well as the flight. Airport food can be very unhealthy, not to mention expensive. Many flights don't offer meals, let alone snacks anymore, so it's best to bring your own. Avoid things that are particularly sticky or messy.
Diversions – Bring toys for your child in your carry-on luggage. Sitting on the airplane can be very boring so it's good to bring some distractions, because the airline magazine in the seat pocket is just not going to cut it.  Try not to introduce all the activities at once. Keep some toys or books hidden until the middle of the flight to keep things fresh and to prevent kids from getting bored. And don't forget about your return flight!
Nap time essentials – Traveling can be exhausting for both adults and children. If your child normally naps or sleeps over the time when you are on the airplane, try to keep this schedule consistent. It may be helpful to put your child in their favorite pajamas for the flight and bring their favorite pillow or stuffed animal, to help make going to sleep a bit more familiar. Remember, It is not advisable to give your child any type of medication prior to the flight to help make them sleep.
Germs
Navigating through the airport comes with so many surfaces to touch. Make sure to wash hands or use sanitizer before eating to prevent illness. Think about packing kid-friendly hand sanitizer or wet wipes to use mid-flight as well.
Bring sanitizer wipes to clean arm rests, the touch screen TV and tray table. Due to the quick turnover time between flights, airplanes seats and tables are seldom wiped down and germs are everywhere. A recent study found that an airplane tray table is covered with more bacteria than the bathroom flush button or stall lock! Gross. After hearing this, do you really want your child eating their goldfish crackers directly off the tray table?
Safety
One of my biggest pet peeves is when people don't wear their seatbelts on the plane, especially when the fasten seatbelt sign is illuminated. We don't think twice about buckling up in the car, so why should it be any different when on an airplane (particularly when travelling at more than 400 miles per hour)? Turbulence can get pretty severe and a seatbelt could prevent you and your loved ones from going flying or literally hitting the ceiling. Here's something to think about for kids who are too small to be buckled in with a traditional seatbelt:

Did you know that the FAA encourages the use of safety seats on planes? Many child safety seats can also be used on airplanes. You do need to check the label on your individual seat to ensure that it is certified for use on an aircraft. You may need to purchase an individual seat for your child who otherwise would count as a "lap child" in order to accommodate a safety seat, but it's really worth it. In the event of severe turbulence or a rough landing, it could be nearly impossible to hold on tight enough to prevent injury. Check out this resource from the FAA on child safety seats.
Miscellaneous
Allow your kids to get their energy out before the flight. Take the stairs, let them to pull/carry a small, manageable piece of luggage, and encourage them to run/crawl around at the gate.
Don't forget to have everyone use the restroom before getting on the plane. Insist that your children try to use the bathroom even if they don't feel the "urge" to go.
If your kids are older, make sure they know where they are going or who to talk to in the event that you get separated at the airport. When I was a kid my mom would always designate a "meeting point" for our family to reconvene in case anyone got separated from the group. We would create new meeting points for every new location that we went once we reached our destination as well.
I hope this list of travel tips was helpful and gives you some things to think about for your next flight. We would love to hear any other tips that you have for flying with kids too!