CHLA Patient, Max Page, Heads to Washington D.C. to Lobby for Pediatric Healthcare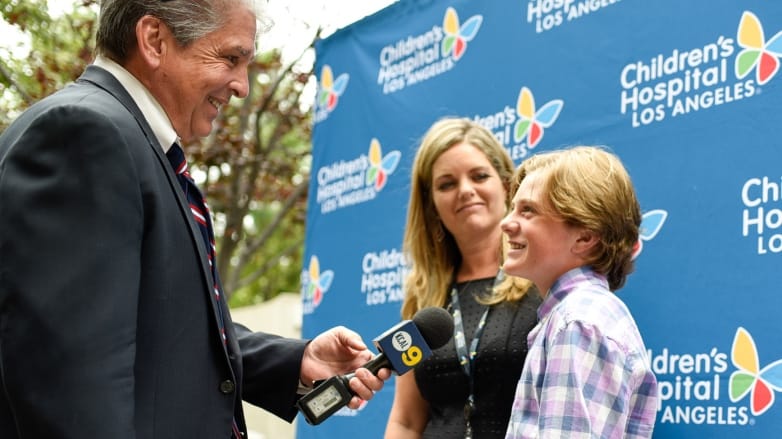 ​
Max Page, 12, was diagnosed with a congenital heart defect, tetralogy of Fallot, at birth. He has undergone 12 heart surgeries and procedures since he was three months old. Earlier this year, he was hospitalized for 32 days with endocarditis, an infection on the inner lining of the heart. But he has recovered and on July 12 & 13, Max will be in Washington D.C. representing Children's Hospital Los Angeles at the 2017 Speak Now for Kids Family Advocacy Day, where 47 young patients and their families from 28 states will be meeting congressional leaders to advocate for child health care policies that benefit kids and children's hospitals. The vital, annual advocacy day is sponsored and led by the Children's Hospital Association. It will be Max's sixth trip in seven years (he had heart surgery the one time he didn't go) to Washington D.C. and he will be joined by his mother, Jennifer, his father, Buck, and his younger brother, Els.
Why is it important for you to represent CHLA at Speak Now for Kids Family Advocacy Day in Washington?
Max Page: For me, it's important to share stories – I want the Senators to put a face to children's health care. I tell them my story; what surgeries I have had and how much I need my doctors, now and in the future. It's a way to bring awareness to kids' health. I want to be the face of children's health.
I have tetralogy of Fallot. It's a congenital heart defect and it is a lifelong disease and it won't be cured over time. I have had 12 surgeries and procedures since I was three months old when I had my first open heart surgery. (Max has had three open heart surgeries total and nine procedures, thus 12 in all). I also wear a pacemaker and have an artificial pulmonary heart valve. Children's Hospital Los Angeles saved my life and I want them to do well, to be funded and not ever close. It is always something in the back of your mind that one day they might not be there to provide care for me or other children like me who need special care.
What do you hope to achieve by doing this?
MP: I hope that I can be the face for healthcare and show them that kids have health problems and that we didn't do anything to deserve this. It just happened to us. And if the funding gets cut, there might not be the care there for me and other kids.
How many years have you been doing this?
MP: This will be my sixth year. I think every trip has been different. I was Darth Vader the first year and got to dress up as him in my costume from the commercial. It was humid and muggy and I got hot wearing that! But this time I think there will be more news people, and more questions on what is going on with health care.
Do you encourage other kids who went through similar things as you? If so, how?
MP: Yes I have -- I encourage them that they are going to feel better after surgery and answer as many questions as I can. Many are getting their first surgery, or the first that they will remember. I tell them what it'll be like after. I've been through it and know what works good. For me, I rest and have core group friends and family and get texts and FaceTime with them. They visit me when I feel healthy enough.
Are you proud of Max? What do you hope for his future?
Jennifer Page: I think we have been proud all along and especially now since he is becoming a teen and taking responsibility for monitoring his own body and health.
This last time in the hospital I noticed how he takes responsibility and he never feels sorry for himself – it's never 'why me,' even though he always has to think twice about his health – 'is it too hot to play outside'? He always has to second-guess his body but he keeps a positive attitude. So I am proud watching him as a patient and now he is becoming a health care advocate.
What are you lobbying for as a parent?
JP: Our message to senators is: "Save Medicaid for Kids." There are more than 30 million kids on Medicaid and the Better Care Reconciliation Act is proposing to reduce Medicaid spending for kids. I am worried about Medicaid turning into block grants to the states and the health bill placing lifetime caps on benefits for patients like Max. We have to come to the table and get some sensible health care for kids and families. I want children to be part of the conversation.
We are fortunate to be able to afford private insurance and our Preferred Provider Organization (PPO) insurance covers Max, but it is very expensive. To not have access to that kind of specialty care would be devastating. So, making sure preexisting conditions are covered and not having lifetime caps are huge for everyone. We want Max to be able to get his own insurance one day and be able to take care of himself.
What do you hope for Max's future?
JP: The work we are doing is about Max's future – we want him to live as long as he can. I don't want him to worry about what we have gone through fighting insurance companies over the years. I don't want him to worry how he will pay for this when he is older and whether he will be able to get insurance as an adult and whether his preexisting condition would be covered. Max will need specialized care for the rest of his life and if the bill is passed with not covering preexisting conditions and put in lifetime caps for patients like Max with complex conditions, it will be devastating to families.
Why do you help?
JP: We are called to use our gifts – mine is speaking and to be involved; I grew up in a small town in Montana and we all were involved in our community. When we came to Children's Hospital Los Angeles 12 years ago, we hadn't done anything for this hospital yet, but CHLA was ready for Max and was willing to provide him with the best possible care. So, I have to give back and we are committed to do whatever we can to help our community, our hospital and all of its patients. Everyone deserves elite care.