Car Seat Recycling and Safety Prevents Injury and Saves Lives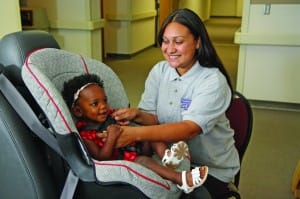 By Garrett Salzman, project assistant, Injury Prevention Program at Children's Hospital Los Angeles
Did you know that motor vehicle collisions are a leading cause of injury and death in children today? This can be prevented. The use of child restraint devices (car seats) significantly reduces the risk of injury and death for children in an accident. One of the primary goals of the Injury Prevention Program at Children's Hospital Los Angeles is to make sure parents know how to make sure their car seat is safe and properly installed.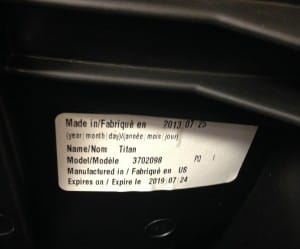 Car Seat Expiration
Many people are unaware that car seats actually have expiration dates. Car seats are made of plastic and are rarely removed from vehicles once installed; therefore remaining within the vehicle for years at a time. Within the car, they endure hot and cold weather, causing the plastic to expand and contract. Over time, this degrades the structural stability of the seat. Typically, seats expire six years from the date of manufacture; however, some newer seats have expiration dates of more than six years. It is important to check the labeling on the seat to verify the expiration date. Once the seat has expired, it is no longer safe for use.
Car Seat Safety after a Collision
Car seats should not be used after a car crash. According the National Highway Traffic Safety Administration (NHTSA), a seat may only be used after a crash if it meets ALL of the following criteria:
The vehicle was able to be driven away from the crash site
The vehicle door nearest the car seat was undamaged
There were no injuries to any of the people in the vehicle
The air bags (if present) did not deploy
There is no visible damage to the car seat
The Injury Prevention Program at Children's Hospital Los Angeles recommends replacing the car seat after any moderate crash.
Car Seat History and Proper Disposal
Do you know the history of your child's car seat? If it's been previously used or owned by another person and you do not know the history of the seat, the seat should not be used.
Properly discard your child's car seat when it expires or has been in a collision. Do not toss it in the trash. Many car
seats are pulled from curbside trash because they look like they are in good shape to the untrained eye; this can put an unsuspecting child in danger.
The Injury Prevention Program at Children's Hospital Los Angeles has a car seat recycling program that takes place the first Friday of each month from 9:30 a.m. to 2 p.m. at the hospital's main entrance. The recycling program is available to anyone and we encourage you to bring old car seats whether your child is a patient at the hospital or not.
During these recycling days, Injury Prevention staff members collect expired and damaged seats, dismantle them and recycle their parts so they cannot be used again. About 90 percent of the materials in a given car seat can be recycled. Children's Hospital Los Angeles is the only car seat recycling location in Los Angeles County.
Disposing properly of your old, damaged or expired car seat could prevent serious injury or save a child's life. Overall, recycling car seats not only protects the environment but also helps keep kids safe!
If you have any questions about the car seat recycling program at Children's Hospital Los Angeles or child passenger safety in general, visit CHLA.org/Injury Prevention, or contact Helen Arbogast at HArbogast@CHLA.USC.edu or 323-361-4697.