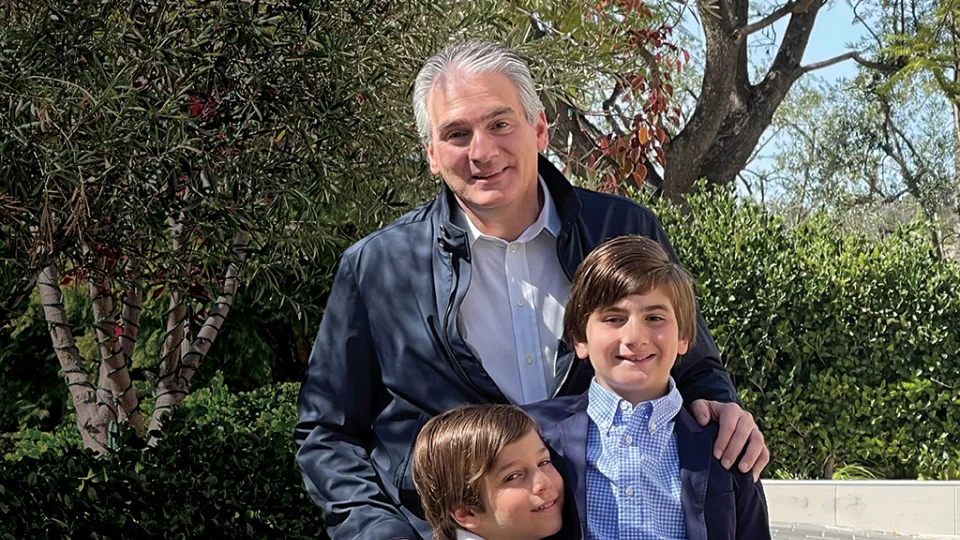 A Father Gives Thanks to CHLA for Saving His Son's Life
Yervant Demirjian's son is nearly free of leukemia. In gratitude, Demirjian has made a generous planned gift to Children's Hospital Los Angeles.
"Can I open my spreadsheet?" Yervant Demirjian asks, looking to retrieve an answer to a question about his son Anthony's medication.
His spreadsheet serves as a warehouse for every data point of 6-year-old Anthony's leukemia treatment at Children's Hospital Los Angeles. Every chemo cycle is documented, every infusion date, every white blood cell count, every CT scan report.
"The whole thing started on 3-28-17 and ended on 8-7-20," Demirjian says, reading off the dates and then the final tally. "That's 1,228 days of therapy. So he had about 200 doses of steroids. No, 400 doses of steroids—200 in the morning and 200 at night."
Not all of what the spreadsheet provides him is numerical. It's also the reference Demirjian consults to calm his anxiety, work out his own need for precision, and gain a feeling of assurance that he has some say over his son's prognosis.
"You know what, it's a coping mechanism. The more hands-on I am with the protocols, the better I can cope," he says.
Under the care of oncologist Etan Orgel, MD, an attending physician in the Cancer and Blood Disease Institute at Children's Hospital, Anthony is doing well, nearing three years without any reappearance of leukemia. He goes for regular checkups and blood draws at the hospital to check for signs of the disease's return.
"So far he's good," Demirjian says. He cites the help of Anthony's mom, Melissa, as instrumental in his son's treatment. "This has been a family battle."
A trio of donations
A successful banker and developer, Demirjian has conveyed his gratitude to Children's Hospital for saving his son's life through multiple contributions. His most recent, a substantial planned gift designated for the Children's Fund—which supports the hospital's greatest needs at any given time—is his third donation to the hospital in less than two years. Demirjian also made donations in May 2019 and in August 2020, when he used a business connection to arrange the purchase and delivery of 150,000 much-needed surgical masks after the coronavirus pandemic struck.
Along with helping to cure sick children, he hopes his latest gift can help to create advances in cancer care that lessen the toll treatment takes on kids.
"You're quarantined because you're vulnerable to infection," Demirjian says. "You're weak and you've lost your hair, and you don't want other kids to single you out." He would love to see his donation "make the whole experience more pleasant for kids."
Born in Lebanon of Armenian descent, Demirjian came to the U.S. in 1982 to study economics at Pepperdine University, leaving behind a country overcome by war and strife. He says he was pleased with his decision when he saw that what amounted to a crisis in his new country was rain in the forecast on Super Bowl Sunday and its potential impact on the game.
"The biggest problem was: How are we going to dry this football field? As the sportscasters were talking, suddenly you saw two helicopters coming down very low and they started drying the field with the blades of the helicopters. And I said, 'Wow. If this is the biggest problem this country has, I'm staying here.'"
Now 56, he has turned his success into a means for giving. He says he comes from a tradition of generosity—give to whatever degree you can.
"I'm privileged to have a comfortable life," he says. "A lot of people are motivated to make money so they can buy a bigger home, buy a plane, buy a boat. But my motivation is, if I make more money, I can give more money."
Looking back, counting ahead
It was Demirjian who first noticed his son limping and had a dark premonition about it. "I was thinking leukemia," he says. "The way I function as a human being is, I always expect the worst."
Unfortunately, this time his reflexive pessimism was on the mark. When a bone marrow aspirate confirmed the leukemia, "it was like a truck hit me."
With Anthony now in remission and attending kindergarten, Demirjian is eyeing the decisive five-year threshold, when the chance of the cancer's return would drop to negligible. On his spreadsheet, Demirjian once counted down the days toward the end of his son's treatment; now he counts them forward.
"I would wake up and know there are this many days left, and then this many days left," he says. "Now I know that he finished therapy 175 days ago. When you hear leukemia you automatically assume the worst. But I realized that, yes, there might be salvation. I'm going to be thankful to Children's Hospital Los Angeles for the rest of my life."
How you can help
To help support Children's Hospital Los Angeles, please visit CHLA.org/Donate.