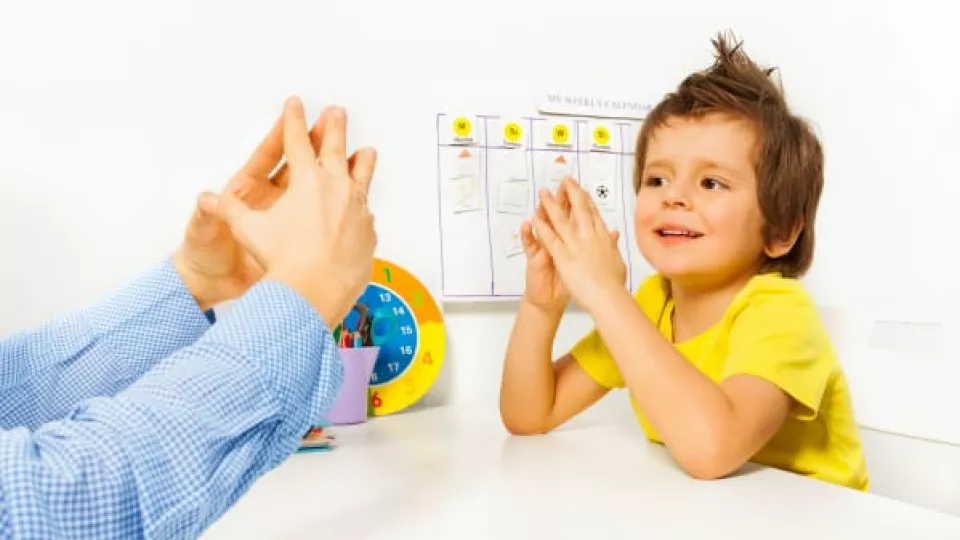 Advice From Our Experts
Easing Clinic Visits for Kids With Autism
From The Developing Mind Newsletter, Winter 2016 

Most children feel a little anxious about seeing a doctor. Some fear even temporary separation from their parent. Others worry about a painful shot, or just the unknown. Children with autism may have all these fears plus the additional challenges of sensory issues with a new environment. Just think of all the new smells, sounds, lights and faces a patient encounters in a medical clinic.
Anxiety that develops before a visit can boil over during the visit itself. In addition to creating great stress for the child, this can interfere with much-needed evaluations and medical procedures. In the worst case, appointments may have to be rescheduled—a hardship for both the child and his or her family.
At the Boone Fetter Clinic, we've developed a number of strategies to help ease visits for children with autism spectrum disorder and their families. I hope that these tips will help ease your child's next medical visit and lead to more effective communication between you and your child's provider.
Scheduling your appointment
Whenever possible, ask for the first appointment of the day or the first appointment after lunch. This can reduce the sometimes-unavoidable wait times that build up through the day. Ask clinic staff to fax or email you any forms that need to be filled out before you see the doctor. You can also send ahead any forms you need filled out—for example, school forms.
Preparing for the visit
Develop a social story to prepare your child for the visit. Social stories—visual stories that walk the reader through particular situations—are an excellent way to help explain new situations to kids and adults on the autism spectrum.
Role-playing is another great way to ease anxiety, such as a make-believe visit to the doctor's office.
Create a visual schedule for the day, using a picture to describe each step of the visit.
Is this going to be your child's first time at a new office? Consider a brief visit beforehand just to allow your child to meet and say hello to the front office staff and see the play area in the waiting room.
Practice calming exercises and activities during periods of stress.
Consider emailing any questions you have for the doctor ahead of time. Print out a copy to bring them with you as well.
Things to bring
Video of any new behaviors of concern to you (consider capturing these on your cell phone or other video recording device)
A written list of any medications and nutritional supplements that your child is taking • A list of your child's health care providers and their contact information
During the visit
Bring comfort items or activities that might help redirect your child from his or her fears.
Use the relaxation techniques you practiced beforehand.
If possible, consider bringing another adult to help during the visit—someone who can either help comfort your child or help you record the answers to your questions.
Remember to share lists of medications/ supplements and health care providers with your doctor.
After the visit
Praise, praise, praise your child for his or her successes during the visit.
Review the answers to your questions.
Remember, you know your child best. We hope you'll adapt these strategies to help make your child's health care visits successful.
To receive more information from The Developing Mind, sign up for the newsletter.