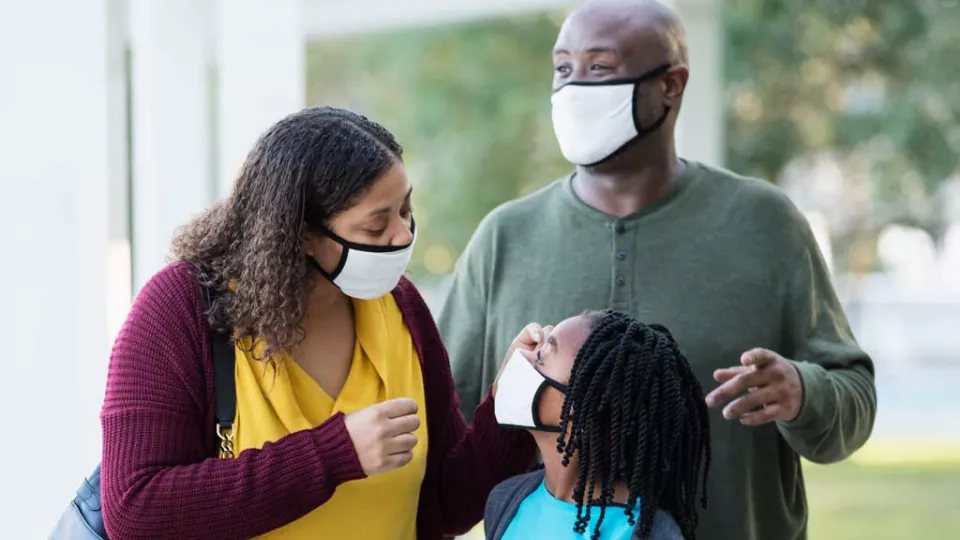 Advice From Our Experts
The Delta Variant and Children: What Parents Need to Know
As the more contagious strain of the coronavirus circulates, an epidemiologist advises families to use common sense, keep masks handy and pay attention to local health guidelines.
Around the country birthday parties, barbeques and baseball games are back in business.
As vaccination rates have risen, measures designed to limit the spread of COVID-19 like mask mandates and capacity limits have been relaxed. But recently, the more contagious Delta variant has become dominant in the United States, according to the Centers for Disease Control and Prevention (CDC).
As of this blog's latest update, only kids 5 and older have been approved by the Food and Drug Administration to receive the Pfizer-BioNTech vaccine—which still leaves younger children unprotected. So, how should families who have unvaccinated little ones keep them safe? Michael Smit, MD, MSPH, Hospital Epidemiologist and Medical Director of Infection Prevention and Control at Children's Hospital Los Angeles, shares his advice.
First, what are COVID-19 variants?
Each time the virus passes from person to person, it can mutate into a variant. Genetic variants of SARS-CoV-2 have been emerging throughout the world since the beginning of the pandemic. Some variants—though not all—can become more contagious, harder to treat or more deadly.
According to the CDC, the Delta variant is more contagious. Does this make children under 12—who are not eligible for the vaccine—at greater risk for becoming infected?
The Delta variant is estimated to be up to two times more contagious than the initial SARS-CoV-2 virus. There is concern that because we don't have a vaccine approved for children less than 12 years old, that group is at more risk right now.
Does the Delta variant cause more serious disease?
We don't have evidence that it causes more severe disease than previous strains.
Do we know if the Delta variant is more likely to cause multisystem inflammatory syndrome in children (MIS-C), the rare but serious condition that has been associated with COVID-19?
Because MIS-C is so rare, we don't have any data to support the idea that the Delta variant is creating more of a risk for that condition.
How can parents protect their children who are not vaccinated?
I would encourage families to follow CDC and local public health guidance on masking and physical distancing. And anyone 5 and older who is eligible should get vaccinated. Also because there can be conflicting rules depending on what activity you're doing or where you're traveling, it's a good idea for families to carry masks for all members over 2 years old whenever they leave the house. For example, some businesses require masks and some don't. So in case families unexpectedly have to go somewhere indoors, they should have a mask with them.
Are there certain activities unvaccinated children should avoid?
When scientists have looked at the data about where COVID-19 is spreading, they have found that the risk is much, much lower in outdoor areas than it is in indoor areas. So I would focus on doing outdoor activities.
For example, would you take your unvaccinated child to a large outdoor gathering like a sporting event at a full-capacity stadium?
If I had an unvaccinated child, I would probably be cautious about taking him or her to a large gathering, just because you don't know who is vaccinated and who isn't. Remember, with COVID-19, you can have minimal or no symptoms and still pass it on to others. My advice would be to use common sense and follow the guidance of public health officials. You should probably be all right in outdoor settings, but you should consider keeping a mask handy just in case.
What are the risks of being in a large gathering?
It's important to understand that you won't be just standing in a field by yourself at these events. There will be unpredictable situations where people will get close to you, like if you're waiting in line for a hot dog and someone sneezes on you or if someone bumps into you in the bathroom. It's a good idea to have a mask with you to be prepared for those situations.
For kids, does it help to have more vaccinated adults around them?
Yes. This is the concept of herd immunity where if enough people are immune to a disease, then it really can't transmit to others. The bottom line is, the more people who are vaccinated, the less likely it will be that your children will get COVID-19. It's a great idea for anyone who is eligible to get vaccinated. That is especially important for those who are in a household with kids under 5.
We know that even vaccinated people can become infected and that's expected because the vaccines are not 100% effective. But do we know if vaccinated people can transmit the virus to others?
We don't have the data yet on percentages of vaccinated people who have become infected and passed the virus on to others. But it's a good idea, if you're in close proximity to people and you don't know their vaccination status, to wear a mask. The Los Angeles County Department of Public Health has recommended that even if you're vaccinated you should wear a mask at an indoor venue, like a grocery store. I think they made that recommendation out of an abundance of caution that a vaccinated person who gets COVID-19 may be able to transmit the virus to others.
Anything else to add?
I want make sure people know they can find more in-depth information about the variants and health guidelines on the websites for the CDC or Los Angeles County Department of Public Health.
Find out more ways to keep your children and family safe during the pandemic: