Anesthesiology and Critical Care Medicine Research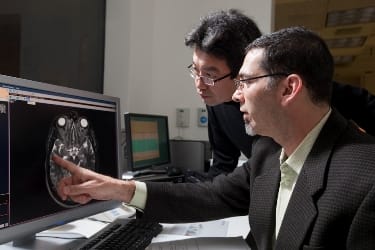 Children's Hospital Los Angeles physician-researchers are actively involved in leading-edge anesthesiology and critical care medicine research. Topics currently being studied include:
Machine Learning, Data Mining and Artificial Intelligence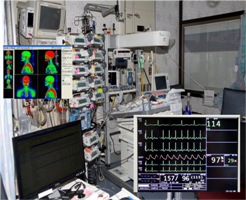 Randall Wetzel, MB, BS, FCCM, FAAP, has been awarded a Challenge Grant in Health and Science Research by the National Institutes of Health (NIH) National Library of Medicine to research advanced computational frameworks for decision support in critically ill children. The study aims to provide an integrated high-level view of a patient compared to and in the context of previous patients.
Researchers are using advanced computational techniques and artificial intelligence to detect categories in raw medical data from disparate data sources, allowing the most recent information about large numbers of critically ill children to be data mined. This allows researchers to find similarities between a patient and historical populations with known outcomes to enable decision support for diagnosis, management, therapy and outcomes, aiding disease detection, direct patient care, and quality and safety.
Therapeutic Hypothermia
Anesthesiology and Critical Care Medicine (ACCM) is one of the vanguard sites and top enrollers for the Therapeutic Hypothermia After Pediatric Cardiac Arrest (THAPCA) Trials, the largest funded clinical study in NIH history, led by Christopher Newth, MD. These trials test whether therapeutic hypothermia can improve survival and neurobehavioral outcome following out-of-hospital and in-hospital cardiac arrest in children. Prior animal studies and recent clinical trials information in adults with out-of-hospital cardiac arrest and newborns with hypoxic ischemic encephalopathy have demonstrated the effectiveness of therapeutic hypothermia in improving neurological outcome. Based on these findings, a well-executed randomized controlled trial in the pediatric population is urgently needed.
Virtual Reality Analgesia
Jeffrey Gold, PhD, is a recipient of the Cutting-Edge Basic Research Awards (CEBRA) by the NIH National Institute on Drug Abuse. His study involves using functional MRI (fMRI) to explore the central mechanisms of virtual reality (VR) analgesia's effect on experimentally induced pain in healthy adolescents. This research aims to use fMRI to probe the ways in which VR may modulate the neurobiological experience of pain in healthy adolescents. In achieving this goal, this study will not only enhance understanding of the complex ways in which VR influences the body's endogenous pain perception system, but may also lead to the development of new and more effective clinical applications of VR to manage acute and chronic pain.
Collaborative Pediatric Critical Care
The Los Angeles Center for Collaborative Pediatric Critical Care Research Network (CPCCRN), funded by the NIH, provides funding to USC and UCLA to conduct studies in pediatric intensive care units. Children's Hospital Los Angeles is the management center for both sites, and has built a research infrastructure for conducting multiple studies, training physicians and staff and enabling communication. The CPCCRN has completed eight studies and published a number of articles. Five studies are being conducted currently, including a NIH-funded E-ventilator decision support tool project that was designed by lead Children's Hospital investigator, Christopher Newth, MD.
Virtual PICU
Every day, doctors observe the outcomes of the treatment they provide for thousands of patients. These experiences serve as practical therapeutic trials, conducted on a patient-by-patient basis. With the increasing adoption of electronic health care records, hospitals and clinics are collecting data from thousands of these experiments daily. However, much of it remains inaccessible and unsearchable, and providers are unable to learn from this vast accumulated experience. The Laura P. and Leland K. Whittier Virtual Pediatric Intensive Care Unit (VPICU) aims to create a common information space for the international community of caregivers providing critical care for children. The VPICU will build extended databases to allow inter-institutional data sharing to create extended, multi-center knowledge bases. The VPICU will also improve education, quality enhancement and telemedicine in this field.
Selected Publications
1. Khemani RG, Markovitz BP, Curley MA. Characteristics of children intubated and mechanically ventilated in 16 PICUs. Chest. 2009 Sep;136(3):765-71. PMID: 19542258
2. Vichinsky EP, Neumayr LD, Gold JI, Weiner MW, Rule RR, Truran D, Kasten J, Eggleston B, Kesler K, McMahon L, Orringer EP, Harrington T, Kalinyak K, De Castro LM, Kutlar A, Rutherford CJ, Johnson C, Bessman JD, Jordan LB, Armstrong FD; Neuropsychological Dysfunction and Neuroimaging Adult Sickle Cell Anemia Study Group. Neuropsychological dysfunction and neuroimaging abnormalities in neurologically intact adults with sickle cell anemia. JAMA. 2010 May 12;303(18):1823-31. PMID: 20460621
3. Ross PA, Hammer J, Khemani R, Klein M, Newth CJ. Pressure-rate product and phase angle as measures of acute inspiratory upper airway obstruction in rhesus monkeys. Pediatr Pulmonol. 2010 May 17;45(7):639-644. PMID: 20575087
4. Wetzel RC, Sachedeva R, Rice TB. Are all ICUs the same? Paediatr Anaesth. 2011 Epub ahead of print: PMID: 21554489