Spatial Biology and Genomics Core
About the Spatial Biology and Genomics Core
The goal of the Spatial Biology and Genomics Core Lab (formerly known as the Single Cell, Sequencing, and CyTOF (SC2) Core) is to provide our research community with new, rapidly evolving technologies and instrumentation options for projects of any scale – individual researchers to large international teams. With a focus on rapid, accurate, reproducible high-throughput services and the bioinformatics support to interpret the results, the Spatial Biology and Genomics Core is committed to rigorous quality control standards to support the use of biological sciences for the advancement of biomedical research. We foster a collaborative environment across disciplines so that investigators can innovate and transform their research.
Please contact us to discuss your research project.
Please review the general Core Use Policy.
CoreConnect
This facility utilizes CoreConnect, a web-based core management system that supports the centralization of services and equipment scheduling, billing and usage tracking. Use of the new system is required for all core users, core leaders and core staff.
Learn more about CoreConnect
This Core participates in the CHLA Core Pilot Program. To learn more click here.
CHLA welcomes external users to utilize our Core facilities. Please contact Long Hung at SC2@chla.usc.edu or 323-361-8502.
Fee Structure
Spatial Biology and Genomics Core – Academic Pricing List CyTOF/IMC
(Please inquire for internal CHLA/USC or external industry pricing. The following internal prices are for Principal Investigators at CHLA and USC; rates are subject to change in the future. Prices may vary with each project design)
CyTOF Package
|   | Whole Blood Immunophenotyping with 200,000 events collected (includes staining with CHLA Immunophenotyping Panel and data analysis) | Cytokine Stimulation with CHLA Cytokine Panel |
| --- | --- | --- |
| CHLA/USC | Inquire | $80/Sample |
| Academic External | Inquire | $100/Sample |
| Industry | Inquire | $140/Sample |
CyTOF (Helios) Custom Hourly Service
|   | Acquisition (Hourly Rate) | Data Analysis (Hourly Rate) |
| --- | --- | --- |
| CHLA | $125 | $125 |
| Academic External | $160 | $160 |
| Industry | $220 | $220 |
Image Mass Cytometry – Staining per slide
|   | With CHLA/USC Panel | With Customer provided Panel |
| --- | --- | --- |
| CHLA | $650 | $350 |
| Academic External | $780 | $420 |
| Industry | $1125 | $625 |
Image Mass Cytometry – Ablation per Regions of Interest (ROI)
ROI per slide
(ROI = 1mm square)
CHLA/USC per ROI
External Academic Per ROI
For Profit price per ROI
1
$350
$400
$650
2
$300
$350
$550
3
$225
$275
$410
4-6
$210
$250
$380
7-10
$200
$230
$360
11-15
$190
$220
$350
16-20
$180
$210
$330
21-25
$175
$205
$320
26-30
$170
$200
$310
31-40
$165
$195
$300
41-48
$160
$190
$290
*Please inquire for pricing on custom conjugations and custom panel designs.
Spatial Biology and Genomics Core - Internal Pricing List Next Generation Sequencing
(Please inquire about External Pricing. Prices may vary with each project design)
Qubit
|   | Price/Sample |
| --- | --- |
| Qubit broad range DNA/ high-sensitivity DNA/ high-sensitivity RNA | $3.00 |
Bioanalyzer
|   | Samples/Chip | Samples Chip |
| --- | --- | --- |
| DNA 1000 | 12 Samples | $65 |
| High-sensitivity DNA | 11 Samples | $75 |
| RNA Nano | 12 Samples | $65 |
| RNA Pico | 11 Samples | $75 |
Library Prep – RNA-Seq
Protocol
Price/Sample
Please contact Spatial Biology and Genomics Core for pricing
Illumina Sequencing
| Platform | Chemistry | # Reads | Price |
| --- | --- | --- | --- |
| MiSeq v3 | 2 x 75 | 25M | $1150 |
| MiSeq v3 | 2 x 300 | 25M | $1,850 |
| MiSeq v2 | 2 x 150 | 15M | $1,280 |
| MiSeq v2 | 2 x 250 | 15M | $1,420 |
| MiSeq v2 Micro | 2 x 150 | 4M | $560 |
| MiSeq v2 Nano | 2 x 150 | 1M | $400 |
| MiSeq v2 Nano | 2 x 250 | 1M | $460 |
Data Analysis
| | |
| --- | --- |
| RNA-Seq Package Flat Rate | $2,500 |
| 16S/ITS Package Flat Rate | $2,500 |
| Shotgun Metagenomics Package Flat Rate | $3,750 |
| General Hourly Rate | $125/hour |
| 10X Genomics Cell Ranger | $200/sample |
Spatial Biology and Genomics Core – Internal Pricing List 10x Single Cell Sequencing Service
(Please inquire about External Pricing. Prices may vary with each project design)
10X Single Cell 3' Gene Expression Library Prep (includes library preparation only)
|   | Price/Sample |
| --- | --- |
| 1 sample | $2,450/sample |
| 2 samples | $2,100/sample |
| 3 samples | $1,900/sample |
| 4 samples | $1,750/sample |
| 5-8 samples | $1,700/sample |
* Sequencing cost of libraries will vary with projects.
The core has external contracts to have your libraries sequenced on a Illumina Hiseq 4000 platform starting at $1650 per lane (350 million reads per lane).
Image Mass Cytometry (Hyperion)

Next-Generation Sequencing Services (NextSeq and MiSeq)

Single Cell Sequencing (10X Genomics Chromium)

High-Throughput PCR and Gene Expression Services (Biomark HD)

Bioinformatics and Data Analysis
Mass cytometry (Helios, a CyTOF System, Fluidigm) combines time-of-flight mass spectrometry with metal-labeling technology to enable break through discovery and comprehensive functional profiling applications. With 135 available detection channels, this technology enables you to fully study the functional complexity of biological systems at the single cell level including phosphoprotein-signaling analysis on subpopulations of cells.
Imaging Mass Cytometry (IMC) on the Hyperion Imaging System uniquely combines a precisely directed laser beam focused at 1 μm to collect biological samples stained with metal-tagged Maxpar® antibodies and directs these tags for analysis with proven CyTOF technology. Bringing together the high-multiplex capabilities of mass cytometry with imaging using metal-tagged antibodies allows simultaneous interrogation of 4 to 37 protein markers in tissues and tumors at subcellular resolution while preserving the information in tissue architecture and cell morphology. Now researchers can detect discrete signals from each ionized metal tag based on differences in mass instead of wavelength at 1 Da resolution, and in contrast to fluorescence results, get uniform staining with minimal background.
The SC2 Core has developed a Human Tumor Microenvironment Panel available for use with the IMC. Using this panel as a backbone, the core is able to customize this panel based on your project's needs. Our IMC scientists can also assist with designing a whole new targeted panel for your specific project.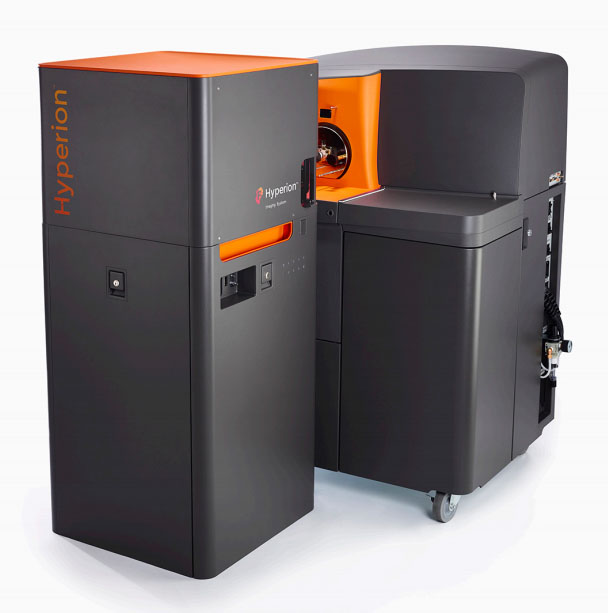 Massively parallel sequencers (NextSeq and MiSeq, Illumina) allow you to analyze single-cell genomics, RNA sequencing, microbiomes (bacterial and fungal), shotgun metagenomics, targeted gene analysis, and microbial whole genomes.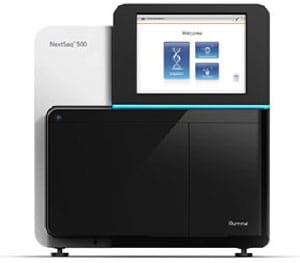 Single Cell Technology - using the 10X Genomics Chromium System
The compact, sleek Chromium Controller has been designed to rapidly and efficiently automate highly parallel sample partitioning and molecular barcoding. The Chromium Controller allows a user to run any Chromium Solution (see list below of all the Chromium Solutions available from 10X Genomics), spanning from genome to single cell analysis.
The Chromium Single Cell Gene Expression Solution provides high-throughput, single cell expression measurements that enable discovery of gene expression dynamics and molecular profiling of individual cell types.
The Chromium Single Cell Immune Profiling Solution is a comprehensive approach to simultaneously examine the cellular context of the adaptive immune response and immune repertoires of hundreds to tens of thousands of T and B cells in human or mouse on a cell-by-cell basis.
The Chromium Single Cell CNV Solution provides a comprehensive, scalable solution for revealing genome heterogeneity and understanding clonal evolution. Study disease pathogenesis or characterize neuronal mosaicism at the single cell level.
The Chromium Single Cell ATAC (Assay for Transposase Accessible Chromatin) Solution accelerates the understanding of the regulatory landscape of the genome, thereby providing insights into cell variability. The chromatin profiling of tens of thousands of single cells in parallel allows researchers to see how chromatin compaction and DNA-binding proteins regulate gene expression at high resolution.
The Chromium Genome Solution provides long range information on a genome-wide scale, including variant calling, phasing and extensive characterization of genomic structure. Unlock critical genetic information for variants in heritable disorders, and discover key genomic alterations in cancer.
The Chromium Exome Solution uses the power of linked-reads to fully resolve genic phasing, structural variation, and detect variants in previously inaccessible and complex regions of the exome.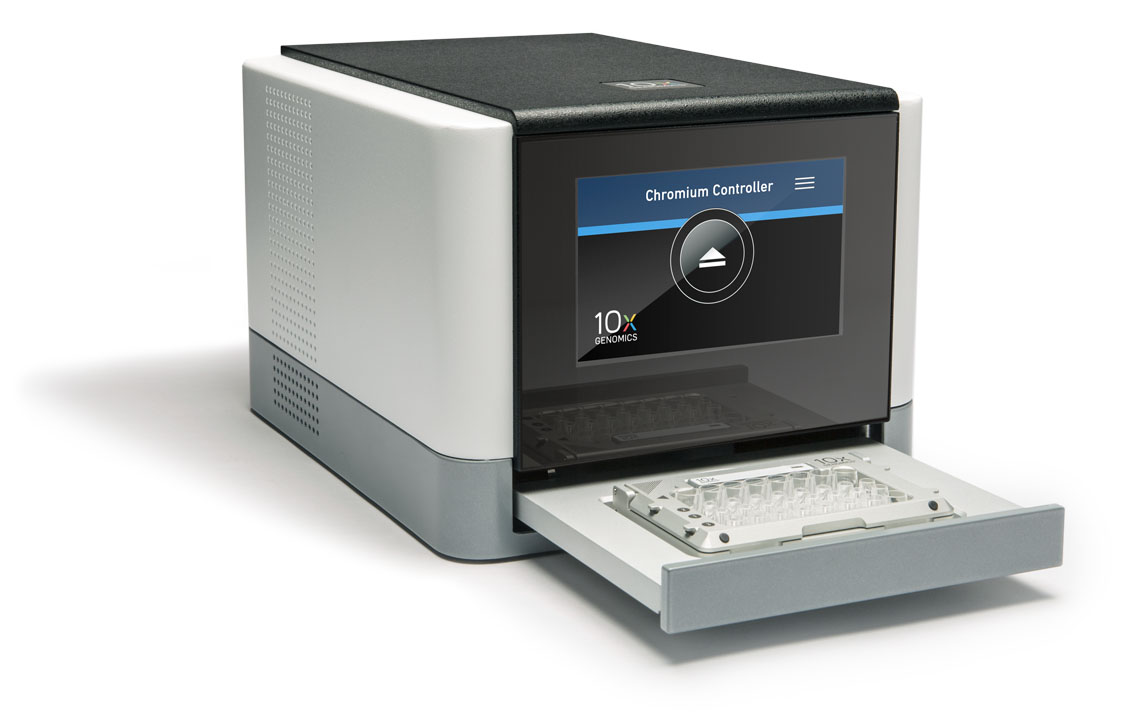 High-throughput, low volume real-time PCR (Biomark HD, Fluidigm) allows for up to 96 targets in 96 samples in a single run with minimal input RNA or DNA for gene expression, SNP, or CNV studies.
Our bioinformatics team provides all of the latest bioinformatics resources and expertise required to derive meaningful results from data generated on all 'omics' platforms. We have extensive experience with many popular software packages for single-cell RNA-seq (kallisto, Monocle2, DESeq2), metagenomics (QIIME, Kraken, MetaPhlAn2), and mass cytometry (Cytobank) analyses. We have access to private Linux servers as well as the USC High Performance Computing Core to provide you with all of the computing resources you may need regardless of the size of your project. We provide a whole suite of services including analysis of experiments performed elsewhere.
How to cite the Core in publications:
The ______ (select services: Next Generation sequencing, RNA Sequencing, Single Cell Sequencing, Microbiome Metagenetics, Mass Cytometry, Image Mass Cytometry) work was performed in the Spatial Biology and Genomics Core at The Saban Research Institute, Children's Hospital Los Angeles.
Recent Publications
Core Reagent Inventory
Select Cores offer reagents as part of their purchasable services to the CHLA research community. A searchable Core Reagent Inventory was created in support of the CHLA research community BenchResearchHelp initiative that connects researchers with reagents when in need of a small amount of a reagent, such as an antibody, to determine the efficacy in a particular experiment.
CHLA based investigators are welcomed to browse the Cores Reagent Inventory to access the complete product list for pricing and availability. The database will be updated on an annual basis. Contact the Core for more information.