About Us
The Grants team, within the centralized department of Research Operations, is a vital resource for the research endeavors at CHLA by providing support and guidance to investigators and staff within the research community through the review, approval and submittal of all proposals as well as acceptance of awards for sponsored projects.
How We Support
While the Grants team primarily reviews, approves and submits all proposals and accepts awards on behalf of investigators at CHLA, the team also provides assistance in processing amendments and subawards, Just-In-Time (JIT) information requests, and helps with progress report reviews and submissions. Additionally, the Grants team is responsible for interpreting and advising on sponsor guidelines, applicable federal, state and local laws and regulations as well as CHLA policy and procedures.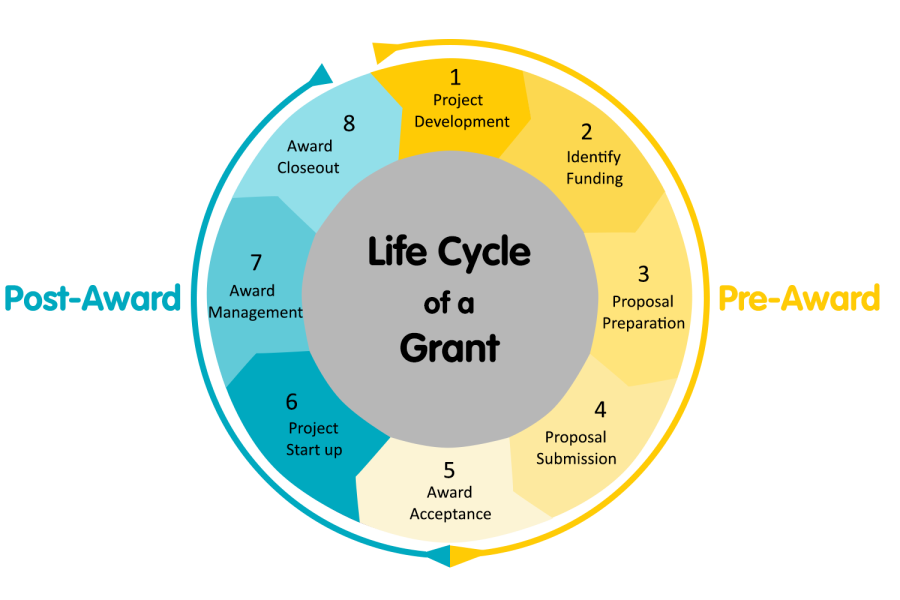 Grants Support Through the Life Cycle of a Grant

Proposal Review and Submission Life Cycle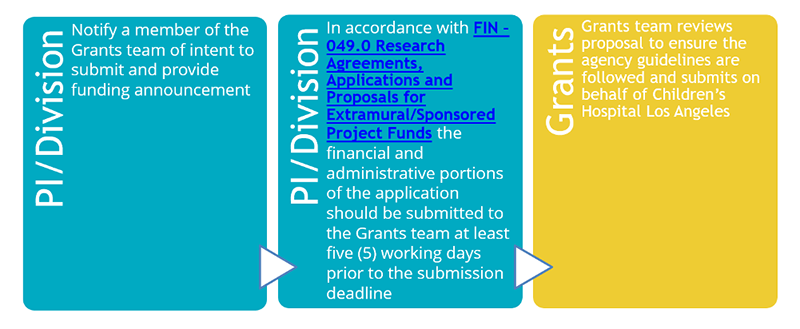 Pre-Proposal Preparation
The Grants team actively supports new and active investigators. For investigators in the pre-proposal preparation stage, please see below for helpful resources, links to funding opportunities and definitions.  Investigators are also advised to work with their divisional administration during pre-proposal preparation.
For CHLA Investigators with no divisional or departmental administrative support, the Research Services team in Research Operations is ready to support and can be contacted at researchservices@chla.usc.edu.
NIH & AHRQ Summary of Planned Changes to Policies, Instructions, and Forms
Upcoming Changes to the Biographical Sketch and Other Support Format Page
Updated biosketch format page, other support format pages and instructions are available for use in applications, Just-in-Time (JIT) Reports, and Research Performance Progress Reports (RPPRs) due on/after May 25, 2021. Full details are available in NOT-OD-21-073 and NOT-OD-21-110. Below are highlights of significant changes.
Effective Date
NIH expects applicants and recipients to use the updated biosketch and other support format for applications, Just-in-Time (JIT) Reports, and Research Performance Progress Reports (RPPRs) as of May 25, 2021.
During the transition to the new Biosketch format, NIH will not withdraw applications that include the previous Biosketch format. Beginning with applications submitted on or after January 25, 2022, failure to follow the appropriate Biosketch format may cause NIH to withdraw your application from consideration.
As a normal matter of business, NIH will incorporate the changes into the NIH Application Form Instructions within the next forms update by FY 2022.
Changes to Other Support
The format page has been re-organized to separate funded projects from in-kind contributions.
Signature block added, for Program Director/Principal Investigator or Other Senior/Key Personnel to certify the accuracy of the information submitted. Each PD/PI or senior/key personnel must electronically sign their respective Other Support form as a PDF prior to submission.
Supporting documentation, which includes copies of contracts, grants, or any other agreement specific to senior/key personnel foreign appointments and/or employment with a foreign institution for all foreign activities and resources that are reported in Other Support. If the contracts, grants, or other agreements are not in English, recipients must provide translated copies.
Immediate notification of undisclosed Other Support.

When a recipient organization discovers that a PI or other Senior/Key personnel on an active NIH grant failed to disclose Other Support information outside of Just-in-Time or the RPPR, as applicable, the recipient must submit updated Other Support to the Grants Management Specialist named in the Notice of Award as soon as it becomes known.
Changes to Biosketch
(Specific changes are below, in bold italics)
Section A
Section A. Personal Statement updated to read:
Briefly describe why you are well-suited for your role(s) in this project. Relevant factors may include: aspects of your training; your previous experimental work on this specific topic or related topics; your technical expertise; your collaborators or scientific environment; and/or your past performance in this or related fields, including ongoing and completed research projects from the past three years that you want to draw attention to (previously known as research support).
Section B
Section B 'Positions and Honors' has been renamed 'Positions, Scientific Appointments, and Honors'.
Section B. Positions, Scientific Appointments, and Honors updated to read:
List in reverse chronological order all positions and scientific appointments both domestic and foreign, including affiliations with foreign entities or governments. This includes titled academic, professional, or institutional appointments whether or not remuneration is received, and whether full-time, part-time, or voluntary (including adjunct, visiting, or honorary). High school students and undergraduates may include any previous positions. For individuals who are not currently located at the applicant organization, include the expected position at the applicant organization and the expected start date.
Section D
Section D is solely present on the fellowship version of the Biosketch, and no longer includes research support, only Scholastic Performance.
For the non-Fellowship Biosketch, Section D. has been removed.
For the Fellowship Biosketch, Section D has been updated to remove 'Research Support.'
Resources
Updated Biosketch resources, including FAQs and sample Biosketch format pages can be found here.
Updated Other Support resources, including FAQs and sample Other Support format pages can be found here.
When to Contact the Grants Team
A member of the Grants team is here and ready to help both seasoned and new investigators with proposal review and submission. Early contact to a member of the Grants team is advised to ensure appropriate time to review the agency funding announcement and to ensure each proposal is in optimal position to be submitted by the deadline. At minimum, and in accordance with FIN – 049.0 - Research Agreements, Applications and Proposals for Extramural/Sponsored Project Funds, the financial and administrative portions of the application should be submitted to the Grants team at least five (5) working days prior to the submission deadline.
Funding Opportunities
Investigators at CHLA are recommended to check the Research Funding Opportunities webpage, which is updated regularly to reflect:
Funding opportunities for all other federal sponsor agencies can be found here.
Career Development (K) Awards
NIH Career Development ("K") Awards provide support for individuals who have demonstrated independent research accomplishments and need additional experience to establish or sustain an independent research program. Career Development Awards may be mentored or non-mentored. Individual mentored K awards (K01, K07-developmental, K08, K22, K23, K25, K99/R00) provide support for a sustained period of "protected time" (generally three, four, or five years) for intensive research career development under the guidance of an experienced mentor or sponsor in the biomedical, behavioral, or clinical sciences. Independent (non-mentored) K awards (K02, K05, K07-leadership, K24) provide protected time for scientists who demonstrate the need for a period of intensive research focus as a means of enhancing their research careers. Independent K awards are intended to foster the development of outstanding scientists and to enable them to expand their potential to make significant contributions to their field of research.
Concurrent Salary Support For K Award Recipients
In accordance with the NIH Grants Policy Statement, mentored K awardees (K01, K07, K08, K22, K23, K25), as well as individuals mentored through institutional awards (K12, KL2) are required to devote a minimum commitment equivalent of nine (9) calendar person months (75% of their full-time appointment at the applicant institution) which is charged to the K award.
Mentored K awardees are not eligible to receive concurrent salary support from other research projects, except during the last two (2) years of a mentored K award. The awardee may be eligible to receive concurrent salary support from a concurrent research project once they have competed successfully for a peer-reviewed research award from NIH or any federal agency. As outlined in the NIH Grants Policy Statement (12.3.6.2 Concurrent Support), to be eligible for salary support from peer-reviewed research awards from any federal agency, all three (3) of the following requirements must be met:
The K award recipient must be one of the named PIs on a competing NIH research grant application (R01, R03, R15, R21, R34, or equivalent application from another federal agency) or a sub-project director on a competing multi-component research or center grant or cooperative agreement application (P01, P50, U01, or an equivalent application from another federal agency)
The K award must be active when the competing research grant application is submitted
The K award must be in its final two years before the reduction in effort to six (6) person-months (50% full-time professional effort) is permitted
Non-mentored K (K02, K05, K07, K24) awardees are allowed to charge effort and salary to federally funded projects as defined by the NIH Grants Policy Statement, 12.3.6.3. Generally, a non-mentored awardee may receive additional salary support from other NIH/PHS grants for effort above that required for the K award and there are no limitations to receiving other salary support. However, K02 recipients may not receive salary from other NIH/PHS grants.
To ensure all appropriate salary reimbursements are captured, CHLA will review each K award on its own merits. It is CHLA's responsibility to verify charges to grants are allowable, allocable, and appropriate according the NIH Grants Policy Statement and federal regulations.
As with any agency guidelines, the awarding agency may grant exceptions to the policies and guidance provided by NIH. At the time of the just-in-time award, Grants team will work with the K awardee and their mentor to request any necessary changes to the NIH policy. This may include the need to request approval of effort and/or salary on federal peer-reviewed grant when the K awardee is not in the last two years of their project.
Gifts vs. Grants
Both sponsored and donor-funded activities are externally-supported projects, and the classification of funding as "gift" or "sponsored" will affect, among other things, the way CHLA accounts for the funds, assesses F&A (indirect) costs, and reports on the use of the funds to the sponsor or donor.
Foundation Grants
The CHLA Office of Foundation Relations (OFR) can work with PIs to develop and shepherd grants foundation organizations. Once the PI has decided to submit the grant, the CHLA OFR office should be notified. The division analyst will work directly with the OFR on proposal documents as per the agency's guidelines/announcement. All applications submitted by the OFR must first be reviewed and approved by the Grants team.
Grants
Grants are sponsored projects that are typically awarded to CHLA in response to a detailed statement of work, usually supported by a project schedule and a line-item budget, both of which are essential to financial accountability. The purpose of a grant is to transfer money or anything of value to a recipient in order to accomplish a public purpose. Grants can support research, training and educational activities, travel, and conferences. Research Operations must review all sponsored projects grant applications and proposal submissions prior to submission to the agency.
Sponsored project grants typically include:
a line-item budget including indirect costs
a detailed scope of work or specific aims
a specified period of performance
a requirement to return any unexpended funds at the end of that period
regular financial reporting and audit
terms and conditions for the disposition of tangible properties, such as equipment, technical reports) or intangible properties, such as publication rights, inventions
Gifts
A gift is an in-kind contribution given to CHLA by a donor with no expectation of benefit other than the hospital expending the contribution for any mutually-agreed upon purposes.
A gift typically has the following characteristics:
no contractual requirements
no deliverables to the donor (though the funds may be restricted to a particular purpose)
irrevocable
no specified period of performance
no formal fiscal accountability to the donor beyond periodic progress reports
Government funds are never treated as gifts. Funding from voluntary health organizations or associations are sponsored projects and not gifts. In remaining cases, when funding is being provided by corporations or foundations, the distinction between gifts and sponsored projects will be made based on the proposal, statement of work, and terms of the agreement, taking into consideration the intent of the donor or sponsor. Sometimes, donors may use the word "grant" and "gift" interchangeably.
Limited Submissions
Limited Submissions are funding opportunities that restrict the number of applications from qualified institutions. Research Operations will post opportunities on this page as they become available.
Current Limited Submission opportunities:
Any investigator interested in a limited submission proposal must submit a pre-application packet to the Grants team at TSRIPreAward@chla.usc.edu once they determine intent to submit an application. Pre-applications must include a short (2-3 page) project description and the PI's CV or bio sketch. An internal committee comprised of research faculty and the Chief Scientific Officer will review the pre-applications and select the best qualified applicant(s). The committee will communicate results of the selection process to both the investigators and Research Operations. Selected investigators are then responsible for submitting a full proposal to the Grants team one week prior to the agency deadline for final review and submission.
For additional limited submission opportunities, please visit the USC Limited Opportunities website.
NIH Grants ID Numbers
The Grant Identifications Number is also commonly referred to as Assignment Number, Application Number, or the Award Identification Number, depending on its processing status. The identification number consists of several parts, each having a distinct meaning. The following example highlights each part of the award identification number.
For a complete description of Activity Codes, Organizational Codes, and definitions used in extramural programs, see the NIH website.
Example: 3 R01 CA12345-02S1A1
 NIH Grants ID Numbers System
Activity Code           R01
Serial Number          12345
Grant Year               -02
Other                       S1A1
 Other helpful NIH information available at https://grants.nih.gov/grants/oer.htm
Personnel Definitions
Principal Investigator (PI, also referred to as Program Director or Project Director) - The one individual designated by the applicant organization to direct the project or program to be supported by the grant. The PI is responsible and accountable to the applicant organization officials for the proper conduct of the project or program.
Co-Investigator (Collaborator) - An individual involved with the principal investigator in the scientific development or execution of the project. These individuals typically devote a specific percent of effort to the project and are identified as key personnel. The individual(s) may be employed by, or affiliated with, the grantee organization or an organization participating in the project under a consortium or contractual agreement.
Consultant - An individual who provides professional or highly technical advice or assistance to the hospital, over which the hospital controls the results but not the manner in which the service is performed. A consultant has measurable effort and is not normally an employee of the organization receiving the services. A consultant may also be a firm or an individual who is an established consultant and the services are provided on the basis of a written agreement for a fee.
Key Personnel - In addition to the principal investigator, Key Personnel are defined as individuals who contribute in a substantive, measurable way to the scientific development or execution of the project, whether or not salaries are requested. Typically, these individuals have doctoral or other professional degrees.
Other Significant Contributors - This category identifies individuals who have committed to contribute to the scientific development or execution of the project, but are not committing any specified measurable effort to the project. These individuals are typically presented at zero percent effort or as needed. A biosketch, including research support information, will be required for these individuals as this highlights their accomplishments as scientists. However, if an award is to be made, other support information will not be required or accepted for other significant contributors since considerations of overlap do not apply to these individuals. Should the level of involvement change for an individual listed in this category, they should be re-designated as Key Personnel.
Subrecipient vs. Vendor
U.S. Office of Management and Budget (OMB) Circular A-133 and Circular A-81 require awarding entities to determine whether an arrangement resulting from a particular award the awarding entity makes to another organization creates a subrecipient or vendor relationship between the awarding entity and that organization. The OMB defines the terms "vendor" and "subrecipient" and provides guidance for distinguishing between the two relationships. Please refer to the "Subrecipient vs. Vendor" section for detailed information.
Subrecipient vs. Vendor
Subrecipient/Subcontractor
An entity that expends awards received from a pass-through entity to carry out a project. According to A-133 and A-81, a subrecipient relationship exists when funding from a pass-through entity is provided to perform a portion of the scope of work or objectives of the pass-through entity's award agreement with the awarding agency. A pass-through entity is an entity that provides an award to a subrecipient to carry out a project.
Subrecipients/subcontractors generally:
Determine who is eligible to receive financial assistance, and which specific type of federal assistance is to be distributed.
Have its performance measured against whether it meets the objectives of the project.
Have responsibility for programmatic decision making.
Have responsibility for adherence to applicable program requirements.
Subrecipients use funds to carry out a project of the organization as compared to providing goods or services for a project of the awarding entity.
Vendor
A vendor is generally a dealer, distributor or other seller that provides, for example, supplies, expendable materials, or data processing services in support of the project activities. A vendor provides generally acquired goods or services related to the support of the prime award.
Vendors generally:
Provide goods and services within normal business operations.
Provide similar goods or services to many different entities.
Operate in a competitive environment.
Provide goods and services that are ancillary to the operation of the project.
A Vendor is not subject to compliance requirements of the project.
Please also refer to this checklist, developed by the Federal Demonstration Partnership Subcontracts Committee, to help determine when an entity is a subrecipient or a vendor.
Proposal Preparation and Submission
In order to best support the research community at CHLA, please find below helpful resources, definitions and descriptions to aid in the proposal process. Please note that Research Operations, as the office of CHLA's institutional signing official, has the responsibility and oversight to review all grant applications to ensure financial and administrative portions of all proposals meet hospital and sponsoring agency guidelines. Per CHLA policy, grant applications must be received by the Grants team at least five (5) working days prior to the funder's deadline. Principal investigators should confer with their divisional administration team far in advance to ensure proposals are in optimum form before submitting to the Grants team in Research Operations.
Budget Development
Funding from awards must be expended in accordance with governing regulations and agency policy. Pre-award reviews budgets to determine costs are allowable, allocable, and appropriate to grants in accordance with the Office of Management and Budget (OMB) Circular A-81, the agency's policies and guidelines, and institutional policy.
A cost is allowable when:
It serves a CHLA business purpose, including instruction, research, and public service
It is permissible according to CHLA policy and federal regulations (regardless of whether it is an extramurally sponsored project)
It is permissible (for a sponsored project) according to the terms and conditions of the agreement
It complies with federal rules for allowability which dictate that costs must be reasonable. A cost is reasonable when: a) prudent person would purchase the item at that price; b) the cost is necessary for the performance of the activity; and c) incurrence of the cost is consistent with established policies and practices
Costs must be allocable to the sponsored agreements. A cost is allocable when:
It is incurred solely to advance the work under the sponsored agreement
It benefits both the sponsored agreement and other work of the institution, in proportions that can be approximated through use of reasonable methods
It is necessary to the overall operation of the institution and in accordance with OMB Circular A-81, is deemed to be assignable in part to sponsored projects
Costs must be given consistent treatment through application of those generally accepted accounting principles (GAAP) appropriate to the circumstances.
All costs incurred on a grant must conform to any limitations or exclusions in 2 CFR 200 or the sponsored agreement.
PIs should work with their division administrators to develop a budget which ensures all costs in the budget are fair and reasonable for a research project in accordance with federal regulations, as applicable, agency policies and guidelines and institutional policy.
Preparing Budgets
When preparing a budget for a grant application, consider the following:
Build the budget following sponsor guidelines. The typical order of precedence is: 1) funding opportunity announcement; 2) agency's general grant guide; 3) agency's policies and guidelines; 4) 2 CFR 200; 5) institutional policies
Know budgetary limits for the project period, spending caps, etc. (i.e., travel, personnel)
Include only costs that are allowable, reasonable, and allocable to the project. Check the agency's policies and guidelines; these will often list allowable and unallowable costs. For NIH projects, refer to the NIH Grants Policy Statement § 7.9 Allowability of Costs/Activities for detailed information about allowable and unallowable costs
Provide a detailed justification for each category of cost. Requesting items that are typically not allowed (i.e., food, alcohol) requires an extremely detailed description justifying why the cost is necessary
Select appropriate budget template from the Forms & Policies page under the Grants section.
Indirect Costs
Federal Rate

RATE
DESCRIPTION
71%
Organized research
40%
Other sponsored activities (includes service)
8%
Training
35%
Off-campus (rent direct charged to grant)

Non-Federal Rate

RATE
DESCRIPTION
71%
Industry pre-clinical/lab research
35%
All other non-federal awards
Varies
The request for proposal or funding opportunity announcement details a different indirect cost rate.
Varies

The not-for-profit funding agency has a written policy that it pays a different fixed indirect cost rate.
Cost Sharing
CHLA seeks to support its faculty in the pursuit of their research interests while, at the same time, allocating all available resources to comprehensive support of the whole enterprise. Cost sharing, as defined below, may be requested by the grantor in the form of funds or other hospital resources that would be contributed or allocated to a sponsored project over and above the support provided by the grantor. This commitment made by CHLA creates the requirement to track cost sharing in accordance with FIN – 043.0 – Cost Sharing/Cost Matching.
CHLA actively discourages voluntary cost sharing on the part of principal investigators; exceptions may occasionally be made if the project in question is deemed by the Vice President, Research Operations to warrant a voluntary commitment. All exceptions must be approved prior to submission of the grant proposal by the Vice President, Research Operations. Reach out to TSRpreaward@chla.usc.edu to get an IDC/Cost Share form.
NIH Federal Budgets
This section refers to preparing a budget for the National Institutes of Health (NIH). Additional resources are located on the NIH website.
Direct Cost Categories
Personnel
Personnel costs often comprise 65-80% of total funds requested. All personnel with effort on project must be listed by name, and all personnel paid on a project must be CHLA faculty.
Principal Investigator(s)
Effort should reflect work required for project
If applicable, observe any salary cap limitations (e.g., the NIH Salary Cap)
Fringe benefits must correspond to approved institutional fringe benefit rate tiers
May add/delete personnel in future project years if scientifically necessary
May increase/decrease effort if scientifically necessary in future project years
Salary inflation should not exceed the sponsoring agency's inflationary limit
Consultants
May not be employees or faculty of the hospital
If consulting costs are substantial (>$10,000), a subcontract may be required
If awarded, division will handle consulting arrangement and payment through Purchasing
Equipment
Ask for what is reasonably needed for the project, especially if setting up a new lab
Itemize each piece with a cost over institutional threshold for equipment ($5,000). The threshold of $5,000 is for unit items, not individual items that add up to $5,000
Equipment is usually easier to justify in the early research years rather than later years
Equipment should be required 100% for project
Equipment is excluded from the F&A base
Materials & Supplies
Budgeted supplies must be essential to the proposal
Supplies should be itemized by category (glassware/plasticware, serum/radioisotopes, chemicals, sequencing kits)
Animal purchase is usually in the supplies category
Travel (Domestic & Foreign)
Include in the narrative the purpose of the travel and how it is directly related to the proposed project
The standard request is one domestic trip for PI
Additional travel can be requested as required by the individual project
Purpose of travel must directly benefit the project
Foreign travel must be necessary and extremely well-justified
Patient Care Costs (Inpatient & Outpatient)
Represents payments to hospitals and/or clinics for either in-patient or outpatient care
Patient care cannot include travel, lodging, or donor/volunteer/incentive fees. These costs should be in the Other Expenses category
Additional information on patient care costs is located on the NIH website
Alternations and Renovations
A&R costs are very rare
Equipment installation is not normally considered renovations
Alterations and renovations greater than $25,000 must be approved by NIH
Other Expenses
Examples of other expense items are:
Animal care costs
Publication costs, page charges, color plates
Equipment maintenance contracts (costs must be based on project usage percent)
Donor/volunteer fees, including travel, lodging, per diem stipends
Fee charges for services (mass spec., EM, flow cytometry)
Patient participant incentives and travel costs
All other costs identified as a direct charge necessary to do the research
Tuition, which is excluded from indirect costs
Subcontracts (Consortium/Contractual Costs)
The F&A costs for the first $25,000 of each consortium may be included in the modified total direct cost base
Most subcontracts are to other non-profits, but in special circumstances CHLA will subcontract to commercial or foreign institutions. See the vendor vs. subcontractor grid for additional guidance
Subcontract direct and indirect costs are included in CHLA's direct costs
Modified total direct cost excludes items of equipment and other capital expenditures, hospitalization and other fees related to patient care, fellowships, and that portion over $25,000 of each subaward or subcontract
Indirect Cost (Facilities and Administrative) Category
Refer to the Funding Opportunity Announcement (FOA) to determine whether indirect costs (IDC or F&A) are allowable. The FOA will also delineate whether there is a cap on the indirect cost rate. If there are no mandatory restrictions to IDC, use the applicable rate per CHLA's IDC Policy. Any voluntary exceptions to the IDC rate will require an IDC wavier, which should detail the amount of indirect to be waived, and must be approved at proposal time by the division head, division administrator, and Research Operations.
For a reference guide on indirect cost definitions and examples, please refer to this link on the NIH website.
Indirect cost (IDC) waiver may be requested by an investigator or funding agency for a specific project. Please read FIN – 048.0 - Indirect Costs, as applicable, prior to requesting and IDC waiver. IDC waivers must be submitted to the Grants team 10 business days prior to the agency deadline. When requesting and IDC waiver please be sure to complete the following:
Detailed budget without IDC waiver
Detailed budget with IDC waiver
Unallowable Costs
Certain cost items are not allowed to be charged to federally sponsored projects. Also, items factored into the indirect costs that may not be included in the direct costs of a project. To determine whether a cost item is allowable, refer to federal regulations, the agency's polices and guidelines or program announcement, and CHLA policy. NIH Grants Policy Statement Section 7.9 details the allowability of costs on NIH grants.
Subawards and Proposals
Internal Deadlines
All proposals must be submitted to Research Operations at least five (5) working days prior to submission for review and approval. Proposal packages including a completed Extramural Project Intake Form, the application or RFP guidelines/instructions and any other applicable approvals (indirect cost waivers, cost share requests) should be sent to Research Operations at least five days before agency deadline to allow for thorough and appropriate review. Additionally, since cost sharing of indirect cost waiver requests impact budget preparation, these documents should be submitted to Research Operations 10 days prior to an agency deadline.
| | |
| --- | --- |
| Proposal Components | Grant and subaward activity |
| IDC waiver or cost sharing requests | Ten (10) days prior to the sponsor's published deadline |
| Final proposal package, including draft of the sciences portion | Five (5) working days prior to the sponsor's published deadline |
| Final text for the science portion | Noon the day before the sponsor's published deadline |
Proposals submitted less than five (5) working days prior to the sponsor deadline will be reviewed in the order in which they were received.
Statement of Qualifications
For support in completing a Statement of Qualifications, please refer to:
The Saban Research Institute – Institutional Information
Foundation Grant Submission Workflow
While the Grants team within Research Operations, as the office of CHLA's institutional signing official, has the responsibility and oversight to review all applications to ensure the financial and administrative portions of any proposal meet hospital and agency guidelines, the Office of Foundation Relations (OFR) within the Foundation at Children's Hospital Los Angeles can work with study teams to help develop strong, competitive applications and shepherd an application to certain philanthropic funding organizations. The ORF has developed strong relationships with program staff within a select list of professionally managed philanthropic organizations and is a great resource for investigators seeking foundation grants. The Grants team can connect interested investigators with the OFR upon request.
To understand the workflow of Foundation Grant Submissions when collaborating with the Office of Foundation Relations, see below.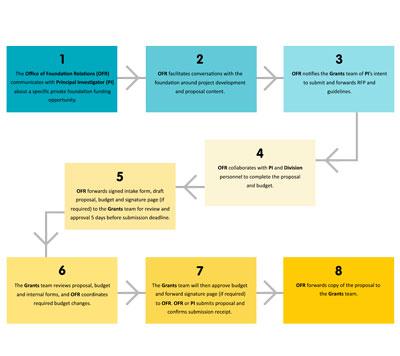 Transferring Awards
Incoming Award Transfers
Transferring a research award from another institution to Children's Hospital Los Angeles (CHLA) requires coordination between the incoming Principal Investigator (PI), the former institution, the funding agency and CHLA. The PI's former institution must relinquish the grant back to the sponsor for approval before the sponsor can approve the transfer of the award to CHLA. In many cases, sponsors will allow awards to be transferred when a PI leaves their institution. The Grants team should be notified as soon as PI commits to moving to CHLA and the transfer process should begin as soon as the incoming PI knows the award will be transferring.
The incoming PI's division must submit a completed Incoming Grant Transfer Checklist Form to the Grants team for each award being transferred.
NIH Transfer Applications
The NIH Change of Grantee Institution Policy requires that a transfer application be submitted through the new institution. This application will receive administrative review to determine if the transfer is appropriate. The NIH's decision to authorize transfer of the grant will be based upon whether:
The project has been relinquished by the former institution
The facilities and resources at the new location allow for the successful performance of the project
The PI plans no significant change in research objectives and level of expenditures from those described in the previously approved project.
After-the-Fact Proposals
All proposal submissions seeking external support for research and other sponsored projects must be submitted to the Grants team for review and approval prior to submission.
In some cases a sponsoring agency does not require a formal proposal prior to issuing an award. However, even when institutional sign-off is not required by the sponsor, the proposal must still be routed to the Grants for review and approval. Exceptions to this policy may include intramural awards.
Submitting a proposal application late or after-the-fact (ATF) will not circumvent a full review by the Grants team. Proposals submitted without Grants team approval may be administratively withdrawn if the submission is found to be non-compliant with CHLA policy or agency requirements. CHLA always reserves the right to request modification rejection of an award received when there is no approved proposal on file with Research Operations.
ATF Proposal Procedure
Notify your assigned grants analyst as soon as possible
Submit entire proposal documents to the analyst along with a completed Internal Intake Form
If the project has been funded, submit a copy of the proposal documents, along with the award letter, any sponsored-related forms, and all correspondence
If there are subrecipients on the project, also submit a copy of the subrecipient's statement of work and budget, and a letter of intent/Subrecipient Form on institutional letterhead confirming their participation in the project
Post Submission Material

Just-in-Time Submissions
The Just-In-Time (JIT) feature of the eRA Commons is available for applications that meet established criteria and fall within a certain percentile or priority scoring range. The JIT feature allows an authorized signing official (ASO) to electronically submit additional grant application information when requested by the grantor agency. The additional information is requested after a peer review of a grant application has been completed and prior to funding. Requests may come in the form of eRA-system generated e-mails or contact made directly from the awarding agency via e-mail and/or phone.
The PI/division is responsible for the initiation of the JIT submission by uploading the requested documents to the Commons and notifying the Grants team via email that the documents are ready for review and submission. JIT information should only be submitted when formally requested by NIH. Documents uploaded into the Commons without proper notification will not be processed.
eRA Commons Upload
To upload JIT documents into the Commons, follow the following steps:
Login to eRA Commons
Select Status in the menu bar at the top of the page
Select the JIT hyperlink on the right side of the screen corresponding to the application for which information is being submitted
Upload Other Support as requested (file must be in PDF format). There is no form page for providing other support, although sample format pages are available at NIH Sample Other Support Form 1 and NIH Sample Other Support Form 2 
Note that effort devoted to projects must be measured in person-months
If human or animals are being used in the project:
Enter the most recent IRB or IACUC approval date in the text box provided. All approvals must be current. If there is more than one IRB or IACUC approval, use the Other Upload function to include a PDF file with additional the information 
For projects involving human subjects, enter completed training information for all key personnel, including subcontractors, involved with the human subject's portion of the project
In order for Pre-award to validate dates, the IRB/IACUC actual approvals must be attached to the e-mail to Grants
When uploads are complete, click Save at the bottom of the screen and select View Just-In-Time Report. Verify and print the report to keep with departmental records.
Once upload is complete contact the Grants team analyst. After proper review, the analyst will submit the information electronically.
Once submitted, the Commons will send an e-mail confirmation to the PI and Grants analyst.
Email Notification
In some instances, it is not possible to submit JIT materials using the eRA Commons, or the PI will receive specific instructions indicating to submit the JIT materials via email.
To submit JIT materials not being submitted using the eRA Commons, send an e-mail to Pre Award with the following information in the subject line: JIT, application number, PI name, and agency due date.
Attach one PDF file with documents arranged in the order expressed by the NIH official:  Human Subjects (IRB) or Animal (IACUC) approval(s), whichever is applicable, training certifications, and/or any other supporting documentation should be included.
Also include in the body of the email to Grants any additional narratives providing status, justification or explanation requested by the sponsor.
If submitting a cover letter signed by the PI, forward the PDF and the initial agency request that contains instructions and due date for submission.
Award Acceptance and Progress Reports
Upon notification to the Grants team and Principal Investigator that a proposal is awarded for funding, a member of the Grants team will process the acceptance of the award and work with the investigator on next steps. Following the start of the project, the Grants team will also support investigators with Progress Reports and any changes to the project scope, details of which are below.
Subaward Processing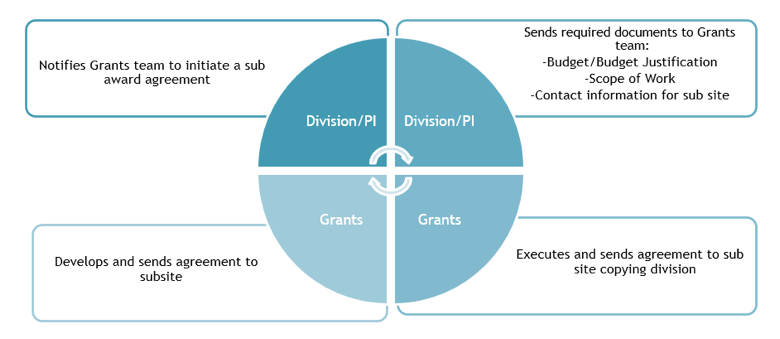 Progress Reports
As a component of the reporting process to the sponsoring agency, progress reports are typically required for all awards. The reporting requirements for an agency are generally listed in the program announcement, the agency's polices and guidelines, notice of grant award, or sponsored research agreement. The Grants team must review and approve all progress reports prior to submitting to the agency.
NIH Awards
Progress reports usually are required annually as part of the non-competing continuation award process.  NIH may require these reports more frequently. Refer to the notice of award (NOGA or NOA) for reporting requirements. The "Non-Competing Continuation Progress Report" (PHS 2590) or equivalent documentation (e.g., Research Performance Progress Report [RPPR]) must be submitted to, and approved by, NIH to non-competitively fund each additional budget period within a previously approved project period (competitive segment). Except for awards subject to Streamlined Non-Competing Award Process (SNAP), the progress report includes an updated budget in addition to other required information.
The RPPR is a federal wide format for the submission of required annual or other interim performance reporting on grant and cooperative agreement awards. NIH now requires use of the RPPR module in eRA Commons to submit all annual progress reports. NIH continues development of the RPPR for final progress reports and for administrative extensions (Type 4s; e.g., SBIR/STTR Fast-Track Phase II application) and will update the community as progress is made.
NIH Progress Report Deadline
Streamlined Non-Competing Award Process (SNAP) RPPRs are due approximately 45 days before the next grant year budget period start date. Non-SNAP RPPRs are due approximately 60 days before the next grant year budget period start date. Multi-year funded (MYF) RPPRs are due annually on or before the anniversary of the budget/project period start date of the award. The exact start date for a specific award may be found in grants status in eRA Commons.
A report of all progress reports due for an organization is available at here (CHLA's IPF Number is 1520001).
NIH RPPR Progress Reports
Route the completed RPPR to the Grants analyst by selecting an Authorized Signing Official. Use the validation button in the RPPR application to ensure there are no errors in the application prior to submitting it to Grants.
Change in Scope
Almost without exception, a change in scope of work requires a prior approval from the sponsoring agency.
In general, the Principal Director (PD)/Principal Investigator (PI) may make changes in the methodology, approach, or other aspects of the project objectives. However, a change in scope almost always requires sponsor approval unless special permission is given within the award agreement. A change in scope is a change in the direction, aims, objectives, purposes, or type of research training, identified in the approved project.
Actions likely to be considered a change in scope or objectives include, but are not limited to, the following:
Change in the specific aims of the project and approved at the time of award
Substitution of one animal model for another
Any change from the approved use of animals or human subjects
Shifting the emphasis of the research from one disease area to another
Applying a new technology, or changing assays from those approved to use of a different type of assay
Transferring the performance of substantive programmatic work to a third party by contract or any other means
Change in key personnel whose expertise is critical to the approved project
Significant re-budgeting whether or not it requires approval under rules governing budget changes. Significant re-budgeting occurs when the cumulative amount of transfers among direct cost categories for the current budget period exceeds either 25 percent of the total amount awarded or $250,000, whichever is less
Incurrence of patient care costs not previously approved and/or when a grantee desires to re-budget funds out of the patient care category
All requests for prior approval must be in writing, well-justified, and accompanied by supporting documentation to ensure that changes are reasonable and appropriate. The written requests have to be submitted to Grants to be reviewed and submitted.
To obtain sponsor approval, the PI must draft a justification letter on institutional letterhead. The letter must be signed by the division head and forwarded to the assigned Grants analyst.
Change in Personnel
Occasionally, it is necessary to change the Principal Investigator (PI)/Project Director (PD) or key personnel of an awarded grant or contract. This may be the result of a PI withdrawing completely from a project or taking a leave or sabbatical for a continuous period of three (3) months or more.
Most federal sponsors require the grantee to notify them prior to any changes with the PI or other key personnel named in the notice of award, as well as approval of any alternate arrangement to the PI or other key personnel proposed by the grantee before such changes can be implemented. Divisions should refer to the terms and conditions of the award to determine if the sponsor will allow the award to be retained in the absence of the original PI. Generally, sponsors reserve the right to terminate a grant if approval for a leave of absence has not been sought or if the replacement PD/PI or key personnel is not acceptable.
When the sponsor requires prior approval, such requests should be sent in writing to the Grants team for review and approval before they are submitted to the sponsor. Contact your Grants analyst for assistance.
Change in Principal Investigator
To request a change in PI/PD, the current PI or division must initiate the request and route it to the Grants team.
A request to a sponsoring agency for designation of a new PI/PD will typically state the reason(s) for such change. The letter should also include a clear outline of the new PI's qualifications to lead the program and accomplish the objectives as outlined in the original proposal. For NIH grants, a strong scientific justification related to the scientific project, including any proposed changes in scope and any budget changes resulting from the proposed change should be included in the letter. Additionally, these items may be required for submission to the sponsor in support of the proposed PI:
Curriculum vitae (CV)
Current and pending support
Letter signed by the department chair justifying the change. Also include a signature block for a CHLA authorized signing official
Submit this letter, plus a Research Conflict of Interest Certification form for the new PI, to the Grants team. Upon receipt of the letter, Grants will submit the request to the sponsor in accordance with their guidelines. Upon sponsor approval for change of PI, Grants will notify all of the appropriate business officials of the change and make necessary updates to all data systems and files.
Training Opportunities
Please sign up for the training opportunities offered by the Grants team on iLearn. 
Grants Pre-Award Basics
Federal Proposal Submission Systems
Outgoing FDP Sub-Award Training
NIH FORMS-H Training