Flow Cytometry (FACS) Core
About Us
Flow cytometry and fluorescence activation cell sorting is a powerful method to study and purify cells for wide applications in immunology, cell biology and other fields of biology.
How We Support
The mission of the Flow Cytometry (FACS) Core is to provide researchers at CHLA and other institutions with the ability to perform multi-parameter analysis and cell sorting on single-cell suspensions to asses cell morphology, phenotype, and function through standard and custom applications in support of biomedical research. With a focus on providing professional, efficient, timely services, continuous education and consultation in the utilization of this technology, the FACS core is committed to enhancing research capabilities by assisting investigators in their research endeavors.
Please review the general Core Use Policy.
CoreConnect
This facility utilizes CoreConnect, a web-based core management system that supports the centralization of services and equipment scheduling, billing and usage tracking. Use of the new system is required for all core users, core leaders and core staff.
Learn more about CoreConnect
This Core participates in the CHLA Core Pilot Program. To learn more click here.
Fee Structure
The following internal prices are for Principal Investigators at CHLA and USC; rates are subject to change in the future.
| Service/Instrument | Rate |
| --- | --- |
| Sorting | $125/hr |
| Specialized pre-sort setup | $125/hr |
| Operator assisted data acquisition | $125/hr |
| Instrument operation training | $125/hr |
| Data acquisition by a trained user | $75/hr |
| Development and optimization of new applications | Special - Variable on case by case basis |
| Consultation of data analysis | Free |
| Data analysis with software stations | Free |
Cell Sorters (Operator Assisted Only)

Cell Analyzers (Operator Assisted/Trained Users)

Imaging Flow Cytometry (Operator Assisted/Trained Users)

Single Cell Proteomics (Operator Assisted Only)

Fluoro Trends Newsletter & Core Updates

Helpful Links and Resources
Thermo Fisher Bigfoot: 9-laser (Violet, Blue, Red: 349/405/445/488/561/594/640/785nm) 60-color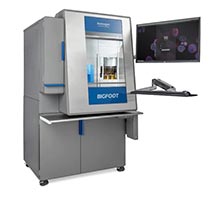 BD FACSymphony: 5-laser (UV, Violet, Blue, Yellow-green, Red: 355/405/488/561/637nm) 30-color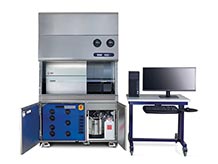 Cytek Aurora: 5-laser (UV, Violet, Blue, Yellow-green, Red: 355/405/488/561/633nm) 64-color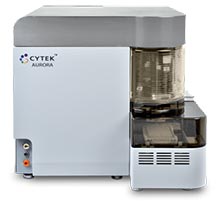 BD FACSCanto II: 3-laser (488/633/405nm) 10 parameter/8-color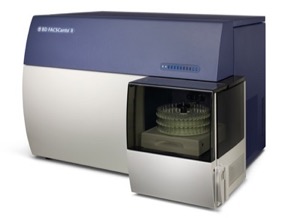 BD LSR II: 4-laser (UV, Violet, Blue, Red: 355/405/488/633nm) 18 parameter/16-color

Millipore Amnis Imagestream Mk II: 3-laser (Violet, Blue, Red: 405/488/635nm)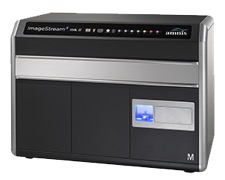 Combines the visual power of microscopy with the speed and sensitivity of flow cytometry at up to 60x magnification with EDF capability. Data files can be recorded as IDEAS .rif files as well as .fcs files that can be read with flow cytometry analysis software.
Applications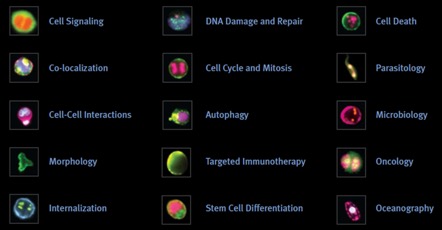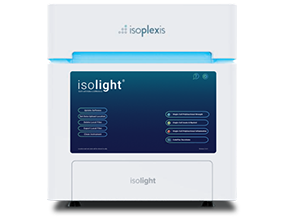 The IsoLight platform's predictive single-cell response enables quality assessments of T cell immunotherapies, as well as improved assessment of clinical response and mechanism of action in patient samples. The automated IsoLight platform, which runs the IsoCode Chip, is a versatile, precision automation platform designed to understand and characterize differences among single cells, mapping thousands of cells per sample, to reveal full functional profiles and polyfunctionality among cell subsets. The system phenotypes each immune cell by its extracellular function by what they call functional phenotyping.
Applications
Cancer Immunology
Oncology
Infectious Disease & Vaccines
Cellular & Regenerative medicine
Inflammation & Neurology
Sorting Workflow:
Prior to scheduling your appointment, please check with the FACS Core staff to confirm that the target fluorochromes in your experiment can be detected by the instruments offered by the core.
Discuss with the sort operator to decide what settings you will use including: nozzle size, collection receptacle, sort temperature.
Schedule your appointment in advance and specify the amount of time you will need.

If you are running late, please notify a member of the FACS core as soon as possible.
If you do not notify the operator, your appointment is subject to cancellation and you will be charged late fees.
Continual tardiness may result in your core privileges being revoked.
On The Day of Your Sort Appointment:
Filter your samples using round bottom tubes containing a strainer (Cat#352235) prior to bringing the samples to the lab. Your samples should include the following:

An unstained sample (highly recommended if possible)
Your stained samples
Any compensation controls if your sample is stained for more than one color. Compensation controls are single color controls that are only stained with one fluorochrome. (If your experiment involved only one fluorochrome + DAPI, this should not require compensation)

Bring sterile collection tubes with media already aliquoted inside. The number of tubes will depend on the number of populations you plan to collect. For example, if you want both the negative and positive populations for a GFP+ transduced sample, you will need two tubes for this single sample.
Stay with the operator to discuss the gating and selection of sort populations.
The operator will proceed with the sort. You may stay with the operator or return after the sort is completed.
The sort operator will return the sorted samples to you. We recommend you perform one wash (with PBS or cell culture media) to remove any sheath buffer from the cells.
Files Provided After Sort:
Batch analysis report: A PDF file displaying the gating and plots for the sort
Sort report: A PDF file showing the number of cells that were sorted and which gate was used to sort
Experiment file with FCS files: These files are your raw data. The XML experiment file can only be opened in FACS Diva and will include your gating strategy
Labeled FCS files: These FCS files can be used with third-party software such as FlowJo or FCS Express for further analysis.
Statistics report (by request): If you need a statistical report, please specify with the sort operator during your appointment so a report can be generated containing your parameters of interest (geo mean, median fluorescence intensity, mean fluorescence intensity, CV%, std dev, etc)
Additional Information
The following information is provided so that you can make the best use of your appointment time:
Planning Your Sort Experiment
Nozzle and Collection Receptacle
This setting can differ depending on the nozzle size and the number of cells you are expecting back. Always bring extra collection tubes. The general rule of thumb is that your nozzle size should be about 4-5 times larger than the size of the cells being interrogated.
The following recommendations are based on a 70 µm nozzle setting:
1.5 microcentrifuge tube (+ 300µL collection media) = ~500,000 cells
5 ml round bottom tube (+ 1 mL collection media) = ~2.8 million cells
15 ml polypropylene tube (+ 1 mL collection media) = 10 million cells
The following recommendations are based on a 100 µm nozzle setting:
1.5 microcentrifuge tube (+ 300µL collection media) = ~300,000 cells
5 ml round bottom tube (+ 1 mL collection media) = ~1 million cells
5 ml round bottom tube (+ 2 mL collection media) = ~800,000 cells
Sample Concentration
Having too diluted cells will lengthen the amount of time need for sorting. For your benefit, you should aim for the limiting factor to be the number of cells rather than the flow rate. Bring extra buffer to dilute your cells, if necessary.

As a reference, cell line concentration can be between 5-10 million cells per ml using the 100 um nozzle. If you have very few cells, please have the sample in a volume of at least 300 µL.
Sample Buffer
We generally recommend having your cells diluted in 2% FBS or 2% BSA. Higher concentrations of serum may cause your sample to become very viscous and clog the instrument. When possible, the buffer should not contain any phenol red as any dye in the medium can generate auto fluorescence.
Collection Buffer
As cells are very fragile after sorting, the collection media used can affect the viability of your cells greatly. The media should be buffered with a non-CO2 based buffer (e.g. HEPES) to maintain pH. The media should contain serum or BSA at an initially high concentration (e.g. 10 - 50%) that will get diluted as the tube fills with sorted cells. We often recommend to use 100% FBS for very fragile cells.
Recommended Consumables for Samples:
Sterile uncapped polystyrene round bottom tubes (Falcon, Cat#352052)
You can use these for analysis without sorting. They don't come with caps and they are the cheapest options.
Sterile capped polystyrene round bottom tubes (Falcon, Cat#352054)
Oftentimes people will use these tubes to collect the sorted population or for sort samples that they don't want to filter. We always recommend to filter your samples, but if there are very few cells or the cells are very small and don't tend to clump, it is fine to use these tubes.
Sterile polystyrene round bottom tubes with cell strainer (Falcon, Cat#352235)
We always recommend using tubes with cell strainers for sorting to make sure that the cells are in a single cell suspension and do not clog the instrument. This is especially important for cells that tend to clump (adherent cells, sticky primary cells, etc).
Other Sorting Tips
Cells must be in single cell suspension. Clumping of the cells can lead to clogging the instrument, which can cause the stream to spray and endanger the purity of your sorted samples. Do not leave your cells in a pellet for prolonged periods of time and keep the cells on ice (or at the best temperature determined for your cell type).
Controls are your best friend. You should always bring an unstained negative control (preferably of the same cell type as those being sorted). Your positive controls should be at least 20% positive (preferably 50%) and at least as bright if not more than the actual samples being sorted so that an accurate compensation matrix can be calculated. They should also be limited to one fluorescent protein per control tube.
The goal of this project is to spread news relevant to flow cytometry and further discussion with our flow core users. Each newsletter is sent out every 1-2 months and will feature a general flow cytometry topic.
Ask Us!
While we encourage all users to directly contact core staff, users can submit their questions anonymously via this link. Responses will be posted in the following Fluoro Trends newsletter depending on when the questions are received and how long it may take to research a response.
Subscribe
Please subscribe or adjust your subscription settings for the Fluoro Trends Newsletter and Core Updates at any time here. The newsletter is open to anyone interested in flow cytometry within and outside CHLA.
Current Protocols in Cytometry – Published in affiliation with ISAC
A comprehensive source for protocols and review articles focused on the detection and analysis of various cellular populations, including instrumentation, data processing and analysis, cell and molecular imaging, and more.
https://currentprotocols.onlinelibrary.wiley.com/journal/19349300

FPbase
A free and open-source, community-editable database for fluorescent proteins (FPs) and their properties. Each protein in the database has a dedicated page showing amino acid sequence, accession IDs (e.g. GenBank, UniProt), evolution lineages and mutations, fluorescence attributes, structural data, references that introduced or characterized the protein, and more.
https://www.fpbase.org/spectra/
ISAC Biosafety Standards
The ISAC Biosafety Committee was established with the goal of providing guidance to its membership and the scientific community on safety issues related to cytometry, in particular cell sorting. The committee has been active in the creation of biosafety guidelines and standards for cell sorting and updated the Standards in 2014.
https://isac-net.org/page/Biosafety

Optimized Multicolor Immunofluorescence Panel (OMIP) Collection
Aspecial peer-reviewed Cytometry Part A publication type that reports on newly designed and optimized multicolor panels for flow cytometry, fluorescence microscopy, image cytometry, and other polychromatic fluorescence-based methods.
https://onlinelibrary.wiley.com/doi/toc/10.1002/(ISSN)1552-4930.OMIPscollection

Core Reagent Inventory
Select Cores offer reagents as part of their purchasable services to the CHLA research community. A searchable Core Reagent Inventory was created in support of the CHLA research community BenchResearchHelp initiative that connects researchers with reagents when in need of a small amount of a reagent, such as an antibody, to determine the efficacy in a particular experiment.
CHLA based investigators are welcomed to browse the Cores Reagent Inventory to access the complete product list for pricing and availability. The database will be updated on an annual basis. Contact the Core for more information.
Investigators who received services provided by the Flow Cytometry (FACS) Core are required to acknowledge the Core in publications. The following statement is provided for use in publications:
The flow cytometry and/or analysis work was performed in the FACS Core at The Saban Research Institute, Children's Hospital Los Angeles.
Following any publication that cites the Core, please inform the Core at aluong@chla.usc.edu
Recent publications include:
S. Da Sacco et al. Direct Isolation and Characterization of Human Nephron Progenitors. Stem Cells Transl Med. 6, :419-433 (2017).
V.L. Ha et al. The T-ALL related gene BCL11B regulates the initial stages of human T-cell differentiation. Leukemia. 31, 2503-2514 (2017).
E.J. Joo et al. Pre-B acute lymphoblastic leukemia expresses cell surface nucleolin as a 9-O-acetylated sialoglycoprotein. Sci Rep. 8, 17174 (2018).
S. Khan et al. A Selective BCL-X L PROTAC Degrader Achieves Safe and Potent Antitumor Activity. Nat Med. 25, 1938-1947 (2019).
H.C. Liu et al. Characterizing Deformability of Drug Resistant Patient-Derived Acute Lymphoblastic Leukemia (ALL) Cells Using Acoustic Tweezers. Sci Rep. 8, 15708 (2018).
A. Petrosyan et al. A glomerulus-on-a-chip to recapitulate the human glomerular filtration barrier. Nat Commun. 10, 3656 (2019).
S. Sedrakyan et al. Amniotic fluid stem cell-derived vesicles protect from VEGF-induced endothelial damage. Sci Rep. 7, 16875 (2017).
JA. Zagory et al. PROMININ-1 promotes biliary fibrosis associated with biliary atresia. Hepatology. 69, 2586–2597 (2019).
B. Zhou et al. Claudin-18-mediated YAP activity regulates lung stem and progenitor cell homeostasis and tumorigenesis. J Clin Invest. 128, 970-984 (2018).