Extracellular Vesicle Core
About Us
The CHLA Extracellular Vesicle Core provides the research community with expertise, optimized tools and emerging technologies to support research in the developing fields of Extracellular Vesicle and nanoparticles research. The core provides isolation, characterization, and analysis of extracellular vesicles and other nano-sized particles (e.g. viruses, liposomes, nanobubbles). Established in July 2018, this is the first core in the country dedicated to the rapidly evolving field of Extracellular Vesicle research and applications.
Services
The CHLA Extracellular Vesicle (EV) Core provides the research community with expertise, optimized tools and emerging technologies to support research in the developing fields of Extracellular Vesicle and nanoparticles research.
Provided services:
EV isolation with a choice of standard and up-to-date methodologies.
EV analysis by Nanoparticle Tracking Analysis (NTA) with Nanosight NS300 instrument
EV characterization by

ExoView R100 platform: based on Single Particle Interferometric Reflectance Imaging Sensor (SP- IRIS) technology
Classical SDS-PAGE and immunoblotting

Exosomal RNA analysis by TaqMan-based quantitative real-time PCR
Generation of EV-depleted FBS.
User accessible instruments:

Beckman Ultracentrifuge
KrosFlo Tangential Flow Filtration syste
Please review the general Core Use Policy.
CoreConnect
This facility utilizes CoreConnect, a web-based core management system that supports the centralization of services and equipment scheduling, billing and usage tracking. Use of the new system is required for all core users, core leaders and core staff.
Learn More about CoreConnect
This Core participates in the CHLA Core Pilot Program. To learn more click here.
CHLA welcomes external users to utilize our Core facilities. Please contact Paolo Neviani, PhD at pneviani@chla.usc.edu or call 323-361-8564.
Fee Structure
Effective March 1, 2023: The following prices are for Principal Investigators at CHLA and USC; rates are subject to change in the future.
Service
Instrument / Notes
Rates for CHLA
Nanosight Tracking Analysis (NTA) - Full Service
NanoSight NS300
$125/hour
Nanoparticle Tracking Analysis (NTA) - Trained User
NanoSight NS300
$50/hour
Extracellular Vesicle Isolation from cell culture supernatants, includes NTA analysis
Single isolation method: Ultrafiltration/Tangential Flow Filtration followed by Size Exclusion Chromatography
S: $144.50/sample
M: $150/sample
L: $390.50/sample
Extracellular Vesicle Isolation from Biofluids/Tissues (e.g., plasma/serum), includes NTA analysis.
Double isolation method: Density Gradient Ultracentrifugation followed by Size Exclusion Chromatography
$177/sample
ExoView - Full Service
ExoView R100
$150/sample
ExoView - User-assisted (user provides chips)
ExoView R100
$80.80/sample
RNA Isolation
QC by Nanodrop
$17/sample
qPCR full service (user provides TaqMan® primer/probes assays)
BIoRad CFX96 Touch
$2.40/replicate
Instrument Use Only
BIoRad CFX96 Touch
$20/hour
Immunoblotting for EV characterization
According to ISEV guidelines
up to 17 samples per gel
up to 4 primary antibodies
$280/gel
EV-depleted FBS
50ml aliquots
$89.90/aliquot
Use of Tangential Flow Filtration System (user provides filters and other supplies)
KrosFlo TFF by SpectrumLabs
Complimentary
Use of Ultracentrifuge - requires IBC and Biohazard use approval
Beckman Coulter Optima XE-90K
Complimentary
Generation of empty lipid nanoparticles (LNP)
18ml aliquot
$161.80/aliquot
Labeling of up to 500ug of antibody
User provides functional grade antibody
$50.50/labeling
Loading of LNP with nucleic acids and antibody
User provides nucleic acid and antibody
$32.40/reaction
User Accessible Chromatography system (user provides all supplies)
ÄKTA start – Instrument use only
$10/hour (up to 4 hours)
$50/4-24 hours
TaqMan advanced miRNA array
TaqMan qPCR-based screening of 754 human miRNAs (click for more info) with as low as 1ng of RNA
$691/sample
Instrument training fee
Required for:
NanoSight NS300
ExoView R100
$125/hour
Technical Assistance
Consultation/analysis and experiment assistance
$87.90/hour
Core Reagent Inventory
Select Cores offer reagents as part of their purchasable services to the CHLA research community. A searchable Core Reagent Inventory was created in support of the CHLA research community BenchResearchHelp initiative that connects researchers with reagents when in need of a small amount of a reagent, such as an antibody, to determine the efficacy in a particular experiment.
CHLA based investigators are welcomed to browse the Cores Reagent Inventory to access the complete product list for pricing and availability. The database will be updated on an annual basis. Contact the Core for more information.
Access for Non-Hospital Researchers
Access to ECV Core facilities for researchers at USC and other institutions can be arranged. Interested researchers should contact the Technical Director to inquire about availability and rates.
References and Useful Publications

Core Acknowledgment in Publications
NanoSight NS300
The Malvern Panalytical NanoSight NS300 uses the technology of Nanoparticle Tracking Analysis (NTA). This unique technology utilizes the properties of both light scattering and Brownian motion in order to obtain the size distribution and concentration measurement of particles in liquid suspension. A laser beam is passed through the sample chamber, and the particles in suspension in the path of this beam scatter light in such a manner that they can easily be visualized via 20x magnification microscope onto which is mounted a camera. The camera operates at 30 frames per second (fps), capturing a video file of the particles moving under Brownian motion. The software tracks many particles individually and using the Stokes-Einstein equation calculates their hydrodynamic diameters.
Automated analysis of the size distribution and concentration of all types of nanoparticles and extracellular vesicles from 20nm to 1000nm in diameter.
Equipped with a 532 nm green laser and a 565LP fluorescence filter for the detection of fluorescently labeled vesicles (e.g. CellMask Orange, PKH26, Dil dyes).
ÄKTA™ start
ÄKTA™ start is a laboratory scale preparative chromatography system designed as a stand-alone system, with intuitive design, simple flow path, and user-friendly interface.
ÄKTA start offers the following features:
Compact solution for quick and reproducible purifications
Sample injection and fraction collection options
Quick start methods and templates for common purification techniques
Software enabled real-time monitoring
The Core utilizes the ÄKTA start system for Extracellular Vesicle Isolation by Size Exclusion Chromatography.
EV core users may request access to the instrument and will be able to independently perform a variety of applications, including but not limited to:
Desalting or buffer exchange
Affinity Chromatography
Ion exchange chromatography
Size exclusion chromatography
ExoView R100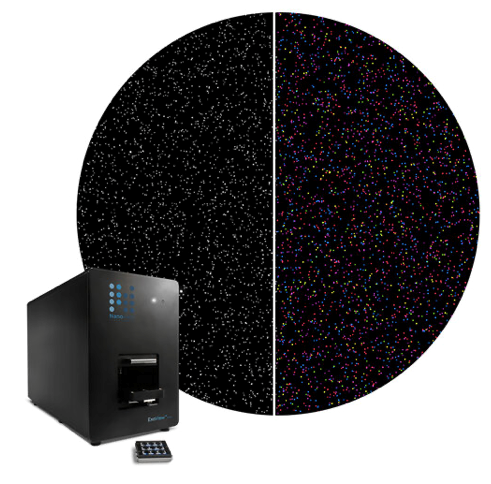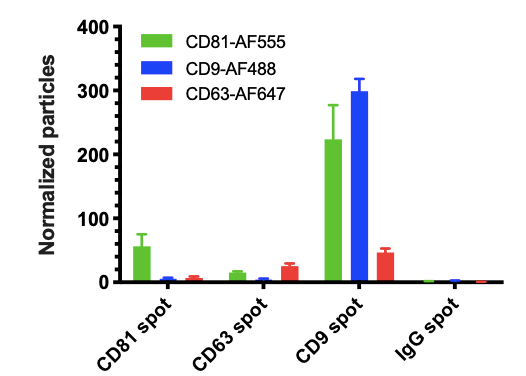 The ExoView instrument is a step forward in characterization capabilities within the extracellular vesicle field. The fully automated platform, based on Single Particle Interferometric Reflectance Imaging Sensor (SP- IRIS) technology, provides multi-level and comprehensive measurements for exosome particle size analysis, exosome count, exosome phenotype, and biomarker colocalization. The ExoView platform provides previously unattainable information in a single and bias free sample workflow.
ExoView works without the need for sample purification and brings the researcher one step closer to analyzing a sample in its natural state. ExoView is an affinity-based technology that allows specific populations of exosomes and other extracellular vesicles to bind in a multiplexed manner to a functional ExoView® chip. The fully automated instrument can measure 9 samples automatically, direct from sample, saving cost, time, and reducing purification biases.
Advantages:
Biomarker colocalization:

Quantify relative protein expression of up to 4 proteins per exosome

Count extracellular vesicles:

Count the number of antigen-positive exosomes directly from sample, no purification required

Extracellular vesicle size:

Acquire high-resolution measurements of the size of individual antigen-positive exosomes

Extracellular vesicle cargo:

Probe for exosomal luminal proteins and cargo

Fluorescence:

Detect lowest abundance proteins with single binding event sensitivity across three color channels

Streamlined workflow:

Automated analysis of up to 9 samples with single button sample analysis

Purification not required:

Detect the changes in your sample, not the biases from your purification technique

Multiplexed sample analysis:

Characterize multiple populations of exosomes from a single sample using up to 6 surface markers
For more information: www.nanoviewbio.com
Beckman Coulter Optima XE-90K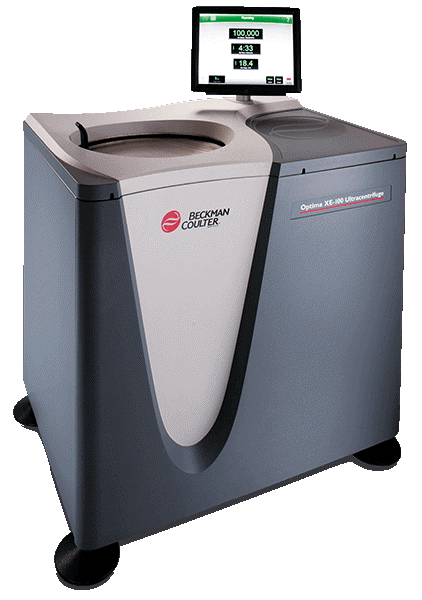 The Beckman Optima™ XE-90K Preparative Ultracentrifuge is suitable for separation of small particles such as small extracellular vesicles, viruses, viral particles, proteins and/or protein complexes, lipoproteins, RNA, and plasmid DNA.
Several rotors (swing-out and fixed angle) for different applications are available. Please inquire with core for user training.
Characterization of Exosomes by Immunoblotting with Bio-Rad Protean and Trans-Blot System
Exosome-containing samples are characterized by immunoblotting with previously validated antibodies.
Four markers are analyzed according to the International Society of Extracellular Vesicles https://www.ncbi.nlm.nih.gov/pmc/articles/PMC4275645/:
Transmembrane or lipid-bound extracellular proteins (e.g. CD9, CD63 or CD81); Argues presence of a membrane in the isolate; present or enriched in EVs/exosomes.
Cytosolic proteins (e.g. TSG101, Alix); With membrane- or receptor-binding capacity; present or enriched in EVs/exosomes.
Intracellular proteins (e.g Calnexin); associated with compartments other than plasma membrane or endosomes; absent or under-represented in EVs/exosomes.
Extracellular proteins (e.g. Fibronectin-1); binding specifically or non-specifically to membranes, co-isolating with EVs; variable association with EVs.
Apolipoproteins (e.g Apo-B100); for complex biofluids such as plasma or serum the presence of low-density lipoproteins (VLDLs, LDLs) is an indication of purity of the EV preparation.
Tangential Flow Filtration – KrosFlo TFF by SpectrumLabs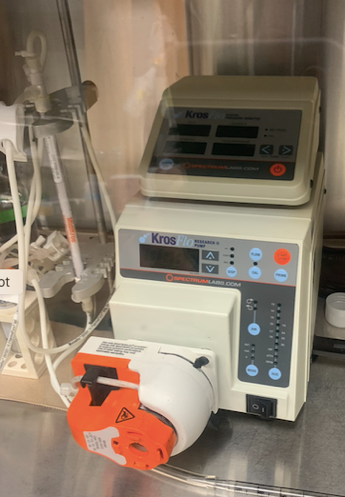 Tangential flow filtration (TFF) is a rapid and efficient method for separation and purification of biomolecules. See how it works here.
It can be applied to a wide range of biological fields such as immunology, protein chemistry, molecular biology, biochemistry, and microbiology. TFF can be used to concentrate and desalt sample solutions ranging in volume from a few milliliters to several liters. It can be used to fractionate large from small biomolecules, harvest cell suspensions, and clarify fermentation broths and cell lysates.
For example, TFF can be used to concentrate large volumes of EV-containing samples (e.g. conditioned medium) to a more manageable volume prior to EV isolation. Please inquire with the core for user training.
Considerations on how to pick the best isolation methods.
Method
Advantages
Disadvantages
Differential ultracentrifugation
Standard method; most commonly used until recently. Isolation from large volumes.
Lengthy (4-5h).
Low recovery (5-25%).
Co-precipitation of protein aggregates, nucleosomal fragments.
EVs may be damaged by shearing force (100,000g).
Density Gradient on Sucrose or Iodixanol cushion
Highest degree of purity based on density.
Very lengthy (16+ hours), very sensitive to centrifugation time. Complex. Not easily scalable. Sucrose toxicity.
Size Exclusion Chromatography
Highest degree of purification based on size; vesicles not affected by shearing force, gentle. Large scale. Superior reproducibility.
Highest degree of purification based on size; vesicles not affected by shearing force, gentle. Large scale. Superior reproducibility.
Immuno-affinity sorting
High purity based on surface markers
Not suitable for large samples; low yield.
Minimal information for studies of extracellular vesicles 2018 (MISEV2018): a position statement of the International Society for Extracellular Vesicles and update of the MISEV2014 guidelines. Thery et al, JEV. 2018 Nov 23;7(1):1535750. doi: 10.1080/20013078.2018.1535750 (https://www.tandfonline.com/doi/full/10.1080/20013078.2018.1535750)
How to cite the Core in publications:
The EV work was performed in the Extracellular Vesicle Core at The Saban Research Institute, Children's Hospital Los Angeles.
Publications made possible by Core support:
Xin Tang, Cheng Chang, Jiacong Guo, Vadim Lincoln, Mei Chen, David T. Woodley, and Wei Li. Department of Dermatology and the Norris Comprehensive Cancer Centre, University of Southern California Keck Medical Centre. Tumour-Secreted Hsp90a on the External Surface of Exosomes Mediates Tumour-Stromal Cell Communication via Autocrine and Paracrine Mechanisms. Sci Rep. 2019 Oct 22;9(1):15108
https://www.ncbi.nlm.nih.gov/pmc/articles/PMC6805946/

Paolo Neviani, Petra M Wise, Mariam Murtadha, Cathy W Liu, Chun-hua Wu, Ambrose Y Jong, Robert CSeeger and Muller Fabbri Natural Killer-derived exosomal miR-186 inhibits neuroblastoma growth and immune escape mechanisms. Cancer Res December 12 2018 DOI: 10.1158/0008-5472.CAN-18-0779
https://www.ncbi.nlm.nih.gov/pmc/articles/PMC6428417/