Cellular Imaging Core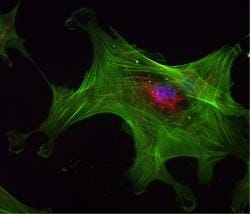 About Us
The Cellular Imaging Core provides state-of-the-art equipment in microscopy and digital imaging to investigators at CHLA. Imaging technology in modern biological research is constantly undergoing enormous advances. The acquisition, processing, analysis and storage of digital images are an important part of most biomedical research projects. The primary focus of the Core is technology transfer and provision of facilities for acquisition and analysis of histological and cytological preparations. An important aspect of this technology transfer is to provide training in the use of digital imaging devices, as well as in the application of image analysis procedures for generation of quantitative data.
Services
The Imaging Scientist provides expert consultation on the design, execution and analysis of fixed and live cell imaging experiments. Please contact the Imaging Scientist directly to arrange access and training in the utilization of Core facilities.
This Core participates in the CHLA Core Pilot Program. To learn more click here.
Equipment and Software
The Cellular Imaging Core houses modern light microscopy and digital image processing equipment to support cell biology research at our facility as well as other institutions. Click here for details on our equipment and software.
Cellular Imaging Core Fee Structure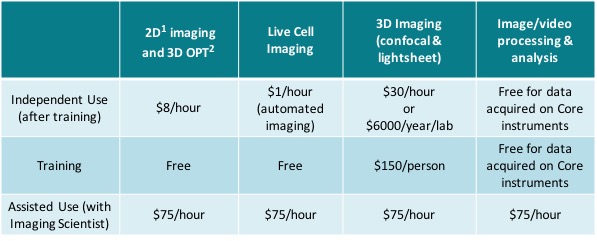 1= 2D imaging techniques available: fluorescence; color brightfield, phase-contrast & differential interference contrast (DIC); automated tiling & merging of large areas
2 OPT= optical projection tomography
Access for Non-Hospital Researchers
Access to Cellular Imaging Core facilities for researchers at USC and other institutions can be arranged. Interested researchers should contact the Imaging Scientist to inquire about availability and rates

.
How to cite the Core in publications:
The authors thank G. Esteban Fernandez and the Cellular Imaging Core at the Saban Research Institute of Children's Hospital Los Angeles for expert assistance with image acquisition and/or analysis.
Cellular Imaging Core Publications and Data
3D Confocal
Vimentin-mediated signaling is required for IbeA+ E. coli K1 invasion of human brain microvascular endothelial cells.
2010. Chi F, Jong TD, Wang L, Ouyang Y, Wu C, Li W, Huang SH. Biochemical Journal 427(1):79-90.
Calcium Imaging In Live Cells
Escherichia coli K-1 Interaction with Human Brain Micro-vascular Endothelial Cells Triggers Phospholipase C-γ1 Activation Downstream of Phosphatidylinositol 3-Kinase.
2003. Sukumaran SK, McNamara G, Prasadarao NV. Journal of Biological Chemistry 278(46):45753-45762.
Confocal Image Quantitation
Hypothalamic neural projections are permanently disrupted in diet-induced obese rats.
2008. Bouret SG, Gorski JN, Patterson CM, Chen S, Levin BE, Simerly RB. Cell Metabolism 7(2):179-85.
Fluorescence Image Quantitation
The Contribution of Bone Marrow–Derived Cells to the Tumor Vasculature in Neuroblastoma Is Matrix Metalloproteinase-9 Dependent.
2005. Jodele S, Chantrain CF, Blavier L, Lutzko C, Crooks GM, Shimada H, Coussens LM, DeClerck YA. Cancer Research 65(8):3200-3208.
Spectral Imaging
Hepatitis C Virus Causes Uncoupling of Mitotic Checkpoint and Chromosomal Polyploidy through the Rb Pathway.
2009. Machida K, Liu J-C, McNamara G, Levine A, Duan L, Lai MMC. Journal Of Virology 83(23):12590–12600.