The Saban Research Institute Women in STEM Forum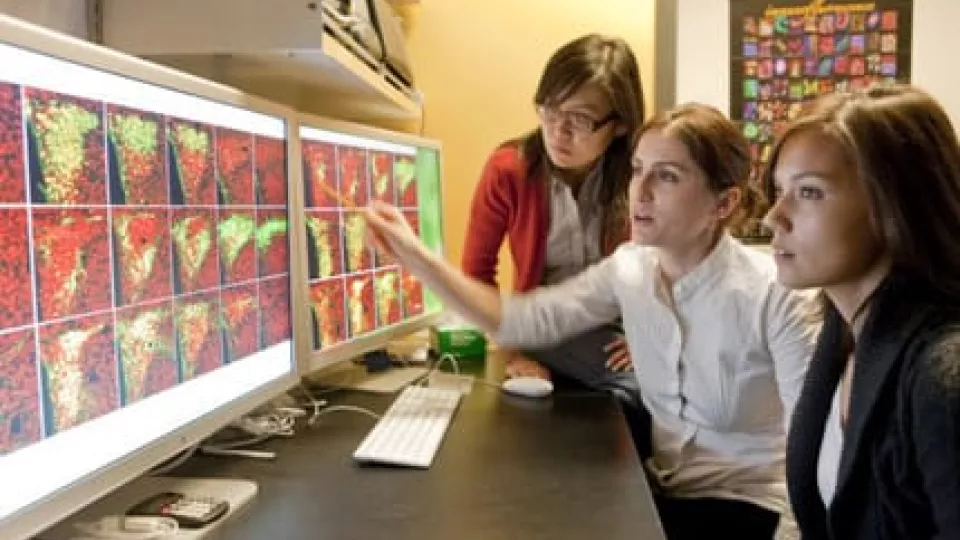 On April 24, 2013, The Saban Research Institute (TSRI) invited inspiring leaders in Science, Technology, Engineering, and Math (STEM) to discuss challenges and opportunities for women pursuing careers in these fields. This forum honored Cheryl Saban, PhD, Haim Saban, and the Saban Family Foundation, for a decade of creating hope and building futures at CHLA.
The inaugural TSRI Women in STEM Forum celebrated women who have made invaluable contributions to society in the fields of science, technology, engineering and mathematics, including more than 100 years of outstanding service by women at CHLA. Accomplished leaders from academic, research and non-profit organizations headlined the energizing program, which featured presentations, a panel discussion and remarks by CHLA leadership and Cheryl Saban, followed by a luncheon in the Anita S. Watson Courtyard.
2013 Women in STEM Forum
LOS ANGELES (May 10, 2013) The Saban Research Institute of Children's Hospital Los Angeles recently held the event "Women in Science, Technology, Engineering, and Math (STEM): Designing, Developing and Delivering Change." The program was organized as a special celebration in honor of Cheryl Saban, PhD, Haim Saban, and the Saban Family Foundation, for a decade of support to further the improvement of children's health through research.
The event was crowded with women and girls of all ages—plus quite a few men—who arrived expecting to learn how seven women have succeeded in STEM careers. They left not only with that knowledge, but also with the inspiration and motivation to help close the gender gap in STEM. Cheryl Saban, PhD, summed it up best, "It isn't easy to be successful in these fields, but what's easy? Anything that's really worth doing requires effort."
D. Brent Polk, MD, director of The Saban Research Institute, opened the proceedings, "STEM is key to our future health as a society—our physical, environmental and economic health—we cannot afford to miss out on half the population to help us maintain our leadership position at the international forefront of discoveries and development of new ideas. " Michele Kipke, PhD, vice chair of Research at Children's Hospital, then shared her own path in a STEM career prior to introducing the speakers.
From Girls Inc., a nonprofit dedicated to helping girls overcome social and gender barriers, president and CEO Judy Vredenburgh, MBA, cited the unconscious biases that exist in children as early as fourth grade: When asked to draw a scientist, by overwhelming majority both boys and girls drew men. All of the speakers had unique experiences with overcoming this bias. Roberta Diaz Brinton, PhD, a professor at the School of Pharmacy at the University of Southern California (USC), shared how the struggles she faced as a child helped to prepare her for her career and how her lack of STEM educational opportunities as a child motivated her to develop the USC STAR program for K-12 educators and students. Tyran Richards, from EnCorps, a non-profit program for developing second-career STEM teachers, illustrated how her transition from being a pharmaceutical chemist to an eighth grade science teacher taught her the importance of following her passions and valuing her own uniqueness.
Girls Inc. alumna Bianca Bailey explained that on her journey to becoming a chemical engineer she has relied on her "me cabinet," a collection of friends and mentors, to bolster her confidence. Heather Volk, PhD, MPH, who conducts research on autism and pollution at The Saban Research Institute, discussed the importance of collaboration in building a network for success. Ellen Jorgensen, PhD, co-founder and president of Genspace, a citizen-science nonprofit that provides the public access to biotechnology said that women and girls should not be timid about pursuing their passions. Maja Matarić, PhD, professor and vice dean of Research in the Viterbi School of Engineering of USC, noted the importance of being an authentic mentor. She suggested that it wasn't necessary to formally ask someone to be your mentor but instead just ask to spend time in the lab of a scientist you admire. Additionally, Matarić shared that women often feel like "imposters." Her advice to combat the feeling was, "fake it 'till you make it," reminding the audience that as long as you work hard, the confidence will follow.
Audience participation was encouraged during a panel moderated by Cheryl Saban, PhD. Questions from both Saban and the audience brought forth valuable advice on confidence, perfectionism, and mentoring others. Additionally, the importance of family was emphasized and the mothers on the panel agreed that succeeding in a STEM career and raising children were not mutually exclusive. Women were not encouraged to change in order to fit into a male-dominated field; rather, they were encouraged to change the field to fit them.
Julia Pearson, an 11 year old from Lincoln Elementary School in La Crescenta, attended with her father who works at Children's Hospital Los Angeles. She was impressed that the panelists told attendees that they shouldn't fear failure and that failing is an opportunity to learn. She added, "I also think it would be cool to help people and make new discoveries that could change the world."