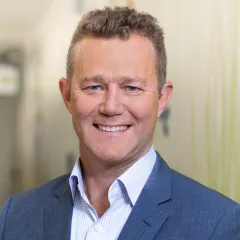 William Magee, MD, DDS
Director, International Programs
Attending Surgeon
Associate Professor of Clinical Surgery, Keck School of Medicine of USC
William Magee, III, MD, DDS, brings a unique, global background to the Division of Plastic and Maxillofacial Surgery at Childrens Hospital Los Angeles, which he joined in 2008. Dr. Magee is the oldest son of the founders of Operation Smile and was exposed to the challenges of children with craniofacial anomalies at an early age.
Since he was 13, he has assisted Operation Smile teams all over the world in various roles. Dr. Magee earned his dental degree at the University of Maryland, then went on to obtain his medical degree at George Washington University. His introduction to Los Angeles began in 2001 when he entered the combined Plastic and Reconstructive Surgery Program at the University of Southern California, where he has remained.
After completing the six-year program, he focused his attention in Craniofacial and Pediatric Plastic Surgery at Children's Hospital Los Angeles. Dr. Magee offers an energy and drive for pediatric work that extends beyond the boundaries of Los Angeles, which will help our department grow into the areas of service and education for children around the world.
Philanthropy is critical to bridging the financial gap that exists for medical centers conducting research and treating patients. For those who wish to support Dr. Magee's clinical, educational and research efforts, we welcome your support. Donate Now
Clinical Interests
cleft and palate, craniofacial reconstruction, facial reconstruction, hemangiomas, jaw reconstruction, ear reconstruction, secondary burn deformities
Education
Medical School
George Washington University School of Medicine
Internship
Los Angeles County-University of Southern California Medical Center; General Surgery
Residency
Los Angeles County-University of Southern California Medical Center; Plastic Surgery
Fellowship
USC/Children's Hospital Los Angeles - Pediatric and Craniofacial Surgery
Accomplishments
Certification
Board Certified Plastic Surgeon
Memberships
American Society of Plastic Surgery
Research
Research Summary
Cleft lip and palate care, ear reconstruction, telemedicine