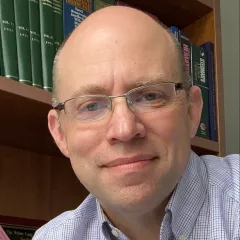 Nathan J. Robison, MD, MS
Attending Physician; Hematology, Oncology and Blood and Marrow Transplantation
Associate Professor of Clinical Pediatrics, Keck School of Medicine of USC
Nathan Robison, MD, MS, is an attending neuro-oncologist at Children's Hospital Los Angeles, and an Associate Professor of Clinical Pediatrics at the USC Keck School of Medicine. He currently serves as Medical Director of Inpatient Services and Director of Quality Assurance for the Cancer and Blood Disease Institute, as well as Chemotherapy Safety Officer for CHLA. His research interests including the use of molecular targeted therapy for low-grade gliomas and other childhood brain tumors.
Clinical Interests
Treatment of pediatric brain and spinal cord tumors; treatment of plexiform neurofibromas.
Education
Medical School
Keck School of Medicine of USC
Internship
Children's Hospital Los Angeles: Pediatrics
Residency
Children's Hospital Los Angeles: Pediatrics
Fellowship
Children's Hospital Los Angeles: Pediatric Hematology/Oncology
Dana-Farber Cancer Institute, Boston Children's Hospital: Pediatric Neuro-Oncology
Accomplishments
Certification
Pediatrics and Pediatric Hematology/Oncology, American Board of Pediatrics
Memberships
Chair
Neurofibrumatosis Clinical Trials Consortium Glioma Committee
Member
Pediatric Brain Tumor Consortium Steering, Scientific, New Agents, Low-Grade and High-Grade Glioma, and Toxicity Monitoring Committees
Response Assessment in Pedatric Neuro-Oncology (RAPNO) working group
International Pediatric Low-Grade Glioma Coalition
Publications
Publications
Robison NJ, Su JA, Fang MJ, Malvar J, Menteer J. Cardiac Function in Children and Young Adults Treated with MEK Inhibitors: A Retrospective Cohort Study. Pediatr Cardiol. 2022 Aug;43(6):1223-1228. PMID: 35233653
Weiss BD, Wolters PL, Plotkin SR, Widemann BC, Tonsgard JH, Blakely J, Allen JC, Schorry E, Korf B, Robison NJ, Goldman S, et al. NF106: A Neurofibromatosis Clinical Trials Consortium Phase 2 Trial of the MEK Inhibitor Mirdametinib (PD-0325901) in Adolescents and Adults with NF1-Related Plexiform Neurofibromas. Journal of Clinical Oncology. 2021 Mar 1;39(7):797-806. PMID: 33507822
Fangusaro J, Witt O, Hernáiz Driever P, Bag AK, de Blank P, Kadom N, Kilburn L, Lober RM, Robison NJ, Fisher MJ, et al. Response assessment in paediatric low-grade glioma: recommendations from the Response Assessment in Pediatric Neuro-Oncology (RAPNO) working group. Lancet Oncol. 2020 Jun;21(6):e305-e316. PMID: 32502457
Robison NJ, Yeo KK, Berliner AP, et al. Phase I Trial of Dasatinib, Lenalidomide, and Temozolomide in Children with Relapsed or Refractory Central Nervous System Tumors. J Neurooncol May;138(1):199-207, 2018. PMID: 29427149
Bandopadhayay P, Bergthold G, London WB, Goumnerova LC, Morales La Madrid A*, Marcus KJ, Guo D, Ullrich NJ, Robison NJ, Chi SN, Beroukhim R, Kieran MW, Manley PE. Long-Term Outcome of 4,040 Children Diagnosed with Pediatric Low-Grade Gliomas: An Analysis of the Surveillance Epidemiology and End Results (SEER) Database. Pediatr Blood Cancer 61(7):1173-9, 2014. PMID: 24482038
Robison NJ, Campigotto F, Chi SN, et al. A Phase II Trial of a Multi-Agent Oral Antiangiogenic (Metronomic) Regimen in Children with Recurrent or Progressive Cancer. Pediatr Blood Cancer 61(4):636-42, 2014. PMID: 24123865
Robison NJ, Prabhu SP, Sun P, et al. Predictors of Neoplastic Disease in Children with Isolated Pituitary Stalk Thickening. Pediatr Blood Cancer 60(10):1630-5, 2013. PMID: 23670879
Research
Research Summary
Molecular targeted therapy for pediatric brain tumors
MEK inhibition
Pediatric low-grade glioma
Dr. Robison is interested in developing clinical trials that test new strategies in the treatment of children with brain tumors. His specific areas of interest are novel treatments targeting the tumor microenvironment, including antiangiogenic and immunomodulatory strategies; overcoming treatment resistance; treatment of diffuse pontine glioma and other poor prognosis brain tumors; treatment of low-grade glioma; neurofibromatosis.