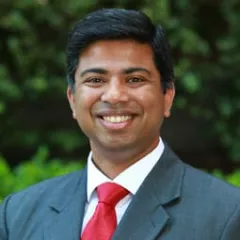 Narayan Iyer, MD
Assistant Professor of Clinical Pediatrics, Keck School of Medicine of USC
Dr. Iyer is a Neonatologist with additional training in systematic reviews and guideline development.
Clinical Interests
Respiratory Failure of Newborn
Chronic Lung Disease of infancy
Children's Interstitial Lung Disease
Apnea of Prematurity
Education
Medical School
T.D. Medical College, India
Residency
MetroHealth Medical Center/Cleveland - MD
Fellowship
MetroHealth Medical Center/Cleveland- MD
Accomplishments
Certification
General Pediatrics - American Board of Pediatrics
Neonatal- Perinatal Medicine- American Board of Pediatrics
Memberships
American Thoracic Society
Society of Pediatric Research
GRADE Working Group
Medical Awards
Alessandra Lisi Award for research in Turner syndrome. International Clearinghouse of Birth Defects Surveillance and Research, an affiliate organization of the World health Organization.
Publications
Publications
Feller-Kopman DJ, Reddy CB, DeCamp MM, Diekemper RL, Gould MK, Henry T, Iyer NP, Lee YCG, Lewis SZ, Maskell NA, Rahman NM, Sterman DH, Wahidi MM, Balekian AA. Management of Malignant Pleural Effusions: An Official American Thoracic Society / Society of Thoracic Surgeons / Society of Thoracic Radiology Clinical Practice Guideline. Am J Respir Crit Care Med 2018; 198 (7). PMID: 30272503. https://doi.org/10.1164/rccm.201807-1415ST
Iyer NP, Reddy CB, Wahidi MM, Lewis SZ, Diekemper RL, Feller-Kopman D, Gould M, Balekian AA. Indwelling Pleural Catheter versus Pleurodesis for Malignant Pleural Effusions: A Systematic Review and Meta-Analysis. Annals of American Thoracic Society 2018. Articles in Press. PMID: 30272486. https://doi.org/10.1513/AnnalsATS.201807-495OC 
TE Bachman, CJL Newth, PA Ross, NP Iyer, RG Khemani. Hypoxemic and hyperoxemic likelihood in pulse-oximetry ranges: NICU observational study. Archives of Disease in Childhood. Archives of Disease in Childhood - Fetal and Neonatal Edition Published Online First: 20 June 2018. doi: 10.1136/archdischild-2017-314448.
Chavez TA, Lakshmanan A, Figueroa L, Iyer N, Stavroudis T, Garingo A, Friedlich P, Ramanathan R. Resource utilization patterns using non-invasive ventilation in neonates with respiratory distress syndrome. J Perinatol. 2018 May 24. doi: 10.1038/s41372-018-0122-y. [Epub ahead of print]
Iyer NP, Dickson J, Ruiz ME, Chatburn R, Beck J, Sinderby C, Rodriguez RJ. Neural breathing pattern in newborn infants pre- and postextubation. Acta Paediatr. 2017 Dec;106(12):1928-1933. doi: 10.1111/apa.14040. Epub 2017 Sep 12.
Research
Research Summary
Pulmonary mechanics
Extubation failure
Respiratory muscle weakness
Assessment of technology used to provide respiratory support in newborn infants
Implementation of guidelines
Research Topics
Extubation failure in newborn infants: causes and prediction
Non-invasive respiratory support of newborn infants
Non-invasive respiratory monitoring of newborn infants
Research Focus / Overview
Dr. Iyer's research is focused on improving extubation prediction and post extubation respiratory support.  In his current study he aims to measure the effort of breathing during different modes of pre-extubation spontaneous breathing trials (SBT) and describe the prevalence of respiratory muscle weakness using integrated esophageal manometry and respiratory inductance plethysmography (RIP).
Key Findings
In his most recent published study, he describes the risk of hyperoxemia with different levels of inspired oxygen. In a recently concluded study, Dr. Iyer describes the impact of weakness of respiratory muscles on pediatric extubation outcomes. In a different study, he also shows the recruitment pattern of neonatal diaphragm is different in infants who fail extubation.  We have also evaluated equipment used to provide non-invasive respiratory support and the results have showed the efficacy of RAM nasal cannula and high flow nasal cannula in providing respiratory support.
Current Funding
Garland Foundation
Current Research Studies
A comparison of different modes of spontaneous breathing trials in newborn infants.
Risk profiles for hyperoxemia in newborn infants.
4650 Sunset Blvd.
Los Angeles, CA 90027
United States