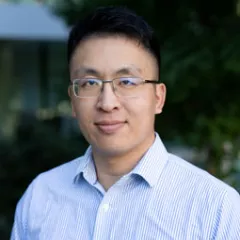 Miller Huang, PhD
Assistant Professor, Keck School of Medicine of USC
Miller Huang received his Bachelor's degree in Bioengineering from the University of California, Berkeley and his PhD in Molecular Pathology from the University of California, San Diego. Under the guidance of Dr David A Cheresh at UCSD, Miller identified downstream effectors of EGFR-mediated metastasis in pancreatic cancer. Miller then trained with Dr William A Weiss at the University of California, San Francisco and developed new models for medulloblastoma and neuroblastoma. In 2019, Miller joined Children's Hospital Los Angeles to utilize these new model systems in his own laboratory to discover genetic drivers and identify therapeutic targets for medulloblastoma and neuroblastoma.
Education
Graduate School
University of California, San Diego
Publications
Publications
Huang M*, Tailor J*, Zhen Q, Gillmor AH, Miller ML, Weishaupt H, Chen J, Zheng T, Nash EK, McHenry LK, An Z, Ye F, Takashima Y, Clarke J, Ayetey H, Cavalli FMG, Luu B, Moriarity BS, Ilkhanizadeh S, Chavez L, Yu CY, Kurian KM, Magnaldo T, Sevenet N, Koch P, Pollard S, Dirks P, Snyder MP, Largaespada DA, Cho YJ, Phillips JJ, Swartling FJ, Morrissy AS, Kool M, Pfister SM, Taylor MD, Smith A, Weiss WA. Engineering genetic predisposition in human neuroepithelial stem cells recapitulates medulloblastoma. Cell Stem Cell. 25(3):433-436, 2019. PMID: 31204176, PMCID: PMC6731167. 
Huang M, Miller ML, McHenry LK, Zheng T, Zhen Q, Ilkhanizadeh S, Conklin BR, Bronner ME, Weiss WA. Generating trunk neural crest cells from human pluripotent stem cells. Sci Rep. 6:19727. doi: 10.1038/srep19727, 2016. PMID: 26812940, PMCID: PMC4728437 
Miyaoka Y, Chan AH, Judge LM, Yoo J, Huang M, Nguyen TD, Lizarraga PP, So PL, Conklin BR. Isolation of single-base genome-edited human iPS cells without antibiotic selection. Nat Methods. 11(3):291-3, 2014. PMID: 24509632, PMCID: PMC4063274
Huang M, Anand S, Murphy EA, Desgrosellier JS, Stupack DG, Shattil SJ, Schlaepfer DD, Cheresh DA. EGFR-dependent pancreatic carcinoma cell metastasis via Rap1 activation. Oncogene. 31(22):2783-93, 2011. PMID: 21963850, PMCID: PMC3711644.
Ricono JM, Huang M, Barnes LA, Lau SK, Weis SM, Schlaepfer DD, Hanks SK, Cheresh DA.
Specific cross-talk between epidermal growth factor receptor and integrin alphavbeta5 promotes carcinoma cell invasion and metastasis. Cancer Res. 69(4):1383-91, 2009. PMID: 
19208836, PMCID:PMC2741736
Research
Research Summary
My research lab focuses on two of the most common pediatric solid tumors, neuroblastoma and medulloblastoma, with two goals: 1) Understand the genetic mutations that cause tumors to form and, 2) Identify genetic targets to treat these tumors. While sequencing studies of patient tumors have revealed genetic mutations, not all mutations necessarily played a role in tumor formation. Our lab seeks to identify the relevant genetic mutations that cause tumors using a new model system we have developed.  For tumors generated by this model, we can perform genetic screens to identify new therapeutic targets.