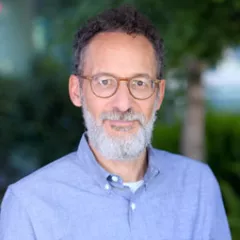 Michael I Goran, PhD
Program Director for Diabetes and Obesity at The Saban Research Institute
Professor of Pediatrics, Keck School of Medicine of USC
Dr. Goran is Professor of Pediatrics in the Keck School of Medicine at the University of Southern California. He is Program Director for Diabetes and Obesity at The Saban Research Institute and he holds the Dr. Robert C. and Veronica Atkins Endowed Chair in Childhood Obesity and Diabetes. Dr. Goran also serves as Co-Director of the USC Diabetes and Obesity Research Institute. Dr. Goran is a native of Glasgow, Scotland, and received his Ph.D. from the University of Manchester, UK (1986) prior to postdoctoral training in the US (1987 to 1991). He previously served on the faculty of Medicine at the University of Vermont (1991 to 1994), and the Department of Nutrition Sciences at UAB (1994 to 1999) prior to joining USC in 1999.

Dr. Goran's research has focused on the causes and consequences of childhood obesity for 30 years. His work is focused on understanding the metabolic factors linking obesity to increased disease risk during growth and development and using this information as a basis for developing new clinical, behavioral and community approaches for prevention, treatment and risk reduction. He is also especially interested in ethnic disparities in obesity and obesity related diseases including type 2 diabetes and fatty liver disease, with a special interest on the effects of dietary sugar on obesity and metabolic diseases among Hispanic populations. His work also covers maternal-infant nutrition and identifying modifiable factors that can be targeted for interrupting the developmental programming of obesity, including bioactive elements of breastmilk and infant microbiome development. His research has been continuously funded by NIH and other Foundations for the past 25 years during which he has raised almost $50m in funding to support this work.

Dr. Goran has published over 350 professional peer-reviewed articles and reviews. He is the Editor of the "Childhood Obesity: Causes, Consequences and Intervention Approaches" published in 2017, co-editor of "Dietary Sugars and Health" published in late 2014, and currently serves as Editor-in-Chief for Pediatric Obesity. He has been the recipient of a number of scientific awards for his research and teaching, including: The Nutrition Society Medal for Research (1996), The Lilly Award for Scientific Achievement from The Obesity Society (2006), The Bar-Or Award for Excellence in Pediatric Obesity Research, from The Obesity Society (2009), the TOPS award for contributions to obesity research from The Obesity Society (2014), and the Rank Prize Lecture in Nutrition (2018).
Education
Graduate School
Department of Biochemistry & Medical Research Council Trauma Unit, University of Manchester, UK 
Undergraduate:
Biochemistry, University of Manchester, UK 
Accomplishments
Medical Awards
TOPS award for research achievement from The Obesity Society (2014)
Oded Bar-Or Award for excellence in obesity research from The Obesity Society (2009)
Appointed as Interdisciplinary Research Fellow, University of Southern California (July 2002)
Lily Award from the North American Association for the Study of Obesity for research in pediatric obesity (October 2001)
Norman Kretchmer Memorial Award for research in childhood nutrition from the American Society for Clinical Nutrition (April 2000)
President's Award for Excellence in Teaching and Mentoring, School of Health-Related Professions, University of Alabama at Birmingham (May 1999)
The Nutrition Society Medal for Research (June 1996)
Clinical Nutrition Fellows Award from the American Society for Clinical Nutrition (May 1990) 
Young Investigator of the Year Award from the European Shock Society (June 1986)
Funding
R01 MD010358-A1
Goran & Allayee (Multi-PI) 04/01/2016 – 03/31/2020
Nutrigenetic Intervention to Reduce Liver Fat in Hispanics
The goals of this project are to carry out a nutrigenetic clinical trial and determine whether dietary sugar reduction will reduce liver fat content in Hispanic pediatric patients with non-alcoholic fatty liver disease (NAFLD) as a function of genotype.

The Gerber Foundation
Goran (PI) 04/18/2016 – 04/17/2019
Mother's Milk: Determining the Impact of Human Milk Oligosaccharides
We hypothesize that we will be able to identify specific HMOs in breast milk that contribute to rapid infant growth and/or elevated fat accumulation by 24 months of age, and that this will be explained by the effect of these HMOs on specific alterations in the developing infant gut microbiota. In addition, we hypothesize that we will be able to identify specific HMOs that are different in mothers who were overweight/obese versus normal weight before pregnancy, and contribute to altered obesity development in the infant.

1R01DK109161-01A1
Goran (PI) 09/17/2016 – 06/30/2021
Home intervention for reducing sugary drinks & obesity in Hispanic women-infants
The goal of this project is to reduce SSB/juice consumption in low-income, Hispanic post-partum mothers and infants, a segment of the population at high risk for obesity.

1R01DK110793-01A1
Goran (PI) 04/07/2017 – 01/31/2021
Impact of Sugars and Human Milk Oligosaccharides on Infant Microbiome and Obesity
In this proposal, we will investigate the opposing effects of dietary sugars and HMOs on obesity and cognitive outcomes, focusing on their impact on the developing gut microbiome. This study will move the field forward by identifying how early-life dietary exposures (focusing on dietary sugars, breastfeeding and HMOs) affect gut microbiome development, and how this affects development of obesity, cognition and appetite regulation.

1R01HD092483-01
De la Haye & Salvy (Multi-PI) 09/01/2017 – 05/31/2022
Obesity Prevention Infants through Maternal and Social Interaction
This study capitalizes on the strengths and interests of established Home Visitation Programs, which serve at-risk, low-income, diverse mothers and their infants, to test a weekly, in-home evidence-based childhood obesity prevention model delivered in the first 2 years of children's life. This project represents a unique opportunity to test an innovative model of primary childhood obesity prevention that targets important maternal and social network mechanisms.
Publications
Publications
Berger PK, Fields DA, Demerath EW, Fujiwara H & Goran MI High-fructose corn syrup-sweetened beverage increases breast milk fructose levels in lactating women: a randomized crossover trial Nutrients May 24; 10(6), 2018 https://www.ncbi.nlm.nih.gov/pubmed/29795005

Noble EE, Hsu TM, Jones RB, Fodor AA, Goran MI & Kanoski SW. Early life sugar consumption affects the microbiome in rodents independent of obesity J Nutrition 147 (1): 20-28, 2017 http://jn.nutrition.org/content/early/2016/11/30/jn.116.238816.abstract

Walker RW & Goran MI Laboratory Determined Sugar Content and Composition of Commercial Infant Formulas, Baby Foods and Common Grocery Items Nutrients 7 (7); 5850-5867, 2015 http://www.ncbi.nlm.nih.gov/pubmed/26193309

Alderete TL, Autran C, Brekke BE, Knight R, Bode L, Goran MI & Fields DA Associations between human milk oligosaccharides and infant body composition in the first six months of life Am J Clin Nutr 102: 1381-1388, 2015 http://www.ncbi.nlm.nih.gov/pubmed/26511224
Research
Research Summary
obesity, nutrition, fatty liver disease, microbiome, maternal-infant nutrition