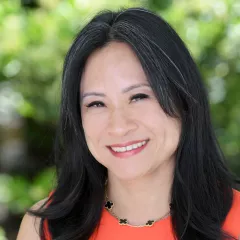 Lauren Nguyen, MD
This physician is a member of the Children's Hospital Los Angeles Care Network.
Dr. Lauren in addition serves on the Board of Managers and is involved in the finance and contracting committee.
Dr. "Lauren" received her Bachelors in Science at UCLA. She then received her Masters in Public Health at UCLA specializing in maternal child health. During her time at UCLA, she was the head research assistant for the internationally ground breaking practice of skin-to-skin contact, also known as "Kangaroo Care". She collaborated with neonatologists and pediatric registered nurses in the UCLA neonatal intensive care unit. Dr. Lauren has had several published research journal articles regarding the safety and efficacy of skin-to-skin contact in premature infants.
She attended the George Washington University Medical School in Washington D.C. where she also served as the director for the Health Policy Committee. As director, she coordinated speaking events for the George Washington University Health Sciences in which she invited legislators to discuss important health policy issues.
She completed her residency at Childrens Hospital Los Angeles (CHLA). She was awarded the CHLA Community Service Award for her involvement in the development and implementation of the Health Action Network of Doctors- Helping HANDS for children. Helping HANDS is curriculum that trains pediatric residents how to advocate for the needs of children at the local, state, and federal level.
She has been a general pediatrician at Childrens Medical Group since 2004. Dr. Lauren was instrumental in introducing the practice of skin-to-skin during the "Golden Hour" to Torrance Memorial's Birth Center. With her research with premature infants, Dr. Lauren strongly advocated for the implementation of skin-to-skin contact for full-term infants as well.
Dr. Lauren lives with her husband and twin daughters in the South Bay. Because she both lives and works in the South Bay, she is strongly involved in many community events. She enjoys going to the beach and scrapbooking (when she has the time). She also loves to work out at Orange Theory Fitness.
Education
Medical School
George Washington University Medical School in Washington D.C.
Graduate School
University of California, Los Angeles School of Public Health
Residency
Children's Hospital Los Angeles
Children's Medical Group
3440 Lomita Blvd.
Torrance, CA 90505
United States