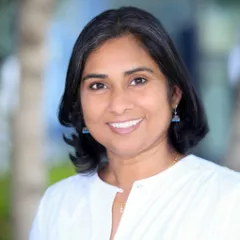 Jaya Punati, MD
Co-Director, Colorectal and Pelvic Anomalies Program
Associate Director, Clinical Operations
Attending Physician
Assistant Professor of Clinical Pediatrics, Keck School of Medicine of USC
Dr. Punati is a board certified pediatric gastroenterologist in the Division of Gastroenterology, Hepatology and Nutrition at The Children's Hospital of Los Angeles. She is the Medical Director of Pediatric ColoRectal Center and also participates in the neurogastroenterology and motility disorders program.
She has been named to the "Best Doctors in America" list. Her main clinical focus is in pediatric colorectal and gastrointestinal motility disorders, including children with imperforate anus physiology, Hirschsprung's disease, gastroparesis, chronic intestinal pseudo-obstruction and chronic refractory constipation and encopresis. She specializes in manometry testing, including esophageal and gastric, small bowel, colonic anorectal testing.
Clinical Interests
Dr. Punati has special interest in child with colorectal and intestinal peristalsis disorders. Patients with imperforate anus physiology and colorectal or spinal surgeries who have developed defeacatory (stooling) problem s a s result form a large part of her practice. In addition, Dr. Punati also cares for patients with Motility disorders  such as severe gastroesophageal reflux disease (GERD), chronic nausea and vomiting, esophageal dysmotility, gastroparesis, intestinal and colonic dysmotility, chronic intestinal pseudo-obstruction, colonic pseudo-obstruction, Chronic constipation and encopresis.
She performs specialized testing such as esophageal manometry, antroduodenal manometry, colonic manometry and anorectal manometry to assess gastrointestinal dysmotility.
Education
Medical School
Gandhi Medical College, India
Internship
University of Medicine & Dentistry of New Jersey/Morristown Memorial Hospital
Residency
Morristown Memorial Hospital, University of Medicine and Dentistry of New Jersey (UMDNJ)
Fellowship
Pediatric Gastroenterology - Nationwide Children's Hospital, Columbus, Ohio
Pediatric Neurogastroenterology and Motility – Nationwide Children's Hospital, Columbus, Ohio
Accomplishments
Certification
Pediatrics and Pediatric Gastroenterology: American Board of Pediatrics
Memberships
North American Society of Pediatric Gastroenterology, Hepatology and Nutrition
American Gastroenterological Association
American Neurogastroenterology and Motility Society
Publications
Publications
Peered Review Articles
Hayes V, Schaeffer D, Mauras N, Punati J, Darmaun D. Can glutamine and growth hormone promote protein anabolism in children with cystic fibrosis: Horm Res. 2002;58 Suppl 1:21-3, PMID: 12373009
Punati J, Markowitz J, Lerer T, Hyams J, Kugathasan S, Griffiths A, Otley A, Rosh J, Pfefferkorn M, Mack D, Evans J, Bousvaros A, Moyer MS, Wyllie R, Oliva-Hemker M, Mezoff A, Leleiko N, Keljo D, Crandall W:. Effect of early immunomodulator use in moderate to severe pediatric Crohns diase: Pediatric IBD Collaborative Research Group, Inflammatory Bowel Dis. 2008 July :14 (7): 949-54, PMID: 18306311
Punati JB, Barnard JA, Mickalsky M, Baker P. Congenital absense of the muscularis propria mimicking Crohn disease:. Journal Pediatric Gastroenterol Nutrition, 2009; May;48 (5):627-9 PMID: 19412011
Gomez R, Fernandez S, Aspirot A, Punat J, Skaggs B, Mousa H, Di Lorenzo C.  Effect of amoxoxicillin/clavulanate on gastrointestinal motility in children: J Pediatric Gastroenterology Nutr. 2012 June;54(6):780-4 PMID: 22584747
Mugie SM*, Machado RS, Mousa HM, Punati J, Hogan M, Benninga MA, Di Lorenzo. Ten-Year Experience Using Antegrade Enemas in Children: J Pediatric J Pediatr. 2012 Oct;161 (4):700-4. Epub 2012 Jun 9 PMID: 22683036
Teich S, Mousa HM, Punati J, Di Lorenzo C.  Efficacy of permanent gastric electrical stimulation for the treatment of gastroparesis and functional dyspepsia in children and adolescents. J Pediatr Surg. 2013 Jan;48(1):178-83. PMID: 23331812
Mugie SM, Perez ME, Burgers R, Hingsbergen EA, Punati J, Mousa H, Benninga MA, Lorenzo CD.  Colonic manometry and colonic scintigraphy as a diagnostic tool for children with severe constipation. J Pediatr Gastroenterol Nutr. 2013 Nov;57(5):598-602 PMID: 24177783
Mugie SM*, Bates DG, Punati JB, Benninga MA, Di Lorenzo C, Mousa HM. The value of fluoroscopic defecography in the diagnostic and therapeutic management of defecation disorders in children. Pediatr Radiol. 2014 Sep 30. PMID: 25266954
Yang C*, Punati J. "Practice patterns of pediatricians and trainees for the management of functional constipation compared with 2006 NASPGHAN guidelines." J. Pediatric Gastroenterology Nutr. 2015, Mar; 60(3):308-11. PMID: 25714574
Research
Research Summary
Current research in pediatric motility disorders, Mitochondrial disorders and intestinal dysmotility, Anorectal malformations/ imperforate anus management post repair. Dr. Punati is currently involved in studies to assess the efficacy of pro-motility medications on colonic transit and abdominal pain.