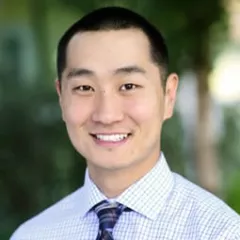 Eugene Kim, MD
Chief, Division of Pain Medicine
Attending Physician
Assistant Professor of Clinical Anesthesiology, Keck School of Medicine of USC
Dr. Kim is responsible for care, quality, research and education in the Pediatric Pain Medicine Division for both inpatient and outpatient settings, as well as providing program visibility, growth and leadership.
Dr. Kim received his medical degree and completed his anesthesiology residency at Stony Brook University School of Medicine in New York. He completed his pain medicine fellowship at Cincinnati Children's Hospital and subsequently joined CHLA as a pediatric anesthesiology fellow before joining ACCM faculty.
Dr. Kim is Board-certified in anesthesiology, pediatric anesthesiology and pain medicine. Since coming to CHLA he has been involved in the management of patients with acute and chronic pain, and has enabled the outpatient Pain Medicine Clinic to expand to five full days a week on the Sunset campus and an additional half-day in the Arcadia Neighborhood Care Center, becoming the largest comprehensive interdisciplinary pain clinic in Southern California. He has also been instrumental in growing the inpatient pain rehab program promoting functional restoration and expanding our interventional pain service, including becoming the first to use radiofrequency ablation for the treatment of chronic pain at CHLA. He continues to advance his pain research, developing new ways to assess and treat children in pain. 
Clinical Interests
Pediatric Pain Medicine and Anesthesiology
Education
Medical School
Stony Brook School of Medicine
Internship
Stony Brook Medicine (Medicine and Surgery)
Residency
Stony Brook School of Medicine
Fellowship
Cincinnati Children's Hospital (Pain Medicine)
Children's Hospital Los Angeles (Pediatric Anesthesiology)
Accomplishments
Certification
American Board of Anesthesiology, Anesthesiology
American Board of Anesthesiology, Pain Medicine
American Board of Anesthesiology, Pediatric Anesthesiology
Memberships
Society of Pediatric Anesthesia
Society for Pediatric Pain Medicine
American Society of Regional Anesthesia and Pain Medicine
Specialty Interests
Pediatric Acute and Chronic Pain Medicine, Pediatric Anesthesiology