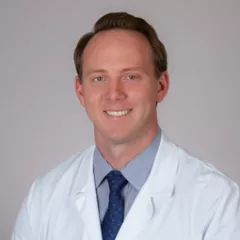 Alexander Christ, MD
Assistant Professor of Clinical Orthopedic Surgery, Keck School of Medicine of USC
Alexander B. Christ, MD is an orthopedic oncologist who specializes in the treatment of both benign and malignant tumors and related conditions of the musculoskeletal system. He has a special interest in limb salvage and reconstructive techniques following treatment of bone tumors.
Dr. Christ graduated from Yale University in New Haven, CT, with a BS in Molecular Biophysics & Biochemistry, where he also pitched for the varsity baseball team. He then earned his medical degree from the University of California, Irvine, School of Medicine. Dr. Christ then completed orthopedic surgery residency at Hospital for Special Surgery in New York City, the top-ranked orthopedic residency program in the country. Following residency, he completed two years of additional subspecialty fellowship training in Adult Reconstruction and Joint Replacement at Hospital for Special Surgery and in Musculoskeletal Oncology at Memorial Sloan Kettering Cancer Center.
His philosophy is first to help patients understand their disease and treatment options. Dr. Christ prioritizes each individual patient's goals and needs in order to develop an effective multidisciplinary treatment plan that gives patients the best outcome possible. When surgery is required, he strives to maximize function and mobility while accomplishing the primary goal of curing the cancer. 
Dr. Christ is passionate about scientific research that can improve the lives of patients with musculoskeletal tumors, and he has published on a wide variety of related subjects in peer reviewed journals. Specifically, he is interested in sarcoma genetics, drug delivery, and advanced reconstructive techniques after tumor removal.
Clinical Interests
Bone sarcoma 
Bone metastases
Education
Medical School
University of California, Irvine School of Medicine
Residency
Hospital For Special Surgery, Orthopedic Surgery
Fellowship
Memorial Sloan Kettering Cancer Center, Musculoskeletal Oncology
Accomplishments
Certification
Orthopaedic Surgery, American Board of Orthopaedic Surgery