Pediatric Physical Therapy Residency Program
The Pediatric Physical Therapy Residency was established by the USC Division of Biokinesiology & Physical Therapy and Physical Therapy in the Division of Pediatric Rehabilitative Medicine at Children's Hospital of Los Angeles (CHLA). The program combines the academic resources of a physical therapy educational and research institution with the prominent history and clinical expertise of a clinical group at one of the leading children's hospitals in the nation. The residency is accredited by the American Board of Physical Therapy Residency and Fellowship Education.
The resident's primary work area throughout the year-long residency is in outpatient pediatrics. The resident receives expert mentoring from a team of clinical mentors working alongside them throughout the entire year. During set rotations, the resident is immersed into acute and inpatient rehabilitation care areas for direct clinical mentoring with highly experienced mentors. Diversity in patients of different ages and diagnoses is the focus of the residency program.
Some common types of diagnoses that the resident can expect to see in the different service areas of the hospital may include:
Outpatient: Physical therapists practicing in the outpatient are serve the hospital and entire community in the treatment of children, teens and young adults presenting with a variety of conditions including: orthopedic (surgical and non-surgical), oncology (brain tumors and ALL), developmental delay, torticollis, sports injuries, hemophilia, cardio-respiratory disorders, and toe walking.
Inpatient Rehabilitation: Physical therapists practicing in the inpatient rehabilitation unit specialize in facilitating independence while the child is recovering from serious trauma or illness. Children and teens with traumatic brain injury, spinal cord injury, neurological conditions, pain disorders and rheumatologic diseases are often treated. Exposure to discharge planning including home visits and equipment ordering is part of the resident's mentored time in inpatient rehabilitation.
Acute: Physical therapists in acute care specialize in treating medically fragile children staying in the hospital. The resident treats children, teens and young adults with a variety of diagnoses including cancer, orthopedic post- surgical, med-surgical, and neurological conditions with mentoring during the acute care rotation. Exposure to infants in the Neonatal Intensive Critical Care Unit (NICCU) and patients in the Cardio-thoracic Intensive Care Unit (CTICU) is part of the residency.
Where Do Residents Go When They Graduate?
Residents from our program who have graduated in the last 5 years have obtained positions at the following institutions:
Children's Hospital Los Angeles
Our Lady of the Lake Regional Medical Center, Baton Rouge, LA
Phoenix Children's Hospital
Rusk Rehab at NYU Langone Medical Center
Resident Publications
As part of our program, each resident prepares a publishable systematic review of the literature on a topic decided upon between resident and faculty. Some examples of past resident publications can be viewed below.
Hardee, J. and Fetters, L. (2016) The Effect of Exercise Intervention on Daily Life Activities and Social Participation in Individuals with Down syndrome: A Systematic Review. Research in Developmental Disabilities. http://www.sciencedirect.com/science/article/pii/S0891422217300112
Mendonça, B., Sargent, B. Fetters, L. (2016) The Cross-Cultural Validity of Standardized Motor Development Screening and Assessment Tools: A Systematic Review. Developmental Medicine and Child Neurology, 58(12):1213-12.22 \ doi: 10.1111/dmcn.13263.
Wong, J. & Fetters, L. (2014) Effects of Exercise Intervention for Children with Acute Lymphoblastic Leukemia: A Systematic Review. Rehabilitation Oncology, 32:40-51.
Susan Knight PT, PCS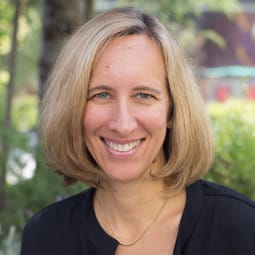 Susan graduated from Mount St Mary's College in 1991. Susan is the Clinical Director of the Residency Program and has extensive experience managing student clinical education for the Rehabilitation Department. Susan has clinical expertise in evaluation and treatment of infants/preschoolers, persons with bleeding disorders, thrombophilia, and cerebral palsy.
Dr. Jill Ordorica, PT, DPT, PCS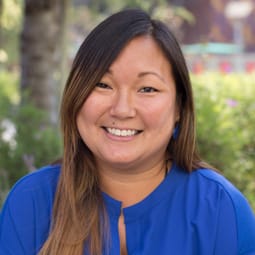 Dr. Ordorica received her DPT from the University of Southern California in 2004 and has been board certified as a clinical specialist in Pediatric Physical Therapy since 2008. Dr. Ordorica is currently adjunct faculty at the USC Division of Biokinesiology and Physical Therapy and has been working in pediatrics at Children's Hospital Los Angeles since 2004. Her areas of interest are in Orthopedics, High Risk Infants, Hemophilia, and Vestibular Disorders.
Amber Richards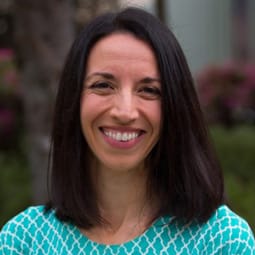 Amber graduated from Mount St. Mary's College in 2000. Amber has clinical specialties in the areas of infants evaluation and treatment including high risk infants, torticollis, rheumatology, and spina bifida. In 2012, Amber became the PT Manager. She balances her leadership role as the PT Manager with mentoring staff including directly mentoring the PT residents.
CHLA/USC Pediatric Physical Therapy Residency is strongly based in providing high quality mentoring to the resident(s). The resident has weekly mentored sessions along with paper cases to enhance learning. The Residency Clinical Director meets weekly with resident to assist resident to coordinate learning experiences and synthesizing feedback. The resident works with all the primary mentors while in outpatient and will work with several other mentors while rotating through rehab and acute care settings.
Prerequisites
Graduates of APTA-accredited entry-level programs in Physical Therapy may apply for the program. Residents must be eligible for and obtain licensure as a Physical Therapist in the State of California at or near the beginning of their residency program.
Application Procedures
Apply at the ABPTRFE website
Indicate that you are applying to the USC/CHLA Pediatric Physical Therapy Residency
Application Deadline: January 1st of each year
Interview Notification: mid-January with interviews during February
Decision Notification: mid-March based on the APTA's uniform announcement date
For more information on the residency, please visit the USC/CHLA Pediatric Physical Therapy Residency website.