Hospital Medicine Fellowship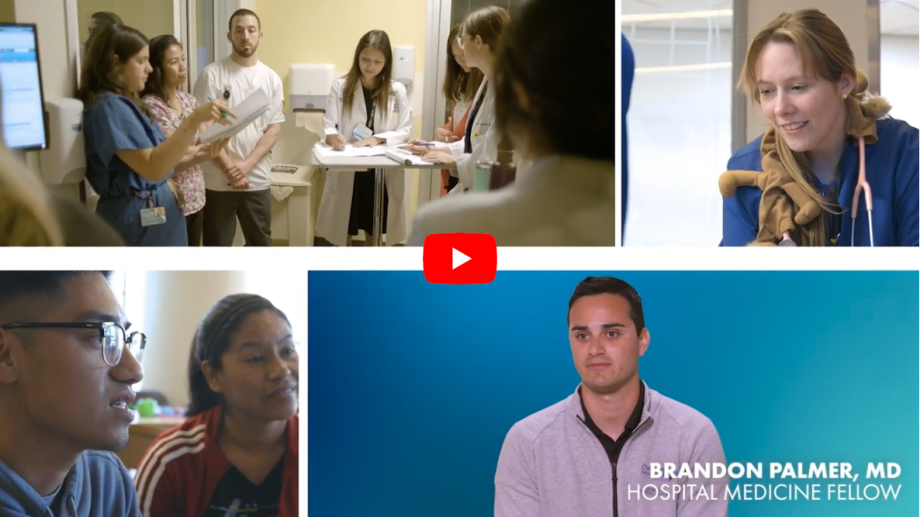 About the Fellowship
The Pediatric Hospital Medicine Fellowship at Children's Hospital Los Angeles (CHLA) is an ACGME-accredited program that seeks to produce physicians who are experts in the care of hospitalized children with both acute and complex, chronic medical problems. In addition, the program is designed to provide advanced training in adult learning theory and medical education, quality improvement and patient safety and research. The program is a well-balanced, 2-year program that consists of clinical rotations on the inpatient resident-covered and attending-only services, as well as several related clinical and elective rotations. Didactic and experiential learning activities are primarily focused on academic and systems topics, including hospital throughput, health care finance, and advocacy. Fellows have the opportunity to complete graduate courses toward a Masters of Clinical and Biomedical Investigations or other relevant degree from the Keck School of Medicine at the University of Southern California.
Learn More About the Program
Clinical training occurs primarily at our main campus, a 495-bed quaternary care facility. CHLA has been named one of the nation's top five best children's hospitals by U.S. News and World Report, and it is the only pediatric medical center in California ranked in all 10 medical specialties every year for the past 5 years. The CHLA Division of Hospital Medicine has approximately 30,000 patient encounters per year.
Specialized Clinical Training Areas
General Pediatric Inpatient Medicine, including Co-management and Consultation Services
Focused Skills (wound and ostomy care, tracheostomy care, central line care, etc.)
Pediatric Critical Care Medicine
Pediatric Transport Medicine
Pediatric Pain Management
Pediatric Hospice and Palliative Care
Pediatric Sedation
Child Abuse and Neglect
Newborn Medicine
Electives available in a variety of disciplines
Curriculum Highlights
Clinical Experience
Up to 22 weeks per year of inpatient pediatric hospital medicine, including co-management and consultative services and community experience
Up to eight weeks per year of clinical and elective rotations
Research and Academic Training
Graduate coursework through the University of Southern California
Introduction to Clinical and Translational Research Design, a course sponsored by the Southern California Clinical and Translational Science Institute
CHLA Fellows Scholarship Skills Core Curriculum, including quality and safety, education, leadership, and career development
PHM Longitudinal Core Curriculum:  Research Curriculum, Clinical and Education Lecture Series
Division QI Intermediate Course
Academic and Administrative Expectations
Original scholarly project:

Focus may be on clinical, educational, quality improvement research, or other
Submission of research abstract to national meeting
Completion of manuscript by end of fellowship

Completion and submission of clinical case report
Quality Improvement project
Revision or creation of a multidisciplinary action plan (clinical practice guideline)
Committee participation during second year
Yearly presentations at the Division of Hospital Medicine journal club and morbidity and mortality conferences
Facilitation of education conferences for medical students and residents
Attend at least one pediatric hospital medicine national conference per year
Mentorship
Career Development  Mentor
Wellness Coach
Scholarship Oversight Committee
Research Mentor
Educational Oversight Mentor
Interim Research Advisor
Benefits
Health, dental, basic life, and disability insurance available
Malpractice insurance provided
Educational stipend
Funded to attend at least one academic conference per year (Pediatric Hospital Medicine, Pediatric Academic Societies, Society of Hospital Medicine or other)
State licensing and related fees
Reduced rate for covered parking
Office space, computer, pager, phone
Textbooks and other resources available
How to Apply
We are participating in the Electronic Residency Application Service (ERAS). See website for applicable application, process, and deadline.
Required application materials include:
Completed ERAS application 
Curriculum vitae
Three letters of recommendation, with one preferably from the residency program director or current clinical supervisor for those who have finished residency
Statement of interest describing how the pediatric hospital medicine fellowship will help you achieve your career objectives
Current photo
Please feel free to contact our office at PHMFellowship@chla.usc.edu with any questions.
Program Fast Facts
ACGME Accredited: Yes    
Fellows per year: 3    
Duration: 2 years    
Postgraduate Training Required: Pediatric Residency    
U.S. Citizenship: U.S. citizens, permanent residents    
Salary Minimums:    
Post Graduate Year 4: $78,531 minimum
Post Graduate Year 5: $81,677 minimum
Post Graduate Year 6: $84,712 minimum
Post Graduate Year 7: $87,652 minimum
Post Graduate Year 8: $90,952 minimum
Post Graduate Year 9+: Please contact gme@chla.usc.edu    
Benefits Include: Health and dental insurance, 14 days paid vacation+ 6 protected sick days, yearly educational stipend, monthly meal stipend, and 401(k) matching up to 3%