Research and Breakthroughs
What Anatomic Factors Impact Complete Atrioventricular Canal Defects?
Study finds that left-sided hypoplasia may impact the clinical course for babies born with these heart defects.
Congenital Cardiothoracic Surgeon Luke Wiggins, MD, will present the results of a new study on complete atrioventricular canal defects at the Western Thoracic Surgical Association 49th Annual Meeting, to be held June 21-24 in Coeur d'Alene, Idaho.
The Children's Hospital Los Angeles study assessed which anatomic features affect the clinical course for babies born with complete atrioventricular canal (CAVC) defects. In CAVC, babies are born with a large hole where the upper and lower heart chambers meet.
"Although many patients with these defects need little to no medical management prior to surgical repair, others have significant heart failure symptoms early in life," explains Dr. Wiggins, an attending congenital surgeon in the Heart Institute at Children's Hospital Los Angeles and lead author of the study. "We wanted to see what anatomic factors might influence this clinical course."
A common link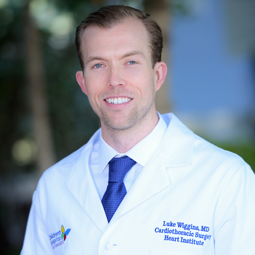 The retrospective study looked at 222 patients who underwent CAVC repair over a 10-year period. Of those, 12% required either palliative pulmonary artery banding or early complete repair at less than 3 months of age.
The team found that patients who required these early interventions shared a common anatomic feature: statistically smaller left ventricular outflows. This relative left-sided hypoplasia may explain why some patients develop subsequent heart failure that is resistant to medical therapy.
"Attention to these subtle anatomic variations can assist providers when counseling families," Dr. Wiggins says. "Physicians should also consider the degree of left-sided hypoplasia when making decisions regarding palliative banding."
Co-authors on this study include John Cleveland, MD, Shuo Wang, MD, Winfield J. Wells, MD, and Vaughn A. Starnes, MD, all of CHLA.
Attending the presentation
Dr. Wiggins will discuss the team's findings in a Congenital Heart Concurrent Forum at 8:20 a.m. on Friday, June 23, at the Western Thoracic Surgical Association Annual Meeting. His talk is entitled "Anatomic Considerations in the Management of Complete Atrioventricular Canal."