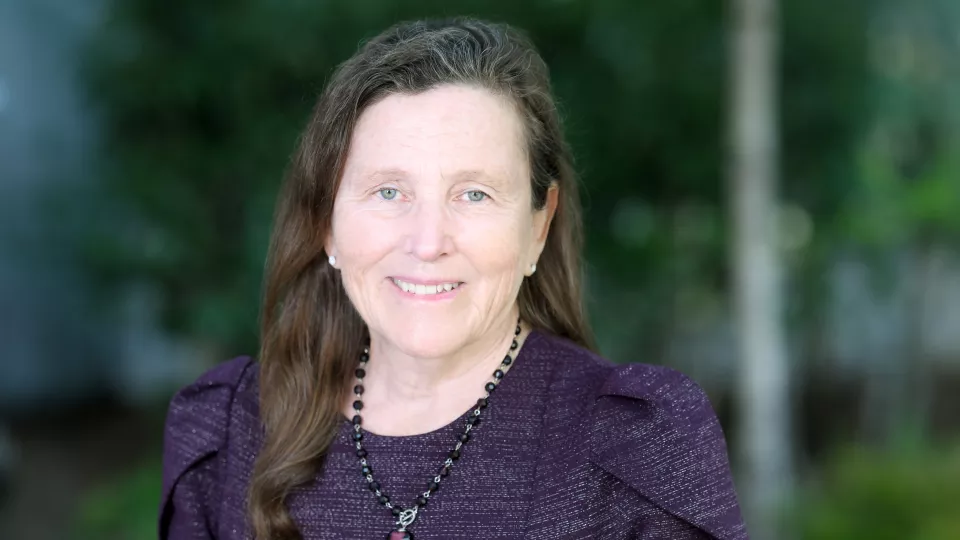 CHLA In the News
Children's Hospital Los Angeles Pulmonology Chief Receives Lifetime Achievement Award
Sally Ward, MD, was honored by the American Thoracic Society for her career contributions to pediatric respiratory medicine.
Sally Ward, MD—who has served as Chief of the Division of Pulmonology and Sleep Medicine at Children's Hospital Los Angeles for the past two decades—has received the 2023 Lifetime Contributions to Pediatric Respiratory Medicine Award from the American Thoracic Society. This prestigious award honors a pediatrician who has dedicated their life to the advancement of respiratory medicine and whose career contributions have significantly enhanced child lung health through achievements in teaching, clinical care, research, advocacy and scholarship.
Dr. Ward accepted the honor at the American Thoracic Society 2023 International Conference, held May 19-24 in Washington, D.C.
"I am extremely honored to receive this award," says Dr. Ward. "The opportunity to work with such incredibly dedicated colleagues, both at Children's Hospital Los Angeles and around the globe, has been an absolute joy."
Finding her calling
Dr. Ward's career has spanned nearly four decades, with all of it spent at Children's Hospital Los Angeles. But she wasn't always planning to go into medicine.
During her undergraduate years at the University of California, Davis, she majored in zoology and planned to become an ecologist. But when she realized that the field was too steeped in statistics and politics, she reconsidered. The daughter of two physicians, she signed up for a human physiology class and quickly found her calling.
"I went to all the lectures twice and all the optional discussion sections," Dr. Ward remembers. "I just loved it."
She earned her medical degree from University of California, Irvine, and completed her pediatrics residency at what is now called Los Angeles General Medical Center. Because asthma is the most common chronic disease of childhood, she decided to stay on for a pediatric pulmonology fellowship.
"Within three months I was enchanted by pulmonology," Dr. Ward says. "I told my mentor, I need to do this forever!"
After completing her pediatric pulmonology fellowship at Los Angeles General Medical Center, she followed with a two-year pediatric pulmonology research fellowship at Children's Hospital Los Angeles, under Thomas Keens, MD. She joined CHLA as faculty in 1986.
Expanding pulmonary and sleep care
Dr. Ward has served as Chief of the Division of Pulmonology and Sleep Medicine since 2003. The Division offers comprehensive care for children with pulmonary, respiratory and sleep disorders—including asthma, cystic fibrosis, bronchopulmonary dysplasia (BPD), congenital central hypoventilation syndrome (CCHS) and more.
Under her leadership, the Division expanded to include a discipline close to her heart: sleep medicine. One of the first pediatricians in the nation to be Board certified in sleep medicine by the American Board of Pediatrics, Dr. Ward has served as Medical Director of the Sleep Center at CHLA since its inception—growing it from a one-bed lab to a multi-bed Center that conducts more than 2,000 sleep studies a year.
The Division has also developed and expanded several multidisciplinary programs to support pediatric respiratory care—including the Aerodigestive Program, the Cystic Fibrosis Center and the Infant Chronic Lung Disease Program. In addition, the team participates in numerous multidisciplinary clinics throughout CHLA—supporting cardiology, neurology, neonatology, craniofacial care and more.
"What I love about pulmonology is that we take care of a system that involves the central nervous system, the neuromuscular system and the lungs themselves," she notes. "We care for children with diverse disorders and conditions, and I love the close collaborations our team has across the entire hospital."
Training the next generation
Research has also been a key focus for the Division and Dr. Ward. Her studies focus on sleep-related breathing disorders, and she has authored nearly 100 peer-reviewed publications—many of which are seminal papers in the field. Currently, she is serving as a site principal investigator for a soon-to-launch multicenter study investigating the use of supplemental oxygen for children with Down syndrome who have obstructive sleep apnea.
In addition, she has served on committees of the American Thoracic Society, American Academy of Pediatrics and American Academy of Sleep Medicine—helping to establish clinical guidelines for the care of children with sleep-related breathing disorders.
Her proudest achievement, though, is educating the next generation of pediatric pulmonologists and sleep medicine physicians. The program has trained more than 80 fellows in its history, many of whom now hold leadership positions in institutions and organizations around the country and the world. This year, CHLA has seven pediatric pulmonology fellows—its largest class ever.
That educational mission is especially critical in light of the ongoing national shortage of pediatric pulmonology and sleep medicine providers. But Dr. Ward is optimistic for the future of the field, citing such advances as the newly available one-dose vaccine for infants with respiratory syncytial virus (RSV) and new technologies to better understand pediatric lung disease.
"We can do more for our patients today than we could yesterday," she says. "I truly believe that every new day is the best day to be a physician, and to be a pediatric pulmonologist."