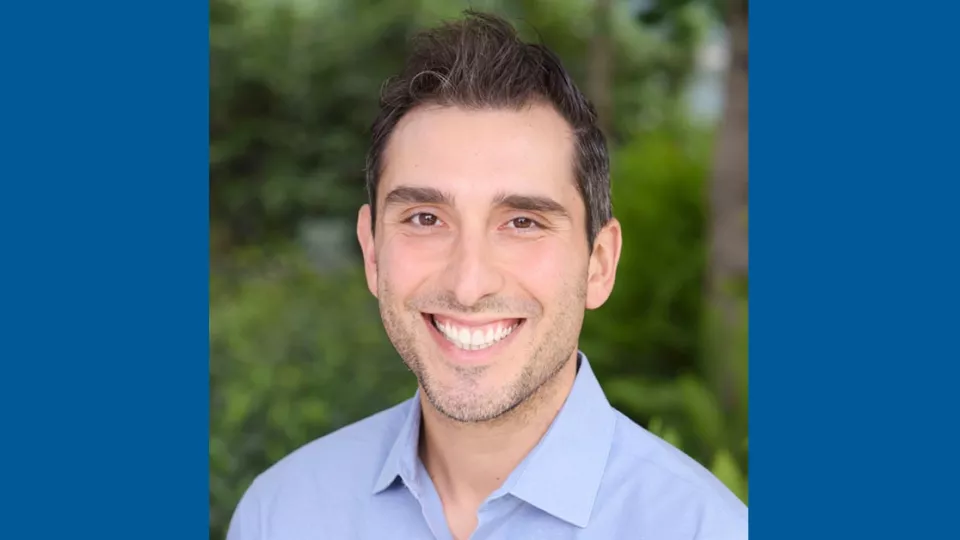 Care Innovation
An Innovative Approach to Pediatric MS Care
Program focuses on early treatment to prevent disability.
Jonathan Santoro, MD, has an ambitious goal for his patients with pediatric multiple sclerosis (MS): zero disability.
"It's an extreme goal," he says. "But by starting patients on early and aggressive disease-modifying therapy, the aim is that they don't have any more relapses. And by preventing relapses, we can prevent disability."
Dr. Santoro, Director of Pediatric Neuroimmunology and Demyelinating Disorders at Children's Hospital Los Angeles, launched the hospital's multiple sclerosis program in August 2019.
Today, it's one of the largest and fastest-growing pediatric MS programs in the nation. Designated as a Partner in MS Care by the National Multiple Sclerosis Society, the clinic takes a multidisciplinary approach and includes pediatric neurologists Nusrat Ahsan, MD, and Wendy Mitchell, MD, as well as nurse Kelli Paulsen, RN, who is certified by the Consortium of Multiple Sclerosis Centers (CMSC).
Fast access to treatment
MS is a chronic disease where the immune system attacks the brain and spine, damaging myelin (the protective coating that wraps around nerve fibers), the cells that make myelin, and the nerve fibers themselves. The disease mostly affects adults, but about 5% of patients develop it before age 18.
Treatment with immune-modulating therapies can slow disease progression and reduce relapses, but traditionally, it could take years for a child to be diagnosed and referred to specialized care. Even then, obtaining insurance approval for MS medications can often be a long process, creating more delays.
Dr. Santoro and his team have implemented several innovative measures to support patients and help them start treatment quickly:
Same-week appointments. "We've worked very closely with all the other hospitals and medical systems in our region, and when they call us with a patient, we make time to get them in that same week," he says.
Thorough outpatient workups. The team can evaluate many new patients as outpatients—with lab work, lumbar puncture, EEG and advanced neuroimaging. This helps the family avoid a hospital admission.
Quick starts on therapy. The team set up a fast-track process for helping patients obtain insurance approvals for medications. So far, 100% of patients have been able to start needed therapy in four weeks or less—a rare feat in the MS world.
Same-day infusions. "If there is concern a patient is relapsing, traditionally the patient would be admitted to the hospital," Dr. Santoro explains. "Now, we can walk them down the hall to our infusion center, and within an hour they can get an outpatient infusion of IV steroids. This has prevented a lot of hospital admissions."
Support network for teens. This support group—which now meets via a Zoom call—helps teens with MS connect with their peers and share challenges and experiences.
Research and clinical trials
In addition to participating in multicenter clinical trials of new MS therapies for children, the team is conducting its own research on how—and why—the disorder impacts children and adolescents.
For example, Dr. Santoro was first author on a recent publication in Neurology that found that cognitive disability—not motor disability—is more prominent in pediatric MS patients. The team also has received a grant from Race to Erase MS to study the role of sex and stress hormones in the development and aggression of pediatric MS. The studies are part of The Saban Research Institute of Children's Hospital Los Angeles.
"We want to advance our understanding of what causes MS in younger people," he says. "That will hopefully pave the way for new treatments in the future and the absolute best outcomes for patients."