Paying your International Bill through Flywire
CHLA accepts all international payments via Flywire
Provides secure payment process from any country and any bank. For most countries and territories, you pay in your home currency and Flywire will send funds in $USD directly to CHLA.
Offers payment methods that range from wire transfer, credit cards, e-payments and more for most countries and territories. Offers excellent foreign exchange rates and no hidden fees.
Allows you to track the progress of your payment anytime online and receive email and text alerts each step of the way including when it reaches CHLA.
Offers multilingual customer support via phone, chat and email any time, any day for questions or assistance with your payment.
How to Make a Payment Online
Click on the PAY NOW button from your invoice or go to chla.flywire.com, then select your home country and enter the amount due your invoice to pay CHLA. See example below: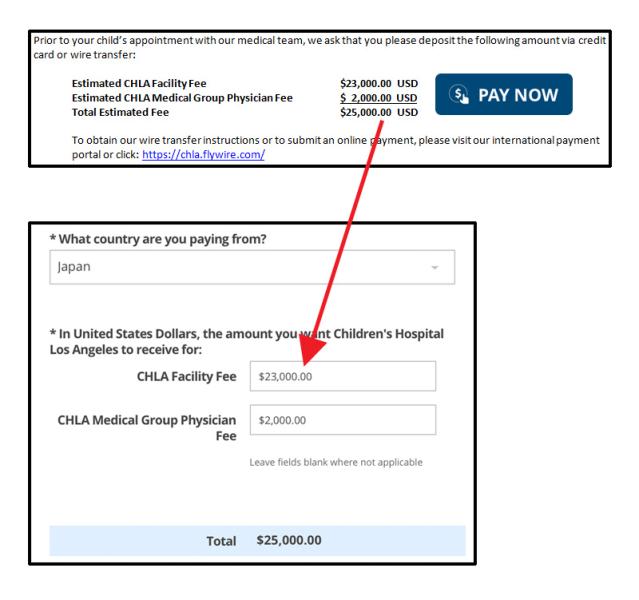 Select a payment option. Options can include wire transfer, credit cards, or other local payment options depending on the country selected.
Create your account or log into your Flywire account and enter the required information for CHLA.
Make payment to Flywire as instructed, online or by communicating with your home bank. Flywire will process and send your payment to CHLA with your information.
Track your payment via email/text or by logging onto flywire.com anytime. You will also be notified of when CHLA receives your payment.
Flywire Customer Support Information
Phone: +1-800-346-9252
Email: support@flywire.com
Website: flywire.com/help