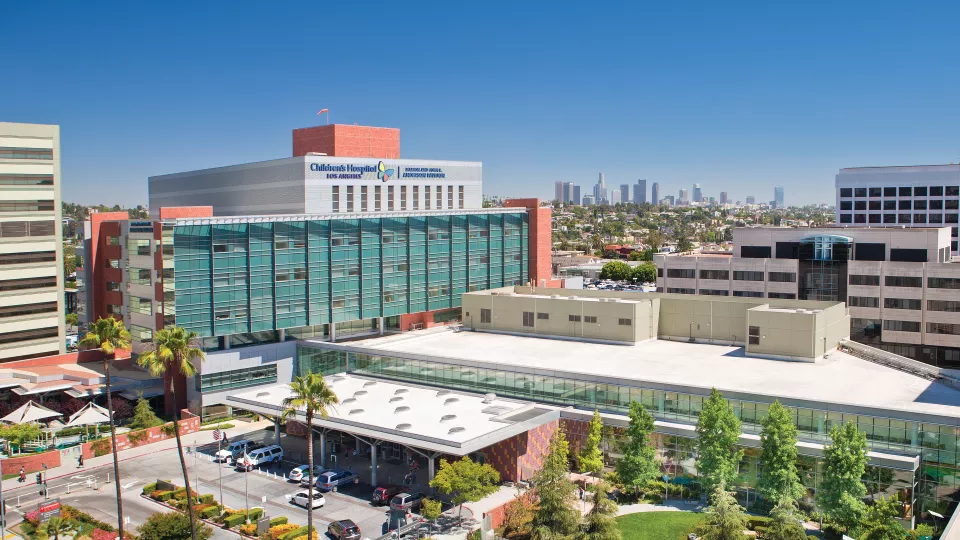 Work That Matters
Sara and Rosie: A Dog Volunteer Story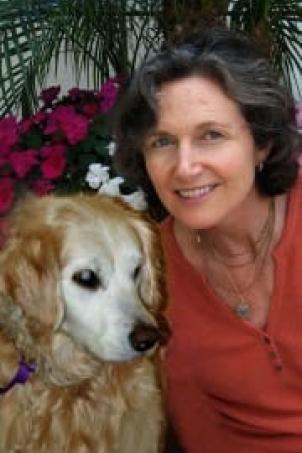 If you've ever walked by or visited the hospital, you may notice some of our furry friends—dog volunteers. They wear a purple bandana and have their own Children's Hospital Los Angeles ID badge. Dog volunteers do a lot of good for patients and families receiving care at the hospital. They help:
Comfort patients who cannot leave their rooms
Ease anxiety and pain before a procedure or while hospitalized
Each year, more than 50 volunteers bring trained and registered therapy dogs to visit our patients and families through the Amerman Family Foundation Dog Therapy Program.
We caught up with one of the volunteers and asked some questions. Meet Sara Rostand and her dog, Rosie! Rosie has been a dog volunteer at Children's Hospital Los Angeles since 2005.
How did Rosie become your dog?
Rosie was three years old when we adopted her in 2004 from an animal shelter. During that time I was specifically looking for a dog to be part of a therapy dog program. Rosie had a great temperament, knew her basic obedience and got along well with Duke (our other dog). When we first got her, she had pneumonia and was overweight (83lbs then, 60lbs now).
One year after we adopted Rosie, her vision didn't seem good. We took her to a vet ophthalmologist who tested her and told us she was blind (PRA - progressive retinal atrophy, she later developed cataracts). Rosie has been blind since age four and is still doing great now at age 12.
She still loves to eat anything and wanders around our yard searching for oranges that have fallen off the trees and then eats them whole. She recently realized some of the branches were within her reach and started pulling oranges off the tree.
Rosie has been a great therapy dog since her first visit and loves going to Children's Hospital Los Angeles.
Is there a special memory of volunteering with Rosie?
I have had numerous memorable visits in the nine years I've been volunteering at the hospital.
There have been patients we've seen on and off over the years who always remember Rosie. One visit in particular involved a young girl approximately eight or nine years old who was alone when we entered the room
She was hesitant but interested in Rosie's eyes. She wanted to pet Rosie but didn't want to be near her mouth so we started with her tail end. Eventually, she wanted Rosie up on the bed with her. Her mother then returned to the room, saw Rosie on the bed and started crying. She told me her daughter was very afraid of dogs because she had been attacked in a previous instance outside the hospital and was working with a therapist to get over her fear. Her mother was thrilled by the visit, taking pictures and emailing them to family and friends.
There was another young girl that Rosie and I saw several times during her dialysis. Rosie would get in the chair next to her and they would both fall asleep.
When you're not volunteering with Rosie, how do you spend your time?
I enjoy traveling. For example, I traveled to Argentina and Iceland this year! I enjoy cooking, baking, working out at the gym, going to movies and gardening.