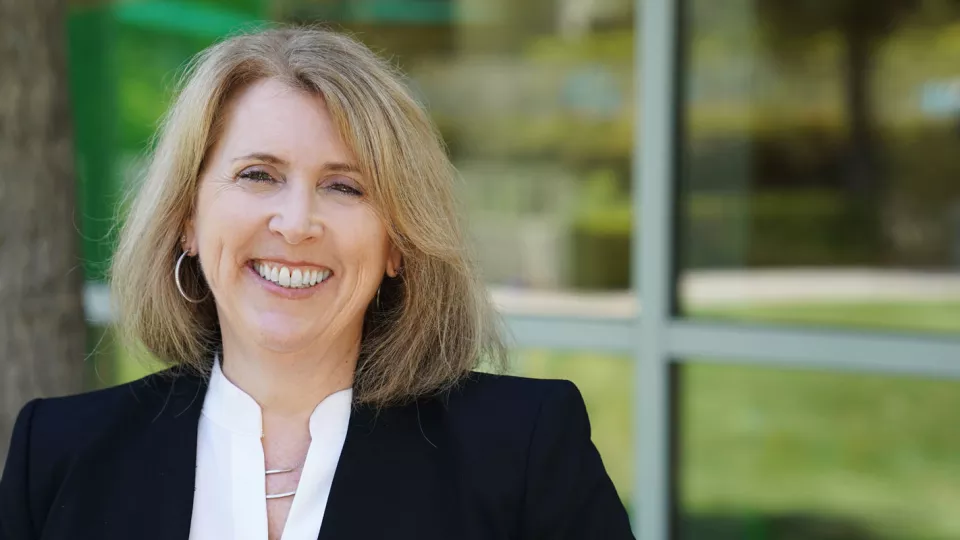 Work That Matters
Sandy Himmelrich, LCSW
Sandy Himmelrich, LCSW, has devoted 25 years to helping and protecting the most vulnerable among us: children who have been abused.
Sandy Himmelrich, LCSW
'This Is a Calling'
Growing up, Sandy Himmelrich, LCSW, had a penchant for finding and bringing home any lost or stray animal in the neighborhood—from dogs to cats to bunnies and even an occasional bird.
"I'm a natural-born caretaker, a natural-born protector," she explains. "I've always been like that. It's my nature; it's just who I am."
So it's no surprise that in her adult life, Himmelrich, the Interim Director of Clinical Social Work and Care Coordination at Children's Hospital Los Angeles, has dedicated her career to protecting some of the most vulnerable members of society: children who have been abused.
At CHLA, she co-founded and manages the Audrey Hepburn CARES Center, which provides services for suspected victims of child abuse and their families. As you might guess, it is definitely not an easy job. But don't think for one second that Himmelrich would want to be doing anything else.
"This is a calling," she says. "You either want to work with abused children, or you don't. There's no middle ground. You do it because you love it, and because you're absolutely dedicated to protecting children."
Wanting to be the one
Himmelrich grew up in the San Gabriel Valley, the child of divorced parents and a blended family that gave her seven siblings. Although she briefly thought of becoming a vet, for most of her childhood, she had a clear career goal.
"I always knew I wanted to be a social worker," she says. "My best friend's mom was a social worker, and she worked with abused children. I wanted to be just like her."
She earned her bachelor's in social work at Cal Poly Pomona and followed it with a master's at USC. She did her internship at Children's Hospital Los Angeles, where a rotation in the Emergency Department convinced her that she'd found her home.
There, she worked with trauma cases, homeless families, children with psychiatric conditions—and cases of suspected child abuse. She loved her work with all the patients, but when a potential abuse case came up, she was especially drawn to it.
"I found myself wanting to be the one who talked that child through it, to be that one person that child could trust to tell their story—if they were ready," Himmelrich says. "Because they're not always ready."
After completing her master's, she joined CHLA in 1993 as an Emergency Department social worker. A year later, she and Karen Kay Imagawa, MD, created the CARES team to provide comprehensive services to suspected victims of abuse and maltreatment.
She and Dr. Imagawa have been leading the team ever since. Originally operated out of the Emergency Department, the Center today provides services across the hospital and also includes a nurse practitioner, program and clinic coordinators, and an additional six CHLA social workers who volunteer their time with CARES.
Unfortunately, the need for the team's work is great. Each year, CHLA evaluates more than 500 suspected cases of physical or sexual abuse, emotional abuse, medical child abuse and/or neglect, and many of the cases are severe. In fact, in Los Angeles County, approximately 10-18 victims of child abuse lose their lives every year. About 63 percent of those children are 2 years of age or younger.
Himmelrich meets the children and families behind those heartbreaking statistics every day. The CARES Center provides comprehensive medical evaluations and social work assessments in suspected abuse cases, and its varied team of professionals are involved in evaluation, treatment, medical follow-up, prevention, advocacy, education and research. Patients include children with developmental disabilities—who are statistically at higher risk of abuse—and CARES staff have extensive training in child abuse, forensic interviewing, and developmental and behavioral pediatrics.
The team goes beyond merely identifying whether abuse has taken place.
"Our focus is on the whole child, and on making sure that child has the opportunity to develop the best he or she possibly can," Himmelrich stresses. "Even if there hasn't been abuse, we don't just give up on them. If we can help in any way from a developmental standpoint, we'll step in and make sure kids and families get the services they need." 
Unseen tears
Among her colleagues, Himmelrich is well-known for her expertise, her calm under pressure, her strength and professionalism in the face of extremely challenging circumstances, and her sense of humor that helps diffuse the team's stress.
What her colleagues don't see are the tears. Those, Himmelrich sheds alone—behind her closed office door, or in the car, driving home from work.
"People think I don't cry, but I do," she says. "I literally cry for what's happened to these children. It's just plain and simple sadness."
Sometimes, there's anger, too—and exhaustion.
"You have to kind of lose a part of your soul to do this work," she continues. "To fight for justice and fight for children's rights and try to protect them against being injured by people who should be protecting them—that takes its toll on you."
Several years ago, one case took a particularly tough toll. A young girl was brought to CHLA after she was found alone at home. The child was dehydrated and had been burned, beaten, sexually abused and routinely locked in bathrooms or closets. Sometimes, she went days without food. The abuse had been ongoing for a year or more—crossing over to a legal definition investigators call "torture."
Himmelrich interviewed the child over three separate days. "She could only handle so much at a time," she remembers. "The truth is, I could also only handle so much."
It wasn't her first torture case. But as she left the room on the third day, she knew that, after 20 years of listening to children describe devastating abuse, she had reached her emotional limit. Soon afterward, she told Dr. Imagawa that while she would still manage the program, she could no longer conduct the interviews of children and parents.
"It was hard to step away. I had this feeling of responsibility," she says. "On the other hand, I had a responsibility to the rest of my team who are interviewing children to show them that I needed to take care of myself. That was just as important a message as, 'I can do anything and I've got it all covered.'"
Himmelrich is still involved in a high percentage of the child abuse cases that come into the hospital, and she's on call for the Center 24/7. It's a stressful life and a constant emotional roller coaster. But she's not complaining—at all. 
"I'm doing what I love," she says. "Not many people get to say that. How lucky am I?"
An open door
Almost every night after work, you will hear a sound that's become quite familiar in Himmelrich's home: the vacuum cleaner.
The nightly ritual has long been a way for her to decompress after a hard day. "I'm known amongst my siblings as a vacuumer!" she says, laughing. "It's a great way to get rid of stress, though. And you clean up at the same time!"
Her house is not just tidy; it's full. Himmelrich's two children who are now grown, brought home plenty of stray and lost animals during their growing-up years. ("Cats, dogs, fish, hamsters—whatever needed a home," she says.)
Her children also brought home "stray people"—friends who were in trouble or having difficulty with their parents. "Those kids would come to me and ask, 'What do I do?'" she says. "My house was the house to calm down; it still is. I grew up in a house that always had an open door, and my house will always have an open door."
Himmelrich wouldn't have it any other way. As she says, she's a natural-born caretaker, a natural-born protector. She's always been like this.
It's just who she is.
Meet more Inspiring Women
To read more stories like Sandy's, visit CHLA Inspiring Women.