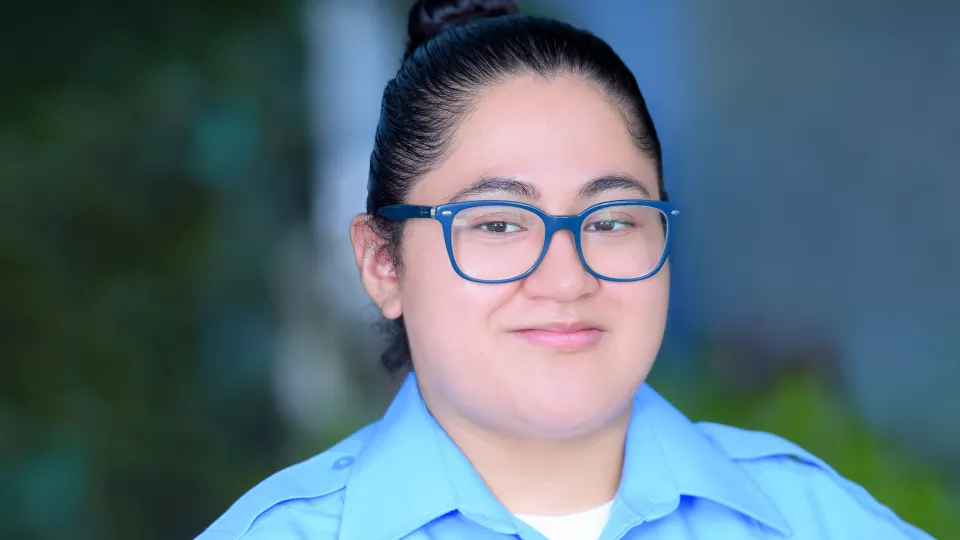 Work That Matters
Safety First: The Children's Hospital Los Angeles Security Team Keeps the Hospital Safe for Everyone
In a time when safe is what we all want to feel, Security Officer Helen Pineda helps protect patients, visitors and team members at Children's Hospital Los Angeles.  
Children's Hospital Los Angeles is located in the heart of the second-largest city in the nation. The hospital's team of more than 80 security officers help ensure that the hospital is a space of hope and healing by protecting what matters most—patients, their families and the team members who care for them.
"Access control is our main goal," says Officer Helen Pineda. "We are constantly keeping an eye on the different types of visitor badges and employee identification badges to make sure everyone has business at the hospital—whether they are an employee or approved visitor."
The team that safeguards CHLA
Pineda fills a variety of roles depending on her shift or the day of the week she is working. Sometimes, she is designated as a "rover," patrolling a specific zone of the campus. On other shifts, she works as a dispatcher, keeping an eye on security cameras, receiving calls and dispatching security support as needed.
While security officers are typically seen as the enforcers of policies and rules, there are still occasions when Pineda finds time to connect with a patient or their family, walking them from the lobby to a clinic or area that they haven't visited before.
"I like getting to know them and talking to them," she shares. "Most of the people you interact with are really nice."
In the year-and-a-half she's been at CHLA, Pineda has also assisted with her fair share of emergency responses, known as hospital codes. Security officers are called to help with a variety of scenarios—everything from a possible fire to a medical emergency.
Talking to Pineda about her experience is a reminder that confidence comes with practice. "During the first few codes, you may be nervous or unsure," she says. "But after four or five, you are confident and ready to help as soon as you hear the call come in."
Protecting campus during a pandemic
COVID-19 has changed many procedures and protocols at the hospital, and the Security team is an important safeguard to ensure policies are being upheld. The largest change has been the limit on the number of visitors allowed for each patient. Many times, it's necessary for officers to explain the new policies to parents and the reason behind the changes—health and safety.
In certain areas of the hospital, one parent may be at the bedside while another may have a first floor-only pass, allowing them to visit areas like the cafeteria or healing garden. Emotions can be high for families, and Pineda says she tries to remember that everyone is under stress.
"We have to make sure every parent has a pass, even if we've seen them before. It's the same for employees; we may have seen you every morning or recognize you, but we will still stop you if you've forgotten your badge," she says. "We're not being mean if we question you; just doing our job and ensuring that nobody who shouldn't be here gains access."
While security officers work independently for much of their shift, there are moments when the officers come together to support each other—offering to cover another's post while their teammate washes or sanitizes their hands, for example. Thanks to their steadfast support, CHLA remains a safe environment, open and ready to serve the community.