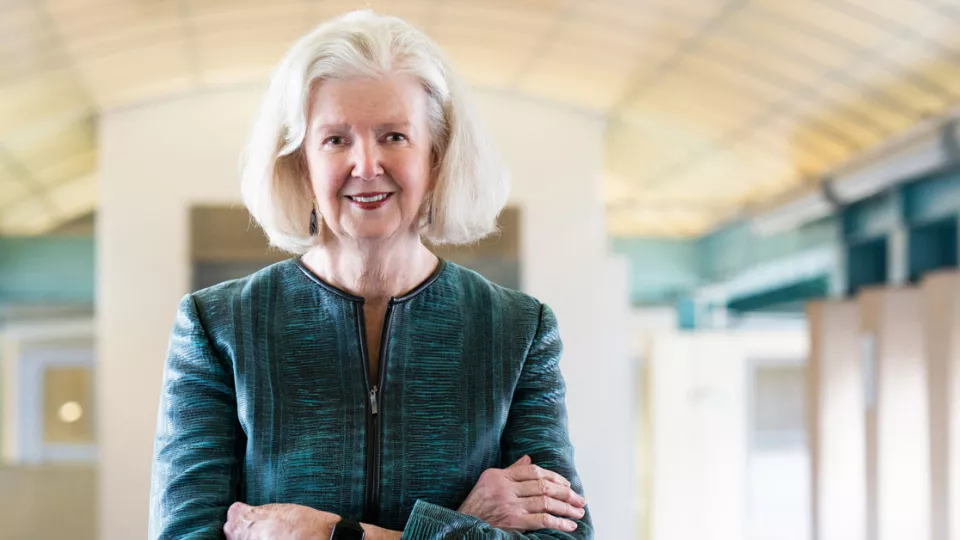 Work That Matters
Roberta Williams, MD
Roberta Williams, MD, has devoted herself to recognizing the impact a childhood disease and its treatment have on an entire lifetime.
The Doctor Who Never Wavered
Roberta Williams, MD, has always been an astute forecaster, preferring to take the long view. But she isn't satisfied to simply predict the future; she intervenes to try and alter its course.
"In pediatrics, you see patients at such an early time in their lives, any changes you make in their care have such an influence over a lifetime," says Dr. Williams, a specialist in congenital heart disease (CHD) who joined Children's Hospital Los Angeles in 2000.
Over an extraordinary career spanning five decades, Dr. Williams has been a persistent and passionate champion for improvement in the systems of care for patients with chronic disease originating in childhood.
Growing up in Rocky Mount, North Carolina, & she was "interested in everything," says Dr. Williams. Then her parents, thinking she had a heart problem, took her to see Helen Taussig, MD, one of the founders of pediatric cardiology. The 13-year-old was fascinated by the legendary doctor and the equipment and tests she used. "I asked a thousand questions."
Fortunately, young Roberta's heart was fine. And she had found her life's work: medicine. "I never wavered." Initially, in medical school, she had intended to go into adult cardiology. Then, she says, "I realized pediatric cardiology was more novel, more complex, more interesting and fun than the acquired heart disease most adults got."
Congenital heart disease, the most frequent form of major birth defect in newborns, became her calling. She made another crucial choice in taking on a combined pediatrics/medicine residency—unusual for that time. "By deciding I would study both medicine and pediatrics, I became dedicated to whole-life care," says Dr. Williams.
She then began working under the direction of another influential mentor—Alexander Nadas, MD, considered the father of pediatric cardiology—who guided her to a pediatric and adult cardiology fellowship at Boston Children's Hospital and Massachusetts General Hospital.
Breakthrough Changes
Dr. Williams was in the right place at the right time for a sea change in cardiac medicine. As a college student, she had supported herself working at the University of North Carolina (UNC), measuring heart sounds, so she was offered the opportunity to create the first cardiac ultrasound laboratory at Boston Children's Hospital (one of the first in the nation). The field of cardiac ultrasound was just emerging, giving physicians a chance to view intricate heart defects prior to going into surgery. In addition, surgeons were having the first significant successes with open heart surgery in infants.
With her front-row seat, she became a pioneer in the field of echocardiography, which visualizes the arteries and chambers of the heart. Beginning in the early 1970s, she developed the initial clinical correlations that served as the basis for noninvasive diagnosis of a wide range of cardiac anomalies. Later, she became the first director of the pediatric cardiothoracic intensive care unit (ICU) at Boston Children's, while still heading up the hospital's cardiac ultrasound lab.
To listen to Dr. Williams, many of these milestones were serendipitous. "That's why I tell people in their careers to not fret too much that they have to plan everything perfectly. It's just as important to be able to respond to what happens to you and use all your previous experience."
Central to her choices is her desire to serve as "an attack pediatrician"—eager to take on problems she sees, including inequities in the division of resources between pediatrics and adult medicine.
Her trajectory included stints as Chief of Pediatric Cardiology at UCLA and Chairman of Pediatrics at UNC. To do the latter, she had to temporarily give up being an active cardiologist, "a wrenching, wrenching decision," she says. Ultimately, Dr. Williams became frustrated that financial decisions in a blended health system typically favored adult care.
That sense of injustice drew her to Children's Hospital Los Angeles, and a position as Vice President for Pediatrics and Academic Affairs, along with Chair of Pediatrics at the Keck School of Medicine of USC. What she found has brought her lasting happiness and fulfillment. "This hospital is organized around children, and that is extremely special," says Dr. Williams.
From the start of her tenure at Children's L.A., she has been instrumental in developing guidelines for two vulnerable periods when care is "handed off" — fetal-neonatal and adolescence-young adult. She headed up the launch of the maternal/fetal medicine program at USC, wrote the first exams for physician Board certification in adult congenital heart disease and co-wrote the initial guidelines for treatment of those adults.
Increasing Need
Driving her is a compelling statistic: with higher survival rates, today more adults than children have congenital heart disease. Their need for continuing care has been met with a generation of adult cardiologists who don't understand CHD and its warning signs, because they have had little or no experience in this and other rare childhood diseases.
As a result, many young adults who "age out" of pediatrics have difficulty finding trained adult medicine practitioners, says Dr. Williams, and "patients often get extremely inappropriate care."
She is determined to create a stronger continuum of care, including more CHD expertise in the adult medical community, and is collaborating with the American College of Cardiology and colleagues around the world to do so.
Currently, Dr. Williams heads up a three-year pilot project at CHLA, which aims to develop a Center for Healthy Adolescent Transition. "Can we create something that is an integral part of a children's hospital that can be sustainable," she asks, "and enhance our mission of creating healthy, productive adults?"
She sees momentum building globally for an improved system of care. The challenge is devising "the kind of health system and digital tools young adults want, which is really different from what their parents wanted," she says. And making sure that care is highly efficient, affordable and continuous.
Now an attending physician at CHLA, Dr. Williams stepped down from her leadership commitments in 2010 to devote herself to this cause. "This is my mission," she says firmly.
Having had excellent mentors herself, she jokes that she can be someone's mentor, but "you don't want me as your role model—not anyone who ran an ICU and an echocardiography lab at the same time." If there is any way in which she is a good model for young physicians, Dr. Williams adds, "it would be as someone who has thoroughly enjoyed their career."
Meet more Inspiring Women
To read more stories like Roberta's, visit CHLA Inspiring Women.