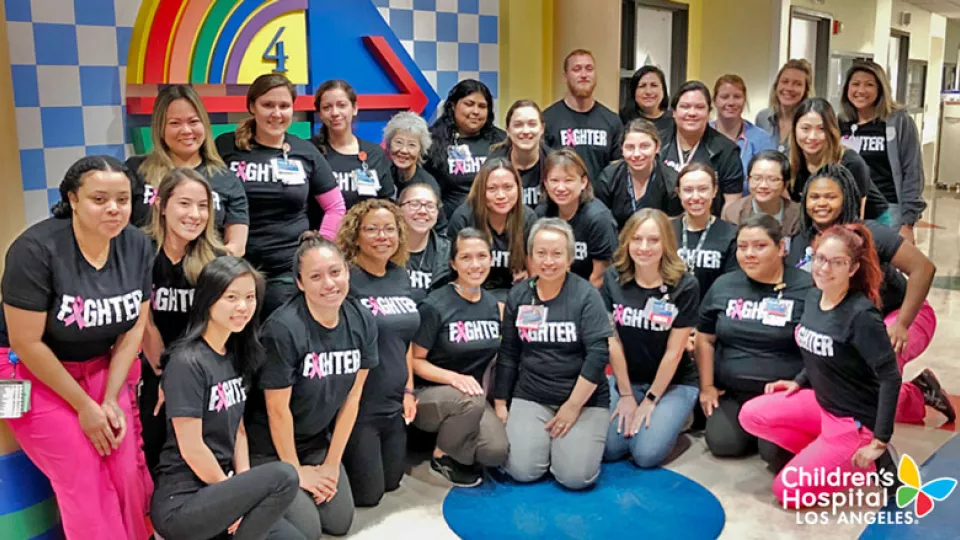 Work That Matters
Pediatric Nurse Fights Breast Cancer and Cares for Patients
When Phan Leopando, RN, CRRN, was scheduled for a routine ultrasound following her first mammogram, she thought nothing of it. She had no symptoms. At the appointment in the summer of 2018, she was scanned multiple times and informed by the radiation oncologist they had potentially detected cancer. A biopsy confirmed the initial diagnosis—stage 1 breast cancer. She underwent a lumpectomy followed by four rounds of chemotherapy and radiation treatment and hormone therapy.
This Children's Hospital Los Angeles nurse managed an inpatient unit and opened a new inpatient center while undergoing radiation and chemotherapy
Leopando, operations manager for two Children's Hospital Los Angeles units was diagnosed while she was preparing for the Commission on Accreditation of Rehabilitation Facilities (CARF) accreditation process. When her team found out about her diagnosis, they were surprised and devastated. She had not allowed the cancer diagnosis to interfere with her responsibilities at work. While maintaining day-to-day responsibilities, she was helping plan the opening of CHLA's newest inpatient unit while undergoing radiation treatments each morning before work.
"I wanted to continue working if I could," Leopando says. "Once the emotions, anxiety and fear of the diagnosis calmed down, I talked to my oncologist and asked what the hardest days would be following chemo. I learned the third and fourth days after treatment will typically be the worst. I scheduled chemo on Thursdays so I could have time to heal on the weekends." She says she was also able to make some adjustments to her usual routine, like not attending large meetings to make sure she wouldn't get exposed to germs and get sick while undergoing treatment.
Chritina Weathers, a care partner at CHLA, was surprised to hear of Leopando's diagnosis, especially in the midst of opening a new unit and hiring 30-plus new employees. She came up with the idea to recognize Leopando and celebrate the end of her treatment. The team had 'Fighter' shirts made. Employees could purchase the shirts and make donations to the Susan G. Komen Breast Cancer Foundation in Leopando's honor. After covering the costs of the shirts, the team raised more than $1,000. The team presented Leopando with the donation certificate in April to celebrate the end of her treatment.
"She was so surprised," says Weathers. "It was about her and not everyone else. Everyone on both units was involved and excited to show our appreciation. Some tears later, we are now even more invested in CHLA as a family."
Leopando says she could not have made it through treatment without the support of her friends and family. "I was blessed to have so much support that allowed me to have strength and courage to continue working during my treatments," says. "I was also inspired by our [hematology/oncology] acute rehab patients. Some of them are receiving chemo and radiation, then endure intensive rehab therapy—and they do it daily on our unit. If they can do it, I told myself I can do it too!"
Find your career at CHLA
Join a hospital where the work you do matters. Visit Jobs.CHLA.org and apply today!