Heading Into a War Zone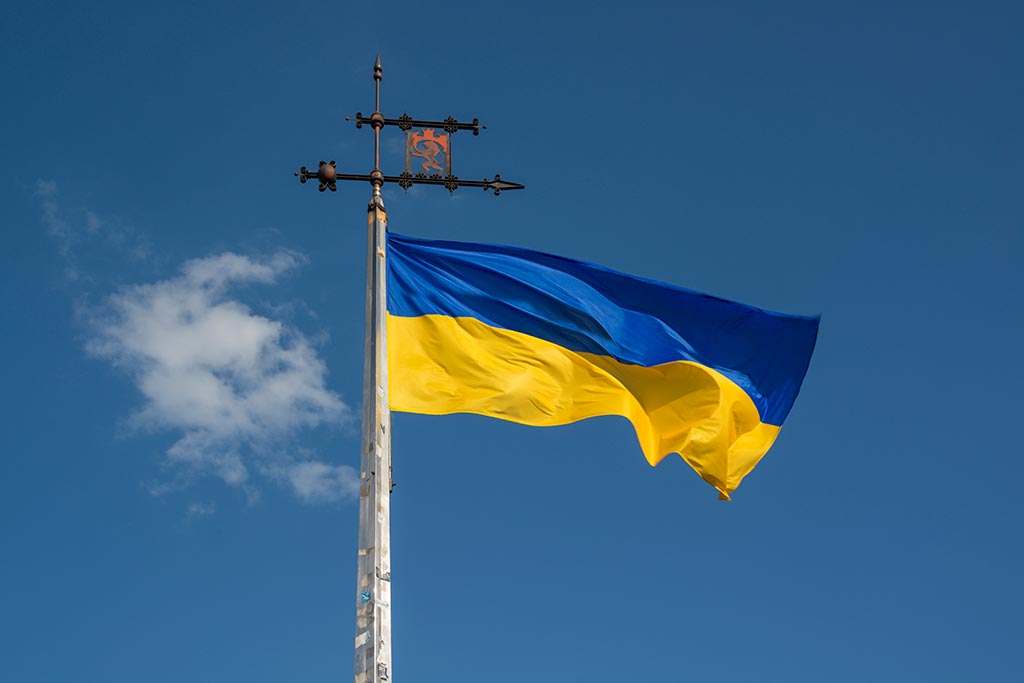 A CHLA Anesthesiologist Goes to Ukraine to Provide Pediatric Surgery Aid
By Owen Lei

The moment Clementine Vo, DO, saw the request for volunteers to join a medical team heading to care for children in Ukraine, she knew she was meant to go.
"I'd been kind of aching and feeling helpless regarding the conflict. Not everyone can just fly over there," says Dr. Vo, a CHLA pediatric cardiac anesthesiologist. "So when this email came, I felt called to do it."
Within three days, she was on a plane heading to the war zone, part of a U.N.-sanctioned delegation of 13 doctors, nurses, embedded journalists… and her fiancé.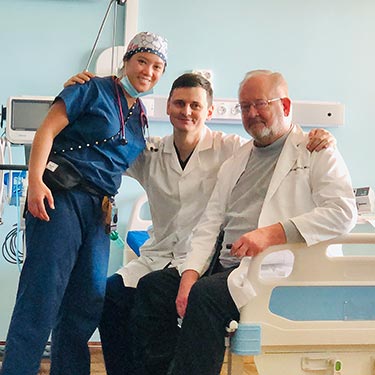 From left to right: Dr. Vo, Dr. Vitaliy Petrov (Cardiothoracic surgeon in Lviv), Dr. William Novick.
"He basically told me, 'If you're set on going, you're not leaving me behind,'" says Dr. Vo.
Recruited from hospitals in the U.S. and Canada, the medical team would be providing humanitarian aid through pediatric care as part of a third party, the Children of War Foundation. The nonprofit has longstanding connections with many current and former CHLA team members, most notably oral maxillofacial surgeon Jeffrey Hammoudeh, MD, DDS, whose wife Amel Najjar co-founded the organization.
"When we were recruiting the team required to make [this] mission possible, we sent emails to our network all over the U.S. and beyond," said Najjar. "Dr. Vo was one of the first to volunteer."
Starting out early on March 12, it took 30 hours to fly from California to Munich to Poland. They then drove to the Ukrainian border and waited another three hours before they were allowed to head onto Lviv, one of Ukraine's biggest cities and a primary waypoint into Eastern Europe for refugees fleeing the fighting further east.
Not that Lviv was that sheltered from the war. On the day they arrived, Russian forces bombarded a military complex in the region. Air raid sirens were a common sound as the team performed delicate heart surgeries at the city's children's hospital.
"It's a little nerve-wracking at first, for sure," says Dr. Vo. "You almost unfortunately get used to it … you just trust God and carry on and do the work that you're called to do."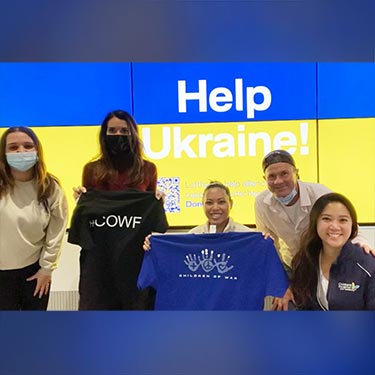 From left to right: Kayla Costello (RN), Christina Pascucci, (KTLA reporter), Drea Garcia (camerawoman / escort), Dave Keough (pilot), Dr. Vo's fiancé, Dr. Vo.
In all, the team performed six heart surgeries on children ranging from 3 years all the way down to 7 days old. They reconnected an aorta, banded a pulmonary artery, repaired ventricular septal defects and a dysplastic aortic valve, and performed a balloon atrial septostomy. She describes the experience as bittersweet, as these surgeries were happening against the backdrop of devastating international war, at a hospital flooded with young patients from other cities.
"It's the same surgeries that we do at home, but we are so lucky here," she says. "Parents are here at the bedside, but [in Ukraine, many] parents are running across the border and forced to leave their children there."
Dr. Vo says the last she heard, all the children they treated are still doing well. And in the end, she says, the experience was a showcase of the international collaboration needed to create hope and build healthier futures for the most vulnerable members of our world.
She also gave a special thanks to the Norwegian EMT team that drove several members of her delegation back across the border to Poland a week later, after several plans and backups fell through.
"They were at the hospital dropping off supplies, so the six of us West Coasters crammed into the back of the ambulance and were driven to the border," she says. "[As we drove through,] we saw the line of refugees there and it was heartbreaking."
Now back stateside, Dr. Vo says she hopes she made a difference in the lives of these families facing unfathomable hardship and displacement.
"I think that sometimes we think we're only one, but we are someone, and we can make a difference," she says. "And it reflects the character of the people who work at CHLA … like Jeff Hammoudeh … in such a crisis, we can see the heart of people."


For additional ways you can support crisis relief efforts, the national Children's Hospital Association has shared a list of local, national and international charities that have mobilized to do good work. You can also find out more about the Children of War Foundation at www.cowf.org.
---
Related Content