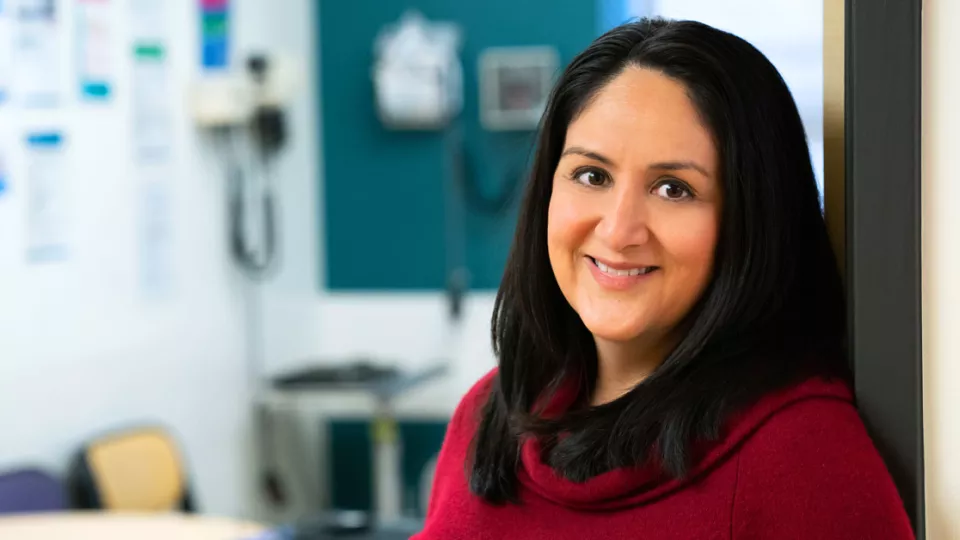 Work That Matters
Cynthia E. Muñoz, PhD - Dedicated to People with Diabetes
An unexpected internship placement propelled psychologist Cynthia E. Muñoz to become an advocate for children with this chronic disease
Dedicated to People with Diabetes
For the past 18 years, Cynthia E. Muñoz, PhD, MPH, MA, has worked at Children's Hospital Los Angeles, serving as a source of support for countless children with diabetes and their caregivers. Dr. Muñoz is a Pediatric Psychologist in the Center for Endocrinology, Diabetes and Metabolism, and also provides mental health support to children with diabetes through CHLA's University Center for Excellence in Developmental Disabilities (UCEDD).
Being part of children's lives "is an absolute privilege," she says. But this isn't exactly where Dr. Muñoz expected to end up when she first started her career.
After earning a master's degree in experimental psychology from Loma Linda University, Dr. Muñoz applied to pediatric psychology internships all over the country and ranked CHLA as her top choice. She was ecstatic when she was accepted, she says, and hoped to be placed within the oncology division, because she had been working as the lead research assistant on a National Institutes of Health leukemia study while she was in the process of applying.
"I was assigned to endocrinology. I was like, 'what? oh my gosh, I have all this background in oncology,'" Dr. Muñoz recalls.
To this day, Dr. Muñoz doesn't know who placed her in the Center for Endocrinology, Diabetes and Metabolism, but she's so glad she ended up there.
"I quickly discovered that diabetes culture is so poorly understood that it became my quest, my passion, to help raise awareness about what this is and how it impacts people's lives," she says.
Dispelling misinformation
About half of Californians are estimated to have been diagnosed with diabetes or prediabetes, yet misconceptions about the disease abound, Dr. Muñoz says.
"A lot of people believe that diabetes is caused by eating too much or eating sugar, and this is not true," she explains. "Some believe there is a 'worst kind.' And that is not true. Any type of diabetes that isn't managed well can be the worst kind."
As a volunteer with the American Diabetes Association, Dr. Muñoz has met with legislators and congressional staff to advocate for increased funding for diabetes prevention programs, research, and insulin affordability. She has also given presentations to school administrators and health care providers about the needs of children with diabetes. For example, she explains how to promote optimal social-emotional well-being for children who are also managing their diabetes throughout the school day.
Dr. Muñoz's efforts were recently recognized by the American Diabetes Association when it named her president-elect for health care and education, a role she describes as "one of the biggest honors and responsibilities in my professional life." In her new position, Dr. Muñoz will oversee the organization's diabetes education efforts.
"We need to understand diabetes for the sake of kids and families, and all people affected by diabetes," she says. "When you walk around with a condition that impacts your everyday life and people think you brought it on yourself, there's a lot of judgement and that hurts."
"Make life a little easier"
In addition to her advocacy work with the American Diabetes Association, Dr. Muñoz will continue to see patients as young as babies and as old as 26.
"With children, I want to make sure they can understand what I'm saying. We talk about diabetes and what it is, about what they feel in their body and about the times they feel sad and frustrated," she says. "We talk about seeing their parents cry or feel sad, and about how they can live their best lives as kids." She also talks to parents and guardians about how they can manage their fears and engage in self-care, so they can be the best support for their child.
Dr. Muñoz is just as invested in her patients' emotional well-being as in their physical well-being. Working with patients of all ages, she saw how difficult it can be for teenagers in particular to balance their social and academic demands with managing their diabetes. As a result, she helped develop a program called Teen Power, dedicated to helping kids ages 6 to 18 manage their physical and emotional health.
"I try to make life a little easier by exploring families' worries, concerns, providing information, and creating a sense of community," she says.
Relating to Patients
Growing up in Riverside, California, Dr. Muñoz was a shy kid who loved delving into biographies and learning how people are shaped by their experiences. She wanted to become a psychologist and have the opportunities to hear other people's stories.
Being bilingual in English and Spanish helps her connect with families, says Dr. Muñoz, whose parents both immigrated from Peru. Speaking to people in their native language can help them open up, she says. In fact, one of the reasons she wanted to work at CHLA was because of the large Latino population the hospital serves.
Like many of her patients, Dr. Muñoz has a family history of diabetes. Her uncle was diagnosed with Type 1 diabetes and her mother, uncle, and cousins were diagnosed with Type 2 diabetes. Her brother—an avid athlete who runs marathons—was diagnosed with prediabetes over 10 years ago. Dr. Muñoz's husband, whose parents both had type 2 diabetes, has also been diagnosed with prediabetes.
A family history of type 2 diabetes and numerous other factors can increase a person's risk of developing Type 2 diabetes, Dr. Muñoz explains. She also points out that Pacific Islanders, Asian-Americans, African-Americans, Native Americans, and Hispanic/Latino Americans are at higher risk for Type 2 diabetes than other groups.
As for being able to work in an area she is so passionate about, Dr. Muñoz says she's received a lot of support from her female colleagues. She's also grateful to whomever assigned her to endocrinology.
"I didn't make that initial connection between what I could do professionally and my family history," she says. "It was only after I started [working with families with diabetes] that I thought, 'wow, here is a culture that people don't talk enough about.'"
Meet more Inspiring Women
To read more stories like Dr. Muñoz's, visit CHLA Inspiring Women.