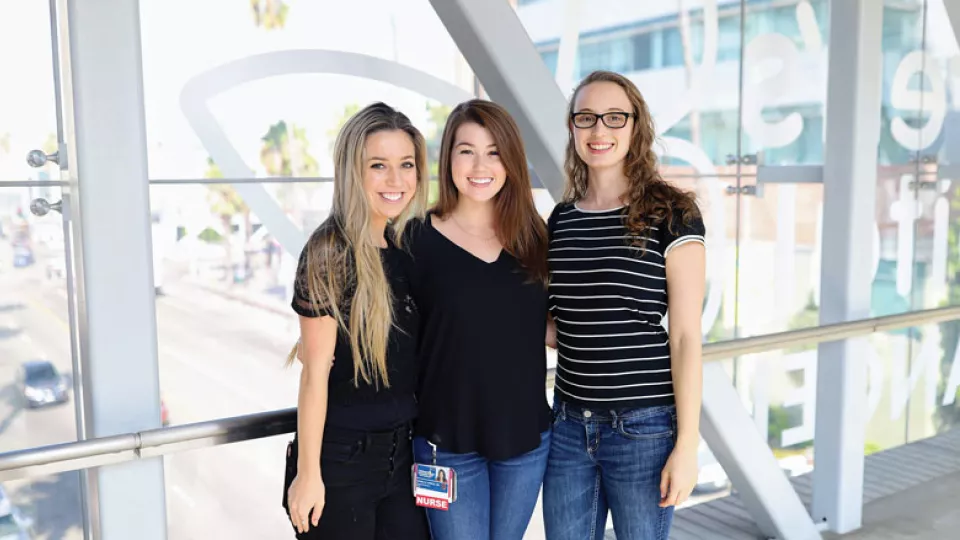 Work That Matters
Cultivating an Environment Where Nurses Thrive and Grow
During her 22 years at Children's Hospital Los Angeles, Edahrline Salas, MA, RN, NPD-BC, HACP, CLSSGB, CPPS, CPHRM, has had several opportunities to develop and hone her leadership skills.
She was a curriculum administrator for the Versant RN Residency in Pediatrics, co-chaired CHLA's inaugural Educational and Professional Development Council, and helped lead efforts to enhance patient safety and hospital processes as a program manager in the Quality Improvement and Patient Safety department.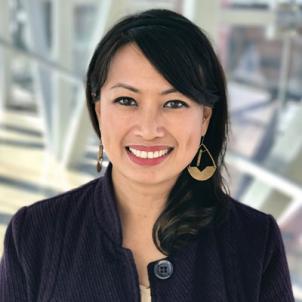 "My journey from staff nurse to program manager has been paved with a lot of varying opportunities provided by the hospital to learn, collaborate and achieve various experiences, which have made me a well-rounded leader of various initiatives throughout the years," says Salas, an Infection Prevention and Control Manager.
"During my career, fellow staff members and managers have encouraged and helped me to develop and acquire new skills, from leading meetings, teams and even initiatives. Being supported by leadership has been really helpful," adds Salas. She even recently won a "Better, Faster, Cheaper" Innovation Challenge with Margaux Chan, BSN, RN, CPN (Clinical Education), to improve delivery and tracking of microlearning educational activities via a mobile platform.
Salas is among the many CHLA nurses who are thriving as leaders, thanks to a culture that promotes advancement and developmental opportunities. Whether it's giving nurses a chance to serve on a council or committee, launch an initiative to enhance self- or patient care, or gain new leadership skills, the hospital is known for cultivating an environment where nurses grow and succeed.
Susan Santner, MSN, RN (5 East), who has worked at CHLA for 45 years and retired this past spring, has taken a personal interest in helping nurses develop leadership skills. She has mentored and inspired nurses in the unit to set career goals, and many have gone on to hold leadership positions at the hospital.
"As my role evolved, I became more focused on developing staff and helping them learn and grow. I give them what they need to do their jobs and help them feel accomplished and highly regarded. When you start as a new nurse, you learn from other nurses. And once you learn, you teach others," says Santner, who has taught leadership classes at West Coast University, Mount St. Mary's University and California State University, Los Angeles.
She says her "servant leadership" style—which takes an approach to serve employees by prioritizing their needs—is reinforced by CHLA's culture. "The environment is so extraordinary. The administration is always very supportive by providing staff the resources and tools they need to do their jobs and do them well."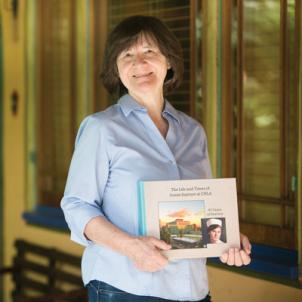 Santner adds, "We have a strong team of leaders at CHLA who provide the structure and engagement and encourage nurses to help each other and get involved in a council or committee. This really helps them grow."
Carol Okuhara, MN, RN, FNP-BC, CPNP-AC, has also helped pave the way for nurses to gain increasing responsibilities. She was one of the first nurse practitioners to work at CHLA in the 1990s and the first one to participate on a cardiothoracic surgery team providing medical management to patients in the Thomas and Dorothy Leavey Foundation Cardiothoracic Intensive Care Unit (CTICU).
"At the time, there was some misunderstanding about the role of a nurse practitioner, and I faced initial challenges," says Okuhara, who has been a nurse practitioner for 26 of her 32 years at CHLA. "Nurse practitioners in critical care weren't really acknowledged, and staff had to gain trust in me. Once they knew what we were about and how we could care for patients, they were very onboard with the role."
With her unique experience in the CTICU, she was the first nurse practitioner invited to participate in a three-year leadership program at the Keck School of Medicine of USC. "In the early days, it was only for fellows, then they opened it up to nurses. There's a lot of different avenues for leadership and training and different ways the hospital supports nurses."
"It's great to be part of a team where you are acknowledged as a leader and for what you bring to the hospital overall," Okuhara adds, attributing her early success to the trust and support from CTICU surgeons and the program administrator.
"We've had amazing mentors and always had people who believed in us. They listened to our ideas and believed we could make a difference." – Danielle Arbios
Danielle Arbios, MSN, RN, PHN, CCRN, CNL, the Ahmanson Foundation Pediatric Intensive Care Unit (PICU), who joined CHLA in 2017, has seen firsthand how the hospital encourages leadership opportunities for nurses.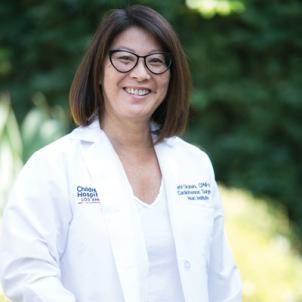 Arbios, Emily Gray, BSN, RN, CCRN, and Julia Nordstrom, BSN, RN, CCRN, launched a program, which began as an RN Residency evidence-based practice project, to help counter compassion fatigue in the PICU.
They came up with the idea of holding cumulative stress debriefing sessions after learning the high rate of compassion fatigue facing nurses in critical-care areas. "We take care of some of the sickest patients in the hospital. Compassion fatigue is not only in the PICU, but everywhere at CHLA. Everyone's feeling it the same way and sometimes we don't talk about it," Arbios says.
In 2018, the team approached unit managers about conducting stress debriefings for PICU nurses. "Our managers were extremely supportive, and we started holding sessions in our conference room once a month, facilitated by the physician wellness coordinator and a bedside PICU nurse," Arbios says.
The unit now holds two sessions a month, with morning, afternoon, evening and midnight sessions to accommodate various shifts, and is open to all PICU staff. The program is being expanded to other areas at CHLA after receiving an evidenced-based practice grant from the hospital's Institute for Nursing and Interprofessional Research.
"The program has exploded beyond my wildest dreams," adds Arbios. "CHLA promotes a culture of excellence and support. We've had amazing mentors and always had people who believed in us. They listened to our ideas and believed we could make a difference."
Find your career at CHLA
Join a hospital where the work you do matters. Visit Jobs.CHLA.org and apply today!