Work That Matters
Bonner, The Big Friendly Dog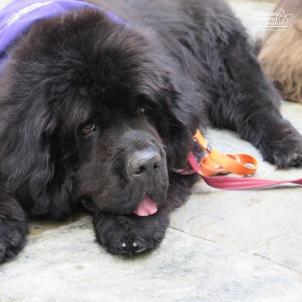 Maybe you've seen Bonner, the big black Newfoundland dog with the soulful eyes, around Children's Hospital Los Angeles. At 190 pounds, he's hard to miss! The biggest therapy dog in the Amerman Family Foundation Dog Therapy Program, Bonner specializes in helping the physical therapists work with rehabilitative patients in creative ways. Bonner, like all our therapy dogs, helps ease anxiety, but he also helps patients meet their day's treatment goal. Every week, you can find Bonner assisting kids as they walk down the hall, snuggling with them while they stretch or letting himself get covered in stickers and hair clips so they can practice their motor skills. Kate Buhrmaster, coordinator of the Amerman Family Foundation Dog Therapy Program, tells us about one of these touching creative rehab therapy moments.
One of his favorite ways to help is by getting decorated. In order to improve everything from balance to small motor skills, patients will fetch stickers or hair clips to place all over Bonner's body. On one visit, a girl of about 12 was doing just that. She was frail and bald, and worked tirelessly to bend down to put each barrette on Bonner's back, then stand up tall to get the next one from her therapist. She was exhausted and sweating by the time she finished, but she'd decked Bonner out in his most amazing look yet – with a long, precise row of hair bows straight down his back.

Usually kids just stick clips, bows and stickers on haphazardly, so seeing the care she took to get Bonner's accessories just right was incredible. I took a picture of the finished look, and even took one for the patient's mom so they would have it. About a year later, on another day that Bonner happened to be visiting rehab, this same girl came to the gym to say hello to everyone. She asked me if we remembered her, and I said yes even though I really didn't at first. Then she said that she was the girl that put the barrettes on Bonner in a row down his back. Of course I remembered that patient – but she looked so different than she had a year ago. Healthy, fit, with lots of hair, she was so changed from the sick child we'd worked with, which was wonderful to see. She had lost her mom's phone with the photo of Bonner and his bows, and she was really bummed about that. Fortunately, that picture is my favorite picture of Bonner and I had it on my phone and could share it with her. Every day I see that picture – it's the one I chose to be my cell phone case – and every day it reminds me of the good work our dogs do.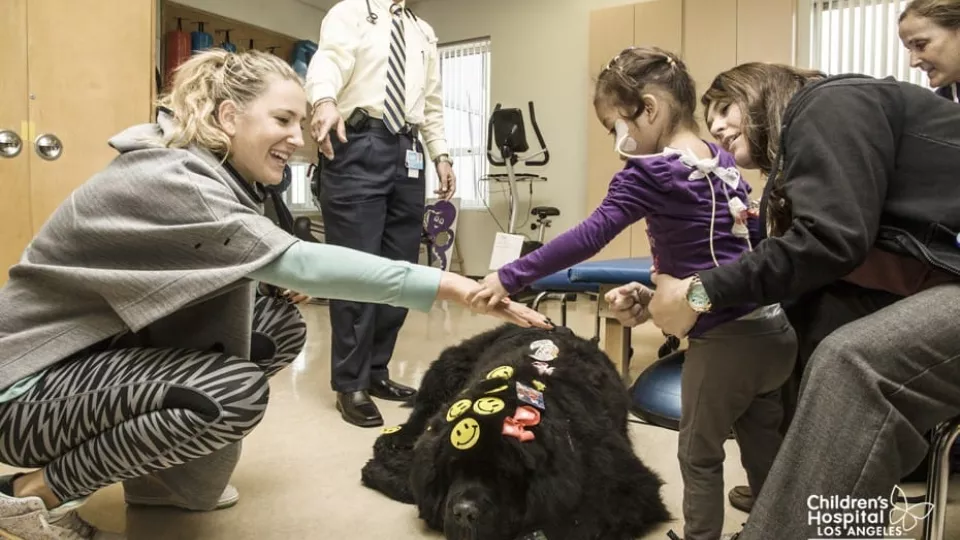 Bonner's gentle spirit is often felt when he walks into a room, which is why it's no surprise that our kids (and staff) are so attracted to him! "I have never seen children so excited to wash their hands, as they are when they see him," says Dorothy, Bonner's owner. "They line up for hand sanitizer and then lay all over Bonner petting him and giving him the most wonderful hugs as he lies perfectly still enjoying every minute of his time at [CHLA]. One time I counted eleven children clinging to him! It must be some kind of a record to make that many children happy at one time." A big thanks to Bonner and all our therapy dogs for their hard, but gentle work!