Rhinos, and Seals, and CHLA! Oh My!
Rhinos, and seals, and CHLA! Oh, my! That's not exactly how the iconic quote goes, but it perfectly describes the day that four CHLA patients had at the Los Angeles Zoo and Botanical Gardens recently.
In partnership with the Greater Los Angeles Zoo Association, Charlie Pope, Natalia Juanero, Grace Bumstead and Vivian Bui, had special access to the animals and an up-close and personal opportunity to meet three special animals: Pollie and Gram, the seals who have cataracts and are permanently blind; and Randa, the Indian rhinoceros who is a cancer survivor.
"There are numerous studies about the positive effects that animals have on humans," says John Lewis, director of the Los Angeles Zoo. "And we see it here at the zoo every day—whether they be healthy, suffering from autism or blindness. The abilities for animals to inspire a sense of well-being is enormous."
The Connection
Charlie, 2, was diagnosed with hydrocephalus at 6-months-old, a condition that causes a child's head to swell from excess cerebrospinal fluid. He has undergone four surgeries in his short life—three on his brain and another to correct the eye damage that occurred from fluid buildup around the nerves.
During the visit, Charlie and his family learned that Pollie and Gram also have vision problems and navigate the waters by using their whiskers. We think Charlie and the seals had a special connection, because each time the seals would spin in the water, so would Charlie.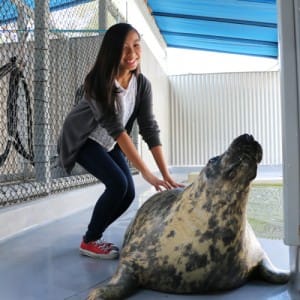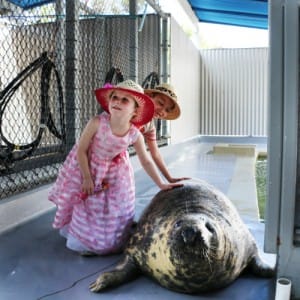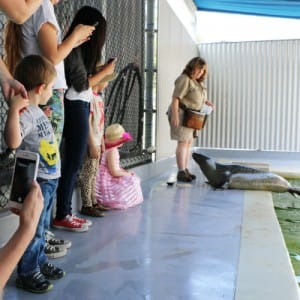 (Clockwise: Charlie Pope; Vivian Bui; First encounter with seal; Grace Bumstead.
Photos courtesy of Los Angeles Zoo.)
Natalia, 6, who has acute lymphocytic leukemia, and Grace, 5, who has Ph+ acute lymphoblastic leukemia, met Randa. The 40-year-old rhino was diagnosed with a form of skin cancer underneath her horn. Randa has had her horn removed because of the cancer placement, undergone cancer treatment and is now a survivor of cancer.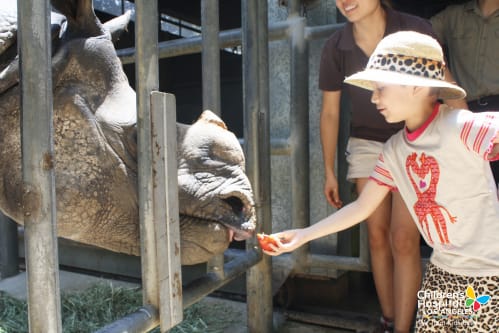 "I think it's really significant to see that kids have a hard fight against cancer, and so do the animals," said Melissa Bumstead, Grace's mother.

Dreamnight
This visit was a precursor to Dreamnight, a global initiative in which institutions that care for children and their local zoos and aquariums have a special night with their invited patients and guests. The Dreamnight Event Committee, was led by event co-chairs, Beth Price and Kim Shepherd. Munchkin, Inc., maker of clever and innovative baby products, was the catalyst for helping the night come to life at the LA Zoo. As the presenting sponsor Munchkin underwrote the cost of the event with a significant gift, dedicated their employee volunteers to help run the evening and, abiding by their motto "it's the little things", provided wonderful gift bags full of Munchkin products to every family. Following Munchkin's generous example, additional funds were raised through donations and sponsorships. These contributions will benefit both Children's Hospital Los Angeles and the Greater Los Angeles Zoo Association.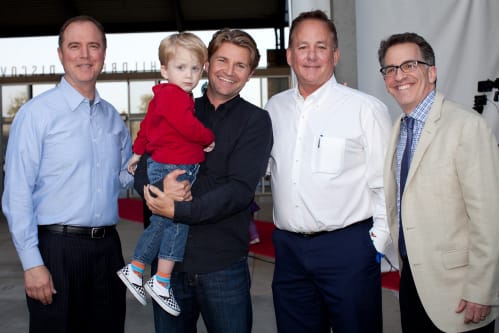 "Dreamnight enabled a platform to do so much," says Maureen Girouard, Director of Strategic Initiatives for CHLA's Foundation and who headed Dreamnight on behalf of the hospital. "By partnering with the L.A. Zoo, we were able to provide a really special evening for more than a thousand of CHLA's patient and family members, at no cost to them. And, Dreamnight was positioned to bring our friends and supporters together for the benefit of our two institutions, both devoted to healthcare, research and education."
One of the hospital's Junior Ambassadors, Vivian, 14, was one of the top fundraisers for Dreamnight. Vivian is currently in remission for nasopharyngeal carcinoma, a cancer that affects the upper part of the throat, behind the nose and near the base of the skull.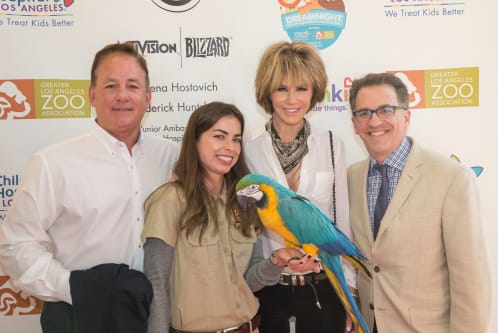 "We raise money so patients can go and forget about their diagnosis," says Vivian. "Forget about their illness. Just for one night to have fun with family and friends."
The night that was attended by more than 1,100 patients and family members, included a unique after-hours opportunity to explore a route in the zoo—featuring up-close opportunities with animals and chat with keepers; hang outs with the L.A. Kings and L.A. Galaxy street teams; carousel rides; live music; visit from SpongeBob SquarePants, Power Rangers, the Minions, cast of CSI, and cast of Disney's Dog with a Blog­­.
How You Can Help
Although Dreamnight is over, the dream to support is not. Visit CHLA.org/Dreamnight to make a donation of any amount to help support the children and animals who need our care.