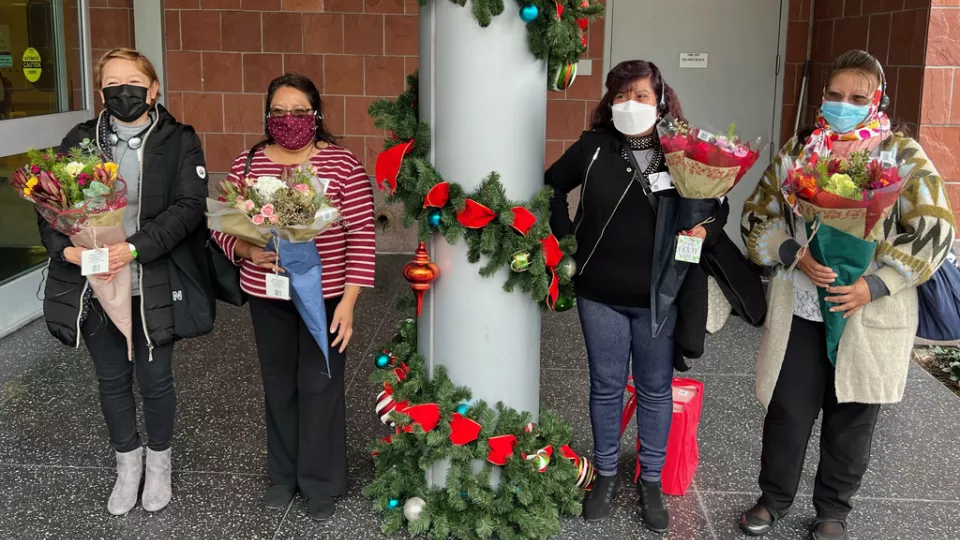 Serving the Community
Community Ambassadors Connect Families With Vital Resources
An innovative partnership between Children's Hospital Los Angeles and Para Los Niños is helping families find assistance with food, housing and more.
The family's young daughter had a serious medical condition. But the parents had another problem that was just as daunting: They didn't have enough money for food—and they didn't qualify for standard assistance programs. Their situation was growing desperate.
Fortunately, Maria Palacios called to help. Reaching deep into her community network, Palacios connected with a volunteer at a food bank near the family's Ventura County home.
"They now get a delivery of free groceries every week," she says. "Little by little, they are overcoming their challenges. We go step by step."
Palacios is a Community Ambassador with the Abrazos Community Ambassador Resource Navigation Program, a new partnership between Children's Hospital Los Angeles and Para Los Niños, a Los Angeles nonprofit that empowers underserved children and families.
The pilot program funded by CHLA's Office of Community Affairs, which began last year, provides one-on-one support to help families connect with needed social services, including assistance with food, housing, rent and transportation.
"A lot of families know that there are resources out there, but they don't know where to look or how to access them," explains Amanda Daigle, MPH, Project Manager in the Office of Community Affairs and the Division of General Pediatrics at Children's Hospital Los Angeles. "It can be overwhelming. They often need someone to walk them through the process."
Expert guides
The program came about in response to a hospital needs assessment, which found that roughly 13% of CHLA families face significant social challenges—food, housing, finances—on top of their child's medical needs.
Although the hospital's social workers can provide information about available resources, many families struggle to navigate the complex system of government and community assistance programs.
That's where the community ambassadors come in. Also called promotoras—the Spanish term for health promoter—the four ambassadors reach out to families by phone and work with them for a few weeks or months, serving as expert guides to help them access local resources.
The effort is an extension of the Office of Community Affairs' CHLA Salud Program, the hospital's first promotora program, which started in 2016 to promote community health education. Although promotora programs are not new, the community ambassadors initiative offers an innovative approach: pairing a hospital with a social services nonprofit.
Children's Hospital Los Angeles and Para Los Niños developed the program together. Founded in 1980, Para Los Niños aims to break the cycle of poverty and help children thrive through a focus on education, youth workforce services, and student and community services.
Under the partnership, CHLA provided community impact funding to Para Los Niños, which then hired and trained the ambassadors in collaboration with CHLA. All of the ambassadors were recruited from the Best Start Metro Los Angeles community leadership program at Para Los Niños.
The initiative was also modeled after promotora programs that Para Los Niños has successfully implemented for more than 10 years.
"Para Los Niños is an amazing partner," Daigle says. "They have immense expertise in these community resources and how to build a successful promotora program. Together, we have the same goal: to improve the health of children and families in Los Angeles."
Because the program currently focuses on families who speak only Spanish, the team recruited ambassadors who also only speak Spanish. In addition, the ambassadors, who are all parents, live in Metro and South Los Angeles—the same communities where many of the families they serve reside.
"The ambassadors are the heart of this work," says Estephania Vazquez, MPA, Community Transformation Program Manager at Para Los Niños. "They live in the community, they speak the same language, and they have the cultural fluency to really connect with families and build that trust."
Food, bus routes and a stroller
Social workers at Children's Hospital Los Angeles refer families—with their consent—to the program, or provide a flyer with a phone number. Once families are enrolled, an ambassador calls them to discuss their needs and provide support.
That help can include explaining which agency to contact, what information to provide and how to reach someone there who speaks Spanish. Other times, the ambassador might map out a bus route the family needs to reach an office or food bank, or research and refer them to other local services.
Community Ambassador Maria Acosta worked with one young couple whose twins had been born premature and were hospitalized at CHLA. Although the family was staying at the nearby Ronald McDonald House, the parents also needed help with food and finances.
"The couple was from Fresno, and it was very hard for them," says Acosta, who, like the other ambassadors interviewed, spoke through an interpreter. "I found a church nearby where they could receive help with food and finances. They were so grateful."
Another community ambassador, Veronica Granados, contacted one family that had reported multiple needs. But she soon realized that one of the mother's biggest barriers was a simple one: She did not have a stroller for her baby.
Working with Para Los Niños, Granados quickly found a free stroller. Within two days, a team had delivered it to the family's home.
"The mom was so happy," she says. "She now has a way to get around, to go get food and to take the baby to her medical appointments."
The ambassadors—who are immigrants themselves—have been especially helpful for families who are new to the United States.
"I think the families can relate to us," says Community Ambassador Maricarmen Mendez. "They hear us speak their language; we've lived through some of the same experiences. We understand what they're going through."
'I got the card!'
Since May 2021, the ambassadors have assisted more than 65 families—with 77% of those families connecting to needed resources.
"That's an incredible success rate," Daigle says. "It really speaks to the importance of having that one-on-one support from someone you can trust."
The ambassadors have also been teaching a Spanish-language version of the 10-week Nurturing Parenting® workshop series offered by the Helen and Bill Close Family Resource Center at CHLA. The virtual classes, which are free and open to the public, focus on parenting a child with special or complex medical needs. The workshop's first series was so popular, the group is currently hosting a summer session.
In addition, the team hopes to expand the Community Ambassadors program to serve English-speaking families.
"I love our partnership with Children's Hospital Los Angeles," says Vazquez of Para Los Niños. "We share the same vision and values of helping children and improving health equity in our community. And I love watching our ambassadors in action. I truly believe the promotora model is an excellent way for institutions to break through barriers and reach underserved families."
For the ambassadors, the most gratifying part is being there for families—and helping them move forward during a difficult time in their lives.
"Sometimes, families just need someone to listen to them. They need to know they are not alone," says Granados. "And then, when they receive a resource or apply for a program, they're so excited. They tell me, 'I got the card!' It is very rewarding to serve them with all our hearts and all our love."