Start Early on the Road to Good Dental Health

In honor of National Children's Dental Health Month, I decided to write a blog with some helpful and up-to-date advice about keeping your family's teeth healthy. The benefits of doing this right and starting early will not only mean healthier mouths and teeth, but better health in general throughout your lives. To learn more about pediatric dentists and how they care for kids, I visited the Dental Clinic at Children's Hospital Los Angeles and spoke with John Groper, DDS, and his team.
Did you know?
Early childhood caries (ECC), or cavities, is the No. 1 chronic infectious disease affecting children in the U.S.
Undetected tooth decay can lead to infection, tooth loss and other more serious health problems both in children and adults.
A child should see the dentist for their first visit as early as 6 months of age.
Pediatric dentists have special training after dental school to learn how to work specifically with children's oral health.
Tooth decay is almost always preventable.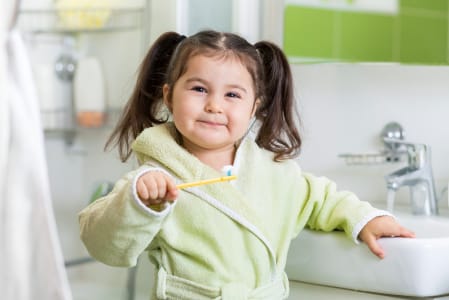 The first step in tending to your children's dental health is locating a pediatric dentist to care for their teeth. Pediatric dentists have two to three years of extra training beyond dental school to learn specifically how to care for the oral health of children, and how to work with their special needs.
Groper recommends taking children for their first dental visit when they are about 6 months old, or when their first tooth appears. The purpose of this is to establish a "dental home," a sort of home base for children's current and future dental care.
During this visit, the dentist will talk about the best way to brush your child's teeth, and will discuss diet and other issues that can lead to ECC and how to prevent them. During the course of these early visits, the dentist may introduce you to different preventive treatments, such as fluoride or sealant for the teeth. The dentist will make a recommendation about when to return for another appointment, but usually it is at least twice a year to develop a good relationship and good dental habits.
A good teeth brushing routine should start early and continue for a lifetime. It is just as important for the adults in the home to have healthy dental habits as it is the children. It surprised me to find out that if an adult has cavity-causing germs in his or her mouth due to poor dental practices and shares those germs through kissing or sharing eating utensils with a child, the child may be more prone to developing cavities as the germs are passed along.
The American Academy of Pediatric Dentistry (AAPD) recommends brushing for two minutes twice a day—once in the morning after breakfast and again at night before bed. This is true for both adults and children. You may be thinking, as I did, how can I do this or get my child to brush for two whole minutes?
Helpful brushing tips
Find a song that is approximately two minutes in length and play it during brushing.
Get a toothbrush that lights up at different intervals over two minutes, telling your child how long to brush.
Get a two minute hourglass timer with falling sand (this is the one that I used as a child). Have your child brush as the sand falls and when it stops, time is up. There are also great smartphone apps.
All of the above items can be found on the internet, your smartphone app store, or most drug stores.
The tips in this blog give simple yet important advice about how to get your child started on the right track to good teeth and good health that can last a lifetime. Early detection and prevention of ECC is the most important thing to remember about dental health, according to Dr. Groper. By starting early and making regular dental visits a habit, your child will be off to the best start possible!
Thank you to John Groper, DDS, and the CHLA Dental Clinic for all of the shared knowledge and expertise and for making a valuable contribution to the writing of this blog.