CHLA Pediatric Gastroenterology Program is Awarded NIH Grant to Train Physician-Scientists, Accepts First Fellow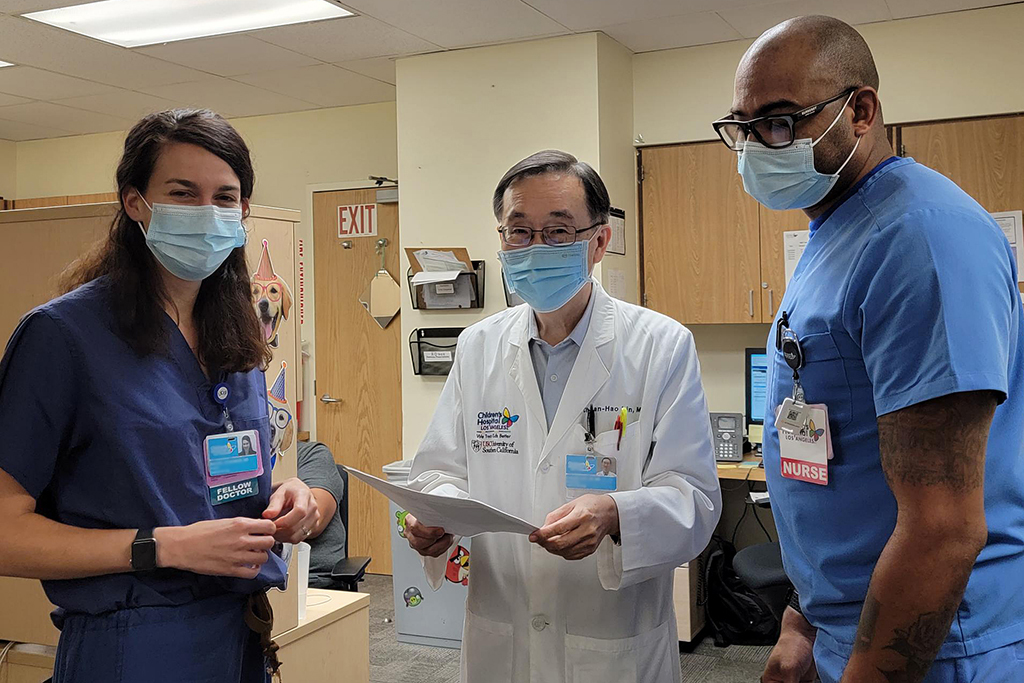 From left: Rachel Schenker, MD, with Chuan-Hao Lin, MD, and Michael Haggins, LVN.

CHLA pediatric gastroenterology program welcomes Dr. Rachel Beth Schenker as an inaugural fellow in new NIH-sponsored fellowship program.
The Division of Gastroenterology, Hepatology and Nutrition at Children's Hospital Los Angeles has announced that Rachel Beth Schenker, MD, is its first pediatric gastroenterology fellow to be selected for the Division's new training program in hepatology translational research. The program is funded by a National Institutes of Health (NIH) T32 grant that was jointly awarded to the GI divisions at Keck USC and CHLA. The principal investigators for this grant are Norah Terrault, MD, Ph.D., Professor of Medicine and Chief, Division of GI and Liver at the Keck School of Medicine of USC and Michael Goran, Ph.D., Professor of Pediatrics, Director of the Nutrition and Obesity Research Program at CHLA.
"CHLA is currently one of only six sites that have an active NIH award for training in pediatric gastroenterology for physician-scientists in the country," says Rohit Kohli, MBBS, MS, Chief, Division of Gastroenterology, Hepatology, and Nutrition at Children's Hospital Los Angeles. "The focus of this grant is working with our strengths in hepatology."
The NIH will fund up to 10 fellowships to train physician-scientists, with up to three years of support for intensive laboratory or clinical research training, and mentored research for MD or MD/Ph.D. trainees over five years.
Dr. Schenker completed her residency at the University of California, San Francisco, and prior to medical school, worked as a seventh-grade science teacher in the South Bronx. She will be mentored by Dr. Goran. "Her training will also leverage Dr. Michael Goran's P50 NIH grant focused on Hispanic health," says Dr. Kohli, who is also a professor of pediatrics at the Keck School of Medicine of USC.
---
Related Content