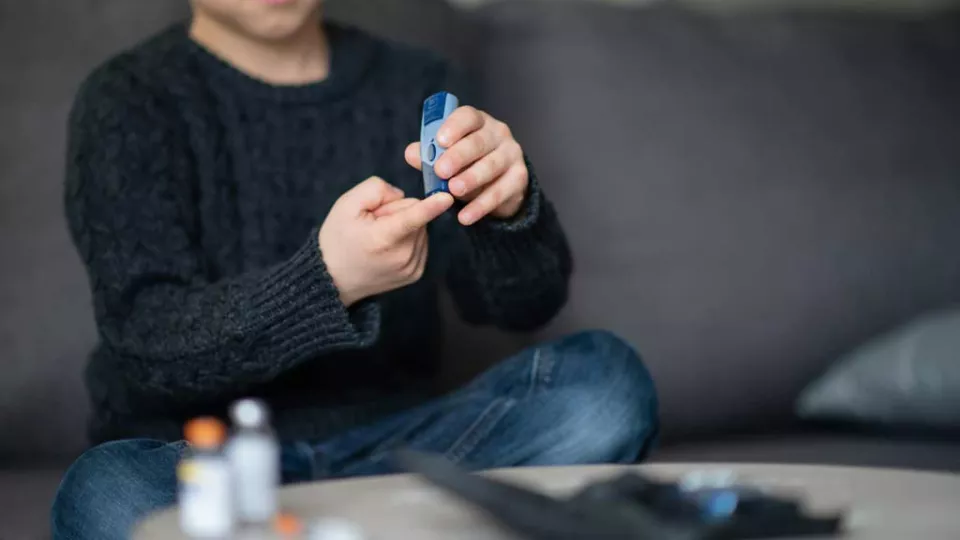 Research and Breakthroughs
Youth with Type 2 Diabetes: A Vulnerable Population
Children's Hospital Los Angeles participates in a multicenter, 15-year study uncovering multiple serious complications following diagnosis.
It is estimated that more than 200,000 children and adolescents under the age of 20 have Type 2 diabetes in the United States. Now, a long-term study published in The New England Journal of Medicine reveals that serious complications arise more rapidly in youth diagnosed with Type 2 diabetes compared with those with Type 1 or adults with Type 2.
Type 2 diabetes in youth is different
The results come from the second phase of a large-scale, multicenter trial initially testing treatments for management of blood sugar, originally called Treatment Options for Type 2 Diabetes in Adolescents and Youth, or TODAY. Then, the TODAY2 study tracked disease progression for 15 years following diagnosis, revealing that two thirds of the 500 participants had high blood pressure and just over half had high levels of fat in the blood. Kidney disease and eye disease were each observed in half of participants.
"The take-home message of this study is that youth with Type 2 diabetes are a particularly vulnerable group," says Mitchell Geffner, MD, the Ron Burkle Chair in the Center for Endocrinology Diabetes and Metabolism, who helped lead CHLA's participation in the TODAY and TODAY2 studies from the outset.
While the reasons remain unclear, youth with Type 2 diabetes have a more rapid onset of these serious side effects when compared to youth with Type 1 diabetes or adults with new-onset Type 2 diabetes. "We followed these kids into young adulthood," he says. "To be seeing things like kidney disease and heart problems in young adults in their 20's is distressing."
In addition to understanding potential side effects of Type 2 diabetes, families should know that they can play a positive part in their children's health. "We know that obesity is a major risk factor for Type 2 diabetes," says Dr. Geffner. "Improving diet and maintaining a healthy lifestyle can really go a long way in a kid's overall well-being."
Working together matters
"It was so important for Children's Hospital Los Angeles to help lead this study," says Dr. Geffner. "We serve such a diverse population of children, some of whom are at high risk for diabetes. To better tackle this disease, we need to know how it affects the Hispanic population versus indigenous populations, for example. And we need to examine variations within these communities, too."
Large, multicenter studies like TODAY and TODAY2 are critical to our understanding of pervasive diseases such as Type 2 diabetes. In addition to affording the study a larger number of participants, multicenter trials allow clinicians and investigators to work with diverse populations of children around the country.
In addition to Dr. Geffner, many others at Children's Hospital Los Angeles championed the effort. Nancy Chang, PhD, FNP, a Lead Clinical Research Nurse, served as a study coordinator for the follow-up phases of TODAY2 and was involved as a nurse from the beginning of the study.  Current division members that participated in the study over the years included Eulalia Carcelan, RN, Lily Chao, MD, MS, Lynda Fisher, MD, Francine Kaufman, MD, Debra Miller, RN, Cynthia Munoz, PhD, and Patrice Yasuda, PhD.
"Children's Hospital Los Angeles was one of the largest recruiters in the country and also had one of the highest participant retention rates—76% retention over 15 years," says Dr. Geffner. "Nancy Chang was the glue for this study. In such a long-term study, you tend to lose participants over the years. But she had an amazing ability to keep these patients coming back, which was very important."
The study was largely funded by the National Institute of Diabetes and Digestive and Kidney Diseases (NIDDK) of the National Institutes of Health. Former CHLA members of the study team were: V. Barraza, B. Conrad, D. Dreimane, S. Estrada, V. Mansilla, E. Fleury-Milfort, V. Guzman, S. Hernandez, B. Hollen, E. Law, J. Ortiz, J. Quach,  A. Ward, K. Wexler, and Y.K. Xu.
Learn more about our Research