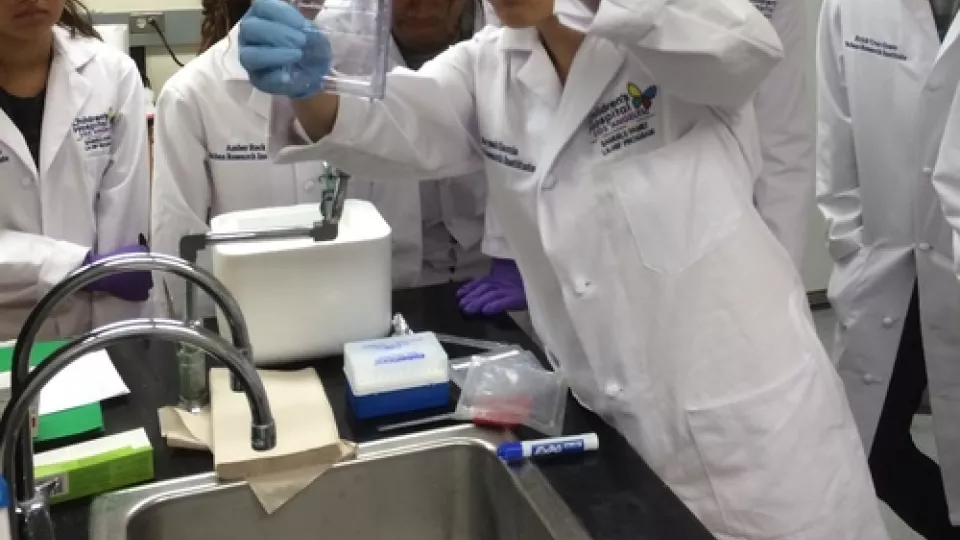 Research and Breakthroughs
Latino and African-American High School Students Take On Biomedical Research
Explaining the role of ErbB4 regulators in inflammatory bowel disease (IBD), Patricia Lozano exudes poise and confidence. In front of fellow interns, she reviews the causes of IBD and discusses how understanding the effect of pro-inflammatory cytokines on ErbB4 in intestinal cells can help improve the current standard of care.
It's hard to believe she's still in high school.
Patricia and twelve other students are part of the 2014 Samuels Family Latino & African-American High School Internship Program (LA-HIP), based at Children's Hospital Los Angeles.
"This program is the stepping stone for high school students from L.A.'s underserved communities to reach their dream careers as doctors, physician-scientists, or PhD research investigators," says Brent Polk, MD, director of The Saban Research Institute. "By supporting, stimulating and encouraging their scientific interests and education, LA-HIP drives each student to succeed in these rigorous fields."
Now in its ninth year, the recently-endowed Samuels Family LA-HIP is a summer biomedical internship and college preparatory program that gives incoming high school seniors the opportunity to pursue their own research interests alongside nationally-renowned investigators. The first two weeks of the program are spent in an intensive training course, familiarizing all students with the laboratory techniques, biology topics and research methodology needed to succeed in the coming weeks. After this preparation, interns spend five weeks in their mentor's laboratory investigating their predetermined research questions.
The Science Symposium—held on August 11th— is this internship's culminating event. From examining the role of macrophages in tumor growth to mechanisms of HIV transmission and stem cell therapy for diabetes, this year's students presented their research findings in front of family, mentors, lab members and hospital faculty. The symposium gives students first-hand experience at presenting and defending their research findings in front of an audience—an aspect not typically exercised until their undergraduate or graduate studies. 

"Every year I am amazed to see how quickly LA-HIP students become proficient in sophisticated laboratory experimentation thanks to the tremendous support they receive from the faculty and their laboratory personnel," says Emil Bogenmann, PhD, EdD, director of the Samuels Family LA-HIP.
While their time in the lab ends after seven weeks, students will continue to receive support throughout their college application process, high school graduation and beyond. Previous students matriculated to prestigious colleges and universities such as Stanford, Yale, Pomona, USC, Harvard and Johns Hopkins, giving the current class a network of fellow program graduates in schools throughout the country.  

This internship is funded by longtime supporters of Children's Hospital Los Angles, Theodore R. "Ted" and Lori Samuels. Their endowment in March of 2013 ensures that the Samuels Family LA-HIP will continue to guide local teens into biomedical careers for decades to come.