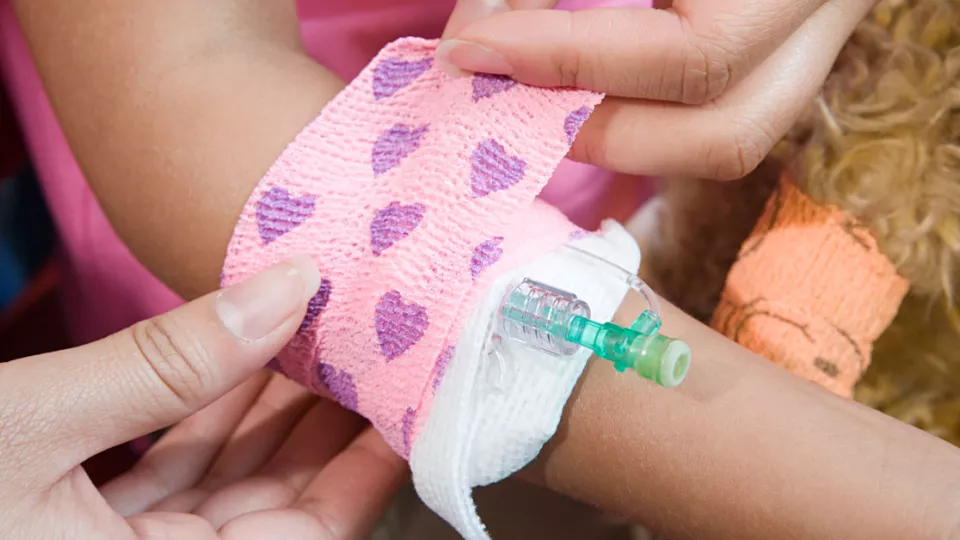 Research and Breakthroughs
First-Ever Pediatric Guidelines for Obtaining Venous Access
Will make the process better, safer and more cost efficient
Placement of an intravenous catheter—to allow health care providers the ability to easily take blood or administer medications—is one of the most common inpatient procedures. Although necessary for care and patient comfort, the devices may also be associated with infection, blood clots and increased length of stay in the hospital. A team of investigators, including Julie Jaffray, MD, of CHLA's Cancer and Blood Disease Institute, created the first ever pediatric guidelines for the use of intravenous catheters based on published studies and their own expertise.
"I think these guidelines will be incredibly useful for anyone taking care of complex or critically ill patients, and will allow the clinician to feel more confident in selecting the best vascular access device," says Dr. Jaffray, who was also a co-author of the study.
A premature baby, an adolescent with sickle cell disease and a teenage trauma patient may all require placement of an intravenous catheter but the differences in age, underlying condition and the amount of time they will need the catheter can be very different.
"Device selection has often been based on hospital culture or physician preference," says Dr. Jaffray. "These guidelines now provide an evidence-based process for choosing the optimal intravenous catheter for a specific patient. By providing information about how to select the most appropriate device and location for a broad range of ages and conditions, we can help general pediatricians, hospitalists and specialists figure out how to best treat their patients."
Recommendations on device selection and placement are provided for a range of patient ages including newborns, infants, children and adolescents. A spectrum of conditions that could cause a child to require a venous catheter are part of the criteria, including cancer and hematologic conditions, critical illness, congenital cardiac conditions, chronic conditions and difficult venous access.
The guidelines are provided in a supplement to the journal Pediatrics in a paper titled The Michigan Appropriateness Guide for Intravenous Catheters in Pediatrics: miniMAGIC. The guidelines will also be available through a phone app that is currently in review.
Julie Jaffray, MD, of Children's Hospital Los Angeles, provided input as a national expert in hematology and oncology. The study was led by Amanda J. Ullman, RN, PhD, of Griffith University, Australia under the guidance of Vineet Chopra, MD, MSc, Chief of the Division of Hospital Medicine at Michigan Medicine and the VA Ann Arbor (Michigan) Health System.