Research and Breakthroughs
The Fight Against Resistant Leukemia
Acute lymphoblastic leukemia (ALL) affects about 3,000 children each year in the United States. While chemotherapy is highly effective—about 90% of children beat the cancer—the treatment comes with many side effects. And still, in one tenth of cases, the cancer resists treatment. Yong-Mi Kim, MD, PhD, MPH, of CHLA's Cancer and Blood Disease Institute, investigates just how cancer cells evade chemotherapy. Her newest study, featured on the cover of the prestigious journal Blood, uncovers a new potential target for treating ALL.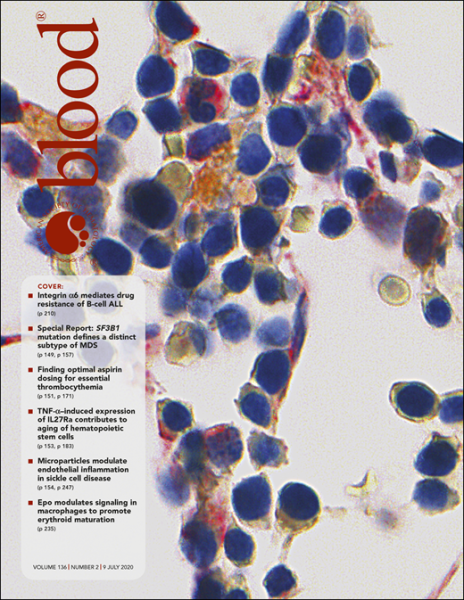 "When patients undergo treatment for ALL," says Dr. Kim, "they feel awfully sick because chemotherapy works by killing all dividing cells." Yet this leaves an important question that drives her research. "It's very hard to understand how, after all this chemo, some cancer cells survive and cause children to experience relapse in their cancer." 
She explains that some leukemia cells make their way into the bone marrow, where the environment is protective against chemotherapy. "The bone is a safe haven for the leukemia," she says. "It allows the cancer cells to attach and get shielded from the chemotherapy." This is called cell-adhesion drug resistance. 
Dr. Kim studies a group of molecules called integrins, which are found on the surface of cells and normally work to keep cells where they belong in the body. In her new study, Dr. Kim's team identified a specific integrin—integrin alpha 6—that anchors leukemia cells to bone marrow cells. 
"Even in a dish in the lab, bone marrow cells protect the cancer cells," she says. "But when we blocked integrin alpha 6, we were able to kill the leukemia cells with chemotherapy agents better than with the chemo alone." In a preclinical model, genetic deletion of integrin alpha 6 allowed chemotherapy to work better, killing more cancer cells than the treatment alone. In fact, when the integrin was deleted, some of the cancer cells died with no chemotherapy at all. 
These findings open the door for the development of targeted therapies, which could increase effectiveness of chemotherapy and perhaps even allow clinicians to reduce chemotherapy altogether. 
"The exciting thing here is that we've now found two different integrin molecules that could be responsible for drug resistance in children with leukemia," says Dr. Kim. "We have come a long way in treating ALL. But wouldn't it be great if we could minimize the side effects of treatment? And if we could bring that 90% much closer to 100%? That's our goal and I think we'll get there in time."