Wearable Exoskeleton Helps Kids Regain Walking Ability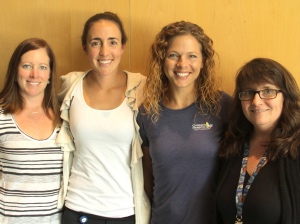 Written by Kristin Cooley, PT, MPT, CBIS; Lauren Dunn, PT, DPT; Kimberly Kaloustian, PT, MPT, CBIST; Jodi Kurland, PT, CBIS
We are the Ekso GT-trained and certified physical therapists at Children's Hospital Los Angeles. We have all completed our advanced training, level 2 certification and advanced features training for this device. As a team, we have extensive experience in both the pediatric outpatient and inpatient rehabilitation settings. We are passionate about improving functional mobility and helping improve the lives of infants, children and adolescents.
What is the exoskeleton?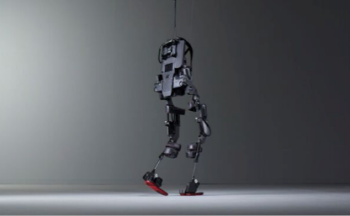 The exoskeleton, also called the Ekso GT, is essentially a robotic skeleton that is worn and enables patients with lower extremity weakness or paralysis to stand and walk on level surfaces. Motors power the hip and knee joints, and walking motion is initiated either through specific patient actions or through the use of an external controller. Ekso GT is easily adjusted to fit individuals of different heights and widths, can be tuned and adjusted to fit a patient's precise needs, and can be set to provide just the right amount of assistance needed. The Ekso GT can only be used under the supervision of an Ekso-trained physical therapist. It is a therapy tool that is not approved for home or individual use.
Would my child benefit from use of an exoskeleton?
The Ekso GT can be an excellent tool to help your child relearn how to walk or improve walking function. It can also improve their endurance and strength. Examples of diagnoses where Ekso GT may help include hemiplegia due to a stroke, spinal cord injuries, and many others. In order to safely use the device, your child must:
Be approximately 5 feet tall
Have near-normal range of motion in their hips, knees and ankles
Be able to follow simple commands
Be able to tolerate standing, with or without support
Have good skin integrity
Prior to using the Ekso GT, a physician must screen and clear your child. To find out if Ekso GT is appropriate for your child, you may call the Department of Rehabilitation Services – Outpatient Physical Therapy at Children's Hospital Los Angeles at 323-361-2118.