Urology Division Expands Clinical Research Program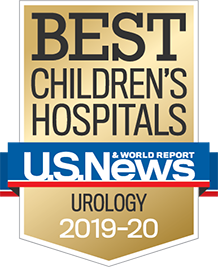 The team will present findings from two clinical projects at the American Urological Association meeting in May.
The Division of Urology at Children's Hospital Los Angeles has an active clinical research program with nearly a dozen innovative projects—focused on bladder exstrophy, hydronephrosis, virtual reality and more.
Over the past year, the program has been growing steadily, with the addition of full-time Clinical Research Coordinator Zoë Baker, PhD, MPH. The group recently received two new grants: a $20,000 grant from The Long Road Foundation for bladder exstrophy research, and a $40,000 grant from the National Association of Theatre Owners of California/Nevada to study virtual reality in children undergoing urological procedures.
Below is a brief look at just a few of the team's projects:
Urologic reconstruction
Evalynn Vasquez, MD, MBA, is leading a new study on how to better prepare children and families for major reconstructive surgery for bladder exstrophy, cloacal exstrophy, post-urethral valves and other complex urologic conditions. Children's Hospital Los Angeles is one of only eight U.S. Centers of Excellence designated by the Association for the Bladder Exstrophy Community.
As part of the study, the team is conducting in-depth interviews with 20 children and 20 parents of children who have undergone major urologic reconstruction at Children's Hospital Los Angeles in the past five years. The goal is to learn from families' experiences to enhance pre-surgical evaluations and provide additional resources.
Hydronephrosis and MCDK
Dr. Vasquez is also leading research to understand how prenatal diagnoses—such as hydronephrosis and multicystic dysplastic kidney (MCDK)—correlate with the need for surgery and risk of comorbidities after birth.
At the American Urological Association (AUA) meeting in May, Dr. Baker will present the team's findings on a key question: Based on prenatal classifications of hydronephrosis, what are the chances a child will need surgery growing up?
Virtual reality and VCUG
Andy Chang, MD, is leading a new randomized, controlled and prospective clinical trial to see whether virtual reality can reduce pain and anxiety in children undergoing urologic catheterization procedures.
Children ages 5 to 18 undergoing a voiding cystourethrogram (VCUG) will be able to use virtual reality goggles before, during and after the procedure. So far, only a handful of virtual reality studies in the country have included children as young as 5.
Undescended testes
Dr. Chang is also looking at whether sociodemographic factors—including insurance type, language and ethnicity—are associated with delayed care for undescended testes. AUA guidelines call for undescended testes to be repaired by 18 months of age, but many children with the condition are not receiving this care and are presenting to clinics as adolescents.
In addition, the team is investigating the utility of testicular ultrasounds in diagnosing undescended testes in infants—correlating testes location found at ultrasound with testes location found by pediatricians and urologists and at the time of surgery.
Post-op opioid use and recovery times
For the past four years, Paul Kokorowski, MD, MPH, Director of Robotic Surgery, has been collecting data on opioid use and recovery times for pediatric patients who underwent outpatient urologic surgeries.
Dr. Kokorowski's findings on opioid use and age will be presented at the AUA meeting in May.