Clinic Offers Comprehensive Care for Children With Thyroid Cancer
Multidisciplinary team provides the full spectrum of pediatric-focused diagnostics and treatment.
By Katie Sweeney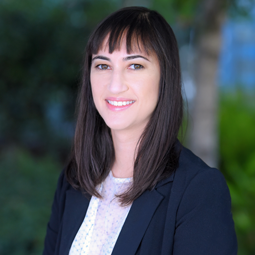 Juliana Austin, MD, MCR
Just six years after it began, the Thyroid Nodule and Cancer Clinic at Children's Hospital Los Angeles has grown into the largest comprehensive pediatric clinic of its kind on the West Coast—and one of the highest-volume programs in the nation.
Led by Juliana Austin, MD, MCR, the clinic—part of the Center for Endocrinology, Diabetes and Metabolism—offers the full spectrum of care for children and teens with thyroid nodules and cancer.
The key to its success? "We have a true multidisciplinary team," says Dr. Austin, who started the clinic soon after she arrived at Children's Hospital Los Angeles in 2014. "Anything that needs to be done to care for these patients, we have that ability."
All consultations are done in a multidisciplinary clinic, with Dr. Austin and two board-certified surgeons: Gabriel Gomez, MD (pediatric otolaryngology), and Daniel Kwon, MD (head and neck cancer otolaryngology). The team also includes nuclear medicine physicians, interventional radiologists, pathologists, neurophysiologists, social workers, nurses and dietitians.
Physicians from the various specialties—along with oncologists from the Cancer and Blood Disease Institute—collaborate on each case and meet monthly for a thyroid tumor board conference.
Preventing complications
Thyroid cancer is uncommon in children. Most pediatric cases occur in adolescents, although Children's Hospital Los Angeles has treated children as young as 5 with the disease.
"Survival rates for this cancer are excellent, so we focus a lot on ensuring functional outcomes," says Dr. Kwon. "We want children to not only beat their cancer, but also to not have complications that will affect them down the road. Because we're a high-volume center, we have the experience to do this."
The team performs 40 to 60 thyroid surgeries a year on children and adolescents. Dr. Gomez and Dr. Kwon perform each surgery together.
Another physician routinely in the operating room is a neurophysiologist. One of the biggest concerns when removing a child's thyroid is that the gland is very close to a nerve that controls the child's vocal cords. During the operation, the neurophysiologist is solely dedicated to monitoring this nerve, which is hooked up to a special electrode.
"In many places, the surgeon has to monitor that nerve," Dr. Gomez says. "Here, we have the neurophysiologist for an additional measure of safety."
Another measure of safety: intraoperative parathyroid hormone (PTH) analysis. Using a special machine, the team can quickly measure a child's PTH levels before, during or after surgery. The real-time results allow physicians to prevent a child's calcium levels from falling too low during or after surgery.
Research to advance care
Although the main treatment for thyroid cancer is surgery, the team's expertise extends far beyond that—to diagnostics, pre- and postoperative care, and long-term follow-up of patients. Specialized care includes:
Radioactive iodine ablation therapy
High-definition diagnostic ultrasounds
Pediatric-oriented biopsies (under general anesthesia)
Genetic testing of tumors
Intraoperative pathology and PTH analysis
Dedicated postoperative care protocols and hospitalist teams
The clinic also has a research coordinator. In addition to participating in clinical trials for novel therapies, the team conducts its own research—part of The Saban Research Institute of Children's Hospital Los Angeles—and has an ongoing pediatric thyroid registry.
"Because we have a lot of patients, we have the data to try to answer some of these research questions and find out which factors are most relevant to a patient's ultimate outcome," Dr. Gomez says. "We want to help advance the future of care for these patients."