A Young Actress's Real-Life Drama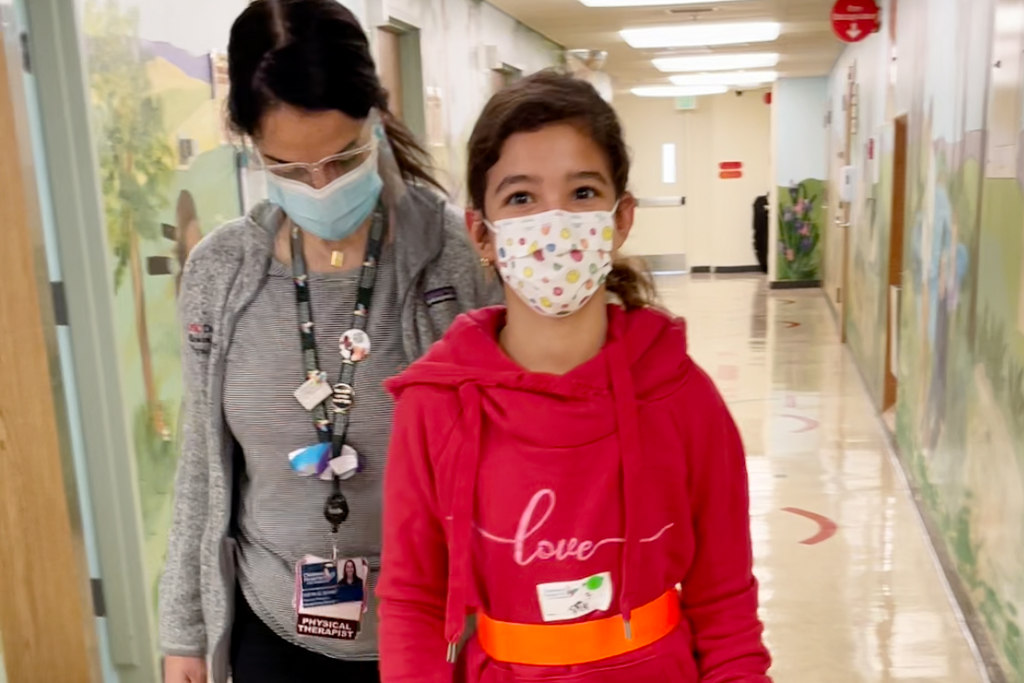 Lalia's first steps, after her accident
After surviving a freak accident and emergency surgery, 'Station 19's Lalia feels inspired to give back to others.

By Monica Rizzo
Life-and-death emergencies are commonplace on "Station 19," the ABC drama where 12-year-old Lalia plays the childhood version of firefighter Andrea "Andy" Herrera. But in late October 2020, Lalia found herself in the middle of an emergency that looked like something that might be depicted on her show.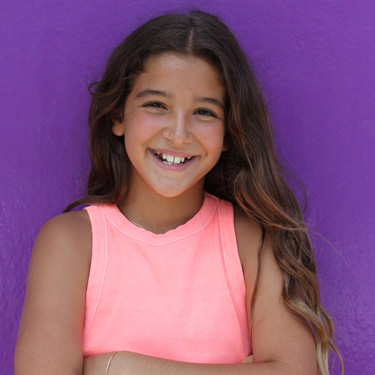 Lalia, Summer 2020
While playing on a swing with her grandfather, a metal plate that secured the swing to the front porch ceiling suddenly broke off.
"The swing came at her head like a bullet," Lalia's mom, Stacey, says. "We called 911 and when the ambulance arrived, she was conscious and talking, but she had lost a lot of blood."
Medics worked furiously to stabilize her condition so they could transport her to the nearest hospital. Lalia's skull was fractured and a nail from the swing attachment penetrated her brain. In addition to the large loss of blood, by the time she arrived at the emergency room near her home, Laila suffered a stroke and her brain began to swell.
To reduce swelling, surgeons performed a craniotomy, a procedure for patients who suffer a traumatic brain injury whereby a portion of the skull is removed.
"For the next 24 hours, every time the doctors came out to give us an update they would say 'She's alive,'" Stacey says. "We took it one hour at a time until we got the news—she was showing signs of improvement, but she was paralyzed on her left side."
"There was talk about how much movement I would regain, and the doctors would say, 'We have to take it one day at a time' and I would just say no," Lalia says. She didn't want to hear about anything other than a full recovery.
The road to recovery
Two and a half weeks after the accident, Lalia was admitted to the Margie and Robert E. Petersen Foundation Rehabilitation Center at Children's Hospital Los Angeles. She stayed for approximately seven weeks of inpatient care and intensive physical therapy and occupational therapy.
"When she arrived, she could hardly move her left side. She couldn't do finger-to-finger or finger-to-nose kinds of things," says Kevan Craig, DO, Chief of the Division of Rehabilitation Medicine at CHLA. "She couldn't stand and she couldn't even get out of bed. She could talk and her speech was OK, but her left side was basically shut down."
Even though they knew they had a long road ahead of them, "from the moment we arrived at CHLA it felt different, brighter," Stacey says. "Her room was bright yellow, the curtains were open and it was sunny, and it just felt so positive."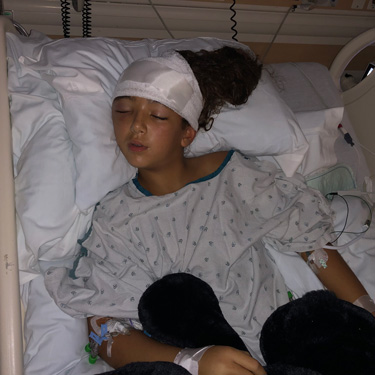 Lalia in October 2020, two days after the accident
The upbeat environment, combined with the support of her parents and her three brothers, motivated Lalia as she began intensive occupational and physical therapy three hours a day. Lalia's treatment involved using Modified Constraint-Induced Therapy approach: a removable cast was placed on her right arm so that she would have to focus on using her left arm and hand. This would help her relearn skills such as dressing herself and holding a script. The team also worked on assessing her cognitive and memory recall skills by having her read and memorize lines or follow multistep instructions.
The other focus of Lalia's inpatient treatment was to improve her range of motion and build enough strength, coordination and endurance to walk again. On Nov. 9, Lalia stood up for the first time. On Dec. 20, she took her first steps with a walker.
"I knew I would walk again. I knew I could do it if I put in the work," Lalia says, noting that she had so much support from patients and the staff. "Everybody was so upbeat."
Since being discharged just before Christmas, Lalia has stayed in touch with several patient families. She also still sees her favorite CHLA team members at her weekly therapy appointments.
"Lalia was so weak when we started," says Briana Pollard, OTD, OTR/L, who has worked with Lalia since January. "Now she can carry things with her left hand without hesitation. We have worked on things like zipping up her hoodie, tying her shoes, putting her hair in a ponytail, putting on earrings —basic life skills that we normally don't give a second thought about but that promote independence in life. Of course, getting back to playing soccer, BMX biking, and all of her other amazing activities is the ultimate goal, but first we had to look at the bigger picture and work on all her self-care tasks and underlying skills that she will need to live her life independently, socialize with her friends, and do the things she loves to do."
On March 3, Lalia took her first steps unassisted and on March 25, she returned to work on "Station 19," much to the delight of her fellow cast and crew members.
Giving thanks by giving back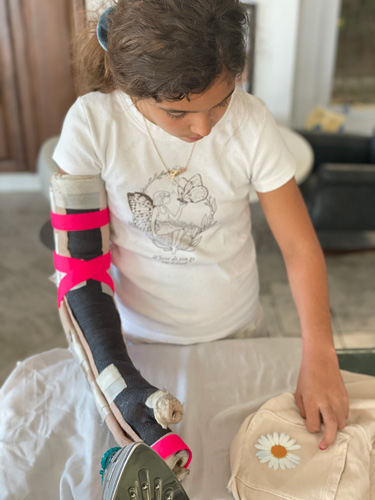 Lalia working on her clothing line, her arm still in a cast
Now Lalia is focused on giving back to Children's Hospital Los Angeles. On June 12, she and her family will participate in the Fifth Annual Walk and Play L.A. virtual event. Lalia has also committed to donating a portion of sales from her clothing line, LATE, which she and her friend Cate launched May 9. The line, whose name is a combination of the girls' first names, is a collection of "dressy lounge wear" for Tween girls and features several pieces that are named after the caregivers who helped Lalia get back on her feet. And, if a caregiver puts in a special request, Laila says LATE will customize at no charge any of the sweatshirts or tees to accommodate a patient's needs.
"We wanted to design some items that would help kids in the hospital because it's hard to get dressed when you have an IV or a cast," Lalia explains. For every item purchased through LATEclothingla.com, a portion of the proceeds will be donated to CHLA's Division of Rehabilitation Medicine.
A gifted athlete who enjoys competing in track and soccer and also rides BMX bikes with her three brothers, Lalia knows the importance of regular exercise to stay healthy.
"I don't have my fine motor skills back with my left arm and my hand, but I can move it up and down and to the side," Lalia explains, noting that she's continuing to make progress and hopes to resume the activities she enjoyed before the accident after having another surgery later this year.
"My skull is still open where the nail went into the back of my head, so they will need to put in a PEEK implant."
A PEEK, or polyetheretherketone, implant is man-made, computer-designed material that basically serves as a "puzzle piece," Lalia says, "that will fit in the area where bone was removed after my accident."
While Lalia will need to continue to focus on her recovery, "the improvement she has made thus far is remarkable," Pollard says. "Lalia is such a go-getter in all aspects of her life. She doesn't take the easy way out. Nothing is going to hold her back."
Click here for more information about how you can participate in or support Walk and Play L.A.
---
Related Content