Police Officers on the Run for a Good Cause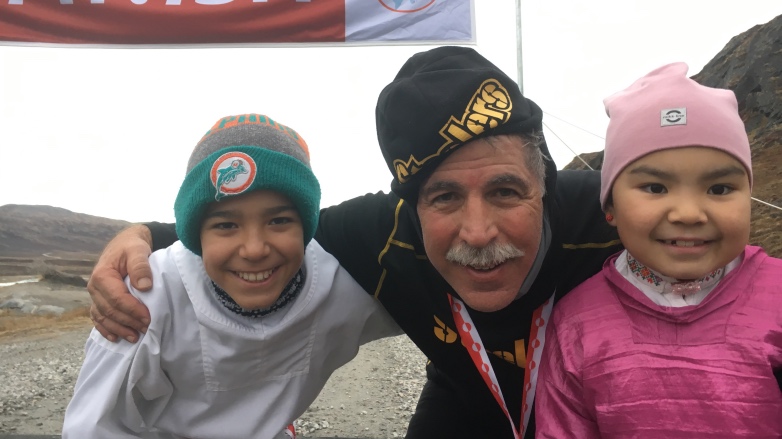 Six officers race on all seven continents for the sake of helping others.
By Michael Y. Park
An experienced runner who'd traveled around the globe to race, Randy Pentis was used to seeing courses lined with gawking onlookers.
But this? This was something else entirely.
He was chugging along the frigid shore, kicking through pebbles and sand, pushing through horizontal snowfalls, with freezing waters lapping at his running shoes on one side and mountains of gray rock and blue-white ice towering over him on the other. Then he turned around a bend of rocky beach and saw them. They were waiting, watching, great hordes of them, seemingly tuxedo-clad, craning their necks and trying to puzzle out why this older man from California was huffing out lungfuls of steam as he chugged toward the 26-mile mark—on Antarctica.
"Thousands of penguins—thousands of them!—sliding down hills and playing and then suddenly stopping to stand and look at us," Pentis says. "They were more interested in us than we were in them, standing along the route as if they were watching a parade, thinking, 'What are these idiots doing in our country?'"
Pentis, 60, lives in Westlake Village and is one of the founding members of Cops Running for Charity, a group of six friends, half retired and half still on the force, who raise money for good causes by running marathons all around the world. Pentis, now retired himself, worked as an officer for the Ventura County Sheriff's Office for 32 years, part of it as chief of police of the city of Thousand Oaks. (The city contracts with the Sheriff's Office to provide its law enforcement.)
Ambitious origins
It wasn't anything exotic that propelled him to the icy wastes of Antarctica. In fact, it all started just a few miles from home, at Children's Hospital Los Angeles.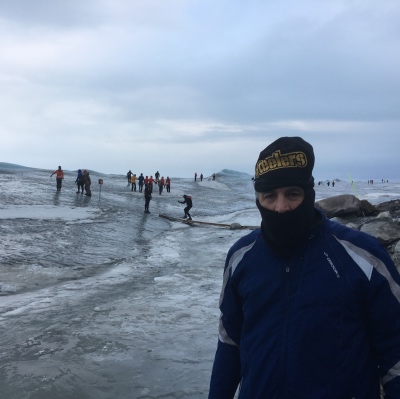 Pentis' youngest son, Anthony, was born with physical and neurological issues that made it difficult for him to walk. Around 10, Tony began treatment at CHLA, under the eyes of Robert Kay, MD, a pediatric orthopaedist who specializes in neuromuscular diseases.
"Just like any other kid, Tony wanted to go out and play sports, but he couldn't, because his nerves and muscles weren't working right," Kay says.
"He's got the heart of a lion, and he's not walking," Pentis says.
Over the course of a decade, Tony underwent three surgeries and rehabilitation with Kay at CHLA. Though he still wears a leg brace, he improved so much that he ended up making his high school basketball team, and, now 30, is still deeply involved in sports.
"My son's six-foot-five, and he's draining three-pointers, and the opposing team doesn't even know what to do!" Pentis recalls, laughing.
It's not the surgeries that Pentis remembers most fondly of the years he and Tony spent working with Kay, though. It's the talks they had.
"We talked about Coach Wooden a lot," Kay says, referring to John Wooden, the legendary coach of the basketball team at the University of California, Los Angeles. "Tony and Randy and I talked about Coach Wooden's idea that everyone has differences, and that success is basically doing everything you can to be the best you can be. You and I are never going to be Michael Jordan or Kobe Bryant, but if we do our best, that's a success."
With that philosophy in mind, it wasn't a leap for Pentis and his running buddies to go from racing for charity as a one-off to making it a vocation. "We were in New York running the New York Marathon in November more than 10 years ago," says Pentis, "and we were talking about how everyone has a different feeling nowadays about law enforcement. It's a constant calling to earn and retain people's trust, and it's a tough job."
The sextet had already raised $3,000 for charity for the race they'd just run, impressive for a bunch of older guys in blue who'd never done anything like that before. And they wanted to do it again, to help the public regain some of the trust it had lost in U.S. law enforcement.
"So we were six cops who didn't know anything about marketing trying to figure out how to keep helping but to do something unique," he says. "At the Javitz Center, now, they had [running event] vendors from every country in the world. Back then, we'd done races in Chicago and New York over a couple years, but I saw a guy there from Tunisia trying to get people to run a race there.
"A few minutes later, I came back to our table and said, 'Hey, we're going to the Sahara Desert in March. Eighty-five miles over four days across the desert. I just signed us up.'
"And they said, 'What were you thinking?'" Pentis says, chuckling.
Nevertheless, four months later, all six men were in North Africa, wiping sand and sweat from their eyes and plowing through full-on sandstorms in one of the hottest, driest places on the planet.
"We've been friends for 100 years, so we just roll with each other," he explains.
After the race and on the way home, having raised yet more money for charity, the officers noticed all the people who'd been following their odyssey online. Many of them were asking where the next adventure was, and how they could send money to donate to their next cause. The officers knew they were on to something. So they made it official—on a bar napkin.
"We're in Rome having drinks and eating, haven't showered in six days, and we're like, 'What are we going to call ourselves?' And Frank, a former narcotics sergeant, gets a napkin and draws a logo that says, 'CRFC, Cops Running for Charity,' and that's how it started."
In the more than a decade since, the band of brothers has raised money by running on all seven continents, visited 18 countries and run over 30 races. They've relived history on the Great Wall of China; suffered through 101-degree weather, 80 percent humidity and bribe-seeking officials in Myanmar; threaded the big heads on Easter Island; and braved subzero temperatures both at the North Pole and on Antarctica—and, of course, those quizzical penguins.
"The Pittsburgh Steelers gave us their cold-weather gear, and we were layered, so we were always very comfortable," Pentis says.
Still, those experiences actually paled in comparison to the risks in Iceland and Russia, though for very different reasons.
"Iceland was 38 miles, and we had to cross five rivers at 22 degrees," he says. "Whenever we had to cross, they had Icelandic search-and-rescue teams with a rope across to guide us."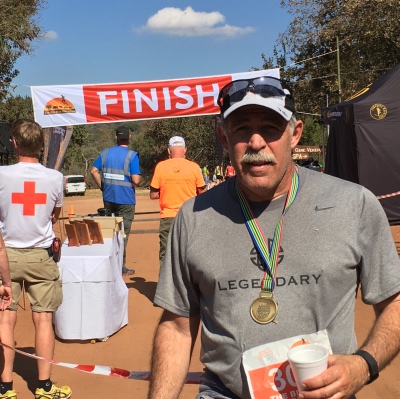 In Siberia, they had to contend with attempted shakedowns from shady characters who let it be known they were from a Russian security agency.
"When we got there, they said, 'People don't go to Siberia, we send them to Siberia," Pentis remembers.
But he also notes that every race has been worth it. For one, there's the sense of exploration he and his friends got to share.
"There's the sheer beauty of the wild horses in Iceland in a land where you could fill your water bottles straight out of the streams and the finish line is the volcano that had just erupted a few years before," he says.
And then, of course, is the fulfillment they get from making the world a better place, long after they handed in their shields. They've raised tens of thousands of dollars for the Make-A-Wish Foundation, to fight diabetes and Alzheimer's disease, and even to help out individual families in tight spots around the holidays. On top of that, Pentis and his friends have made a point of giving to CHLA every year.
"How do you thank people who gave your son the confidence, who talked to him, made him feel important?" Pentis says. "How do you thank them? So for us to get Children's Hospital on our radar was easy."
The men all pay their own expenses, so 100 percent of what they raise goes to the causes. In other words, they're living the definition of Coach Wooden's idea of success.
"Randy's running was something that started out with as a certain ambition to do things, but I think he kept pushing through these boundaries to be the best he could be," Kay says. "By pushing himself, he achieved more than he could ever have envisioned."
"One of the reasons you get into law enforcement is you want to have an impact on the quality of people's lives," Pentis says. "I want you and your family to be safe: That's our charge. And people often ask, 'What's the most difficult thing you've ever had to do in law enforcement?' Well, it's not about use for force. It's going to someone's home and telling them they've lost a loved one, that there's some catastrophe in their lives. As a cop, you feel helpless. But cops are inherently fixers."
A natural choice
Next year will be the last for CRFC—age has taken its toll, and the group's four-race-a-year schedule has already been cut back to one or two. In 2019, the six will raise money with a jungle race in Vietnam and another under the pyramids in Egypt before retiring their nonprofit for good. Pentis will continue to raise money for charities solo as part of his own, new nonprofit.
But they'll always be able to appreciate what they've accomplished with a visit to CHLA, where the money they raised went to refurbishing a family room for patients' relatives.
"In law enforcement, we call it a cool room, where they can relax while the patient's going through chemo and can sit on nice sofas, kids can play with toys, and it's in nice colors," he says. "It's really gratifying to be able to see where the money went."
And, of course, they'll always have the memories.
"These experiences of traveling all seven continents, seeing things most people don't see in their lifetimes—how many people go to Myanmar, go to Siberia or see the Sahara Desert, and get to experience it with these other guys who are like brothers?" Pentis says. "It's pretty memorable. We've had some great experiences."
How you can help
Inspired to help our kids just like Randy did? Consider making a donation to Children's Hospital Los Angeles at CHLA.org/Donate.